A story with a familiar ring – Tom Toomey '82 came from a humble household in Oregon, putting himself through college by working full-time.
"I worked my teenage years in the Oregon fields picking everything," he said. "My college experience was always a financial fight."
But the 2019 College of Business Hall of Fame inductee did have this on his side: he was excited about college.
He was the first in the family to go. He'd made the decision in high school to be an accountant. OSU had the best accounting program, so he showed up, not knowing many people, and switched from fields to Fred Meyer to work his way through.
Toomey realized even then, if he had just a little bit of help, he may have earned a better grade, or if he had a little free time, he may have been able to pursue more outside activities and experiences.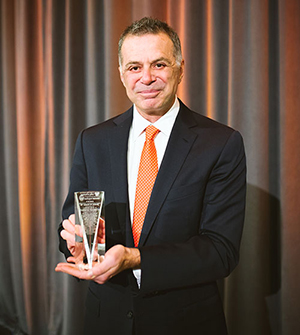 He also had something else on his side: an influential role model — accounting professor Mary Ellen Phillips.
Building her career in public accounting in the 1950s, Phillips was one of the nation's first 1,000 female CPAs. She came to OSU to teach in the '70s. Toomey describes her as a tough-talking, cigarette-smoking, no-nonsense professor.
Phillips — who incidentally taught the "weed them out" intermediate accounting course, according to Toomey — also took a personal interest in seeing her students succeed.
Phillips spotted a speck of talent in him. And she took Toomey under her wing.
"Mary Ellen Phillips helped me understand how to become a professional and pushed me to be better," Toomey said. "Professors have an enormous influence on the lives of students."
Armed with his Bachelor's of Science, Accounting, Toomey hit the world as it grappled with a recession, heading first to Texas to work for Arthur Andersen.
Over the years, Toomey moved from accounting into real estate. Currently chairman and chief executive officer of UDR, Inc., a Colorado-based company he joined in 2001, Toomey shaped the buildup of this $20 billion S&P 500 real estate investment trust, through its share of "eventful times, or even the tough ones" including the Great Recession.
UDR's expansion was fueled by the development of high-end multifamily and mixed-use spaces — and focused on building whole communities. UDR develops luxury apartments that are embedded with shopping, dining and entertainment choices, and they have holdings in excess of 55,000 apartment homes across prime U.S. markets.
At the global level, he also embraces community building: Toomey is a longtime member and former global chairman of the Urban Land Institute, an impactful philanthropic organization with 46,000 members globally. ULI's mission is to make cities better for all with influential ideas, education and demonstration of best practices. Toomey was the first global chair to run a public company.
"Sustainable cities is a key topic across the globe right now for everybody, for example, how do we manage our resources and how do we bring down our footprint," Toomey said. "I tend to think sustainability is raising everyone's quality of life — that's housing, food, shelter. This is what I think about in terms of sustainable cities."
ULI has consulted, for example, with neighborhoods in hundreds of cities on how to improve the people's quality of life in those busy areas, whether through transportation changes, building design or other factors.
As well, ULI researches solutions to support a city's homeless populations or lends expertise on a space-usage project. For example, in Oklahoma City after a terrorist bombing destroyed a city block and damaged a community's collective psyche, ULI helped imagine and design the rebuilt area.
Toomey also reveals his love for building communities back at Oregon State: "I have seen a lot of this world, and in every city I find it has a different fabric to it. A lot of people call that culture. I always have to try to understand that. I think the culture at Oregon State is of one inclusive community, striving to make things better for everyone."
Toomey's philanthropy to the College of Business takes into account many of his life experiences, supporting people, places and programs. His generosity reflects his respect for his professor, the notion that students should have time and resources to pursue learning opportunities, and that OSU and the College of Business have built a community that is producing very capable students.
In 2007 Toomey established an endowed professorship, the Mary Ellen Phillips Professor in Financial Accounting, honoring his influencer. He funds the Toomey Fellows for additional faculty research opportunities. He also supported the build of Austin Hall, to date the college's signature project.
Toomey directly gives to student scholarships while an additional fund, the Tom Toomey Learning Labs, provides resources to support learning opportunities outside the classroom. For example, a student club might use the learning lab for a business trip.
A recent donation announced at the 2020 OSU State of the University established the university's first endowed fund to address students' basic needs such as food insecurity and emergency housing.
Toomey says that everyone can give back — whether with their time, talents or treasure. "Giving in any form is a way to influence the future success for everyone, if you will to make the world a better place for all of us. I truly look for the winning teams. This is why I'm so supportive of the foundation and the college."
College of Business Hall of Fame alumni exemplify hard work, persistence and ethics. They are professionally accomplished and demonstrate strong leadership through their career and volunteer roles on committees and boards. As advocates for the college and the university, they have helped us advance our mission to support student success and achieving distinction.