The List of Life Accomplishments and Opportunities from Joel Walker's Pandemic Year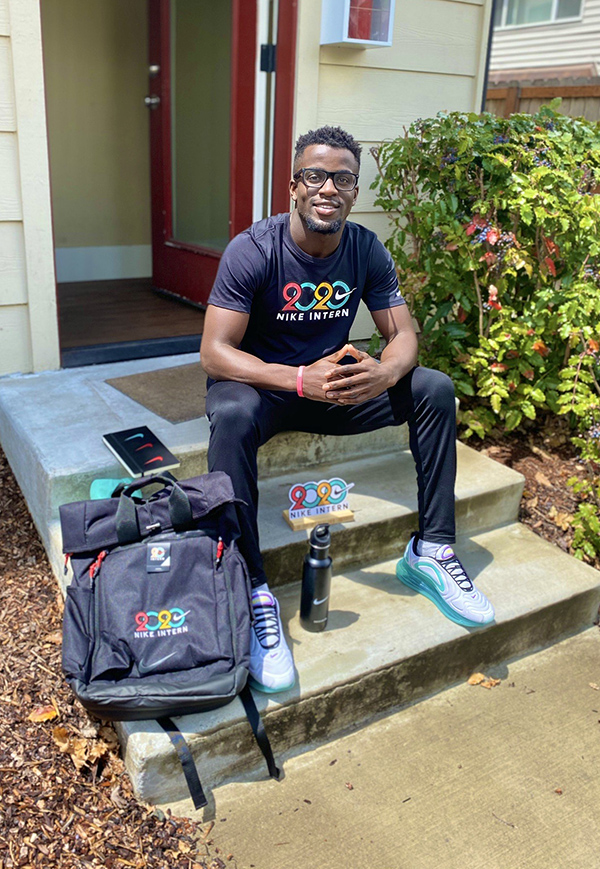 In the Zoom call with Joel Walker, the Class of 2021 College of Business marketing standout grad, a large Nike soccer flag is prominent. And, Walker confesses, his college room had a much bigger display of all his Nike swag during his summer internship. "It was just Nike everything back there," he said with a laugh.
It was January 2020 when Walker visited the Beaverton campus and dazzled the Nike recruiting team to land the dream job – working in their sports marketing department to support U.S. Olympic athletes…
Like the 2020 Olympics, like so many things, the job requisition fizzled as waves of the COVID-19 pandemic swelled around the globe.
Walker describes a period of months after he was extended the offer with the Olympics group, wherein his profile and résumé flowed through Nike HR, and he wondered if he'd get put in some random place, or what would happen next. In the end, Nike custom-built an opportunity for him.
"I had a very unique way of getting my final position," Walker said. "They reviewed my résumé and my interview to tailor my experience with them. It was June, about two weeks before the internship started when I interviewed with my boss and his manager and joined their global retail concepts team."
From the college room and the Zoom screen, Walker had a phenomenal summer with Nike, testing out a few specific marketing techniques and skills, taking on an independent project, and receiving exceptional mentoring from Nike. "It was so enjoyable; it was so challenging, but it was seriously fun," Walker said.
Walker says he'd love to return to Nike one day, but there's other things on the horizon, opportunities opening and doors not yet closing, because of the pandemic.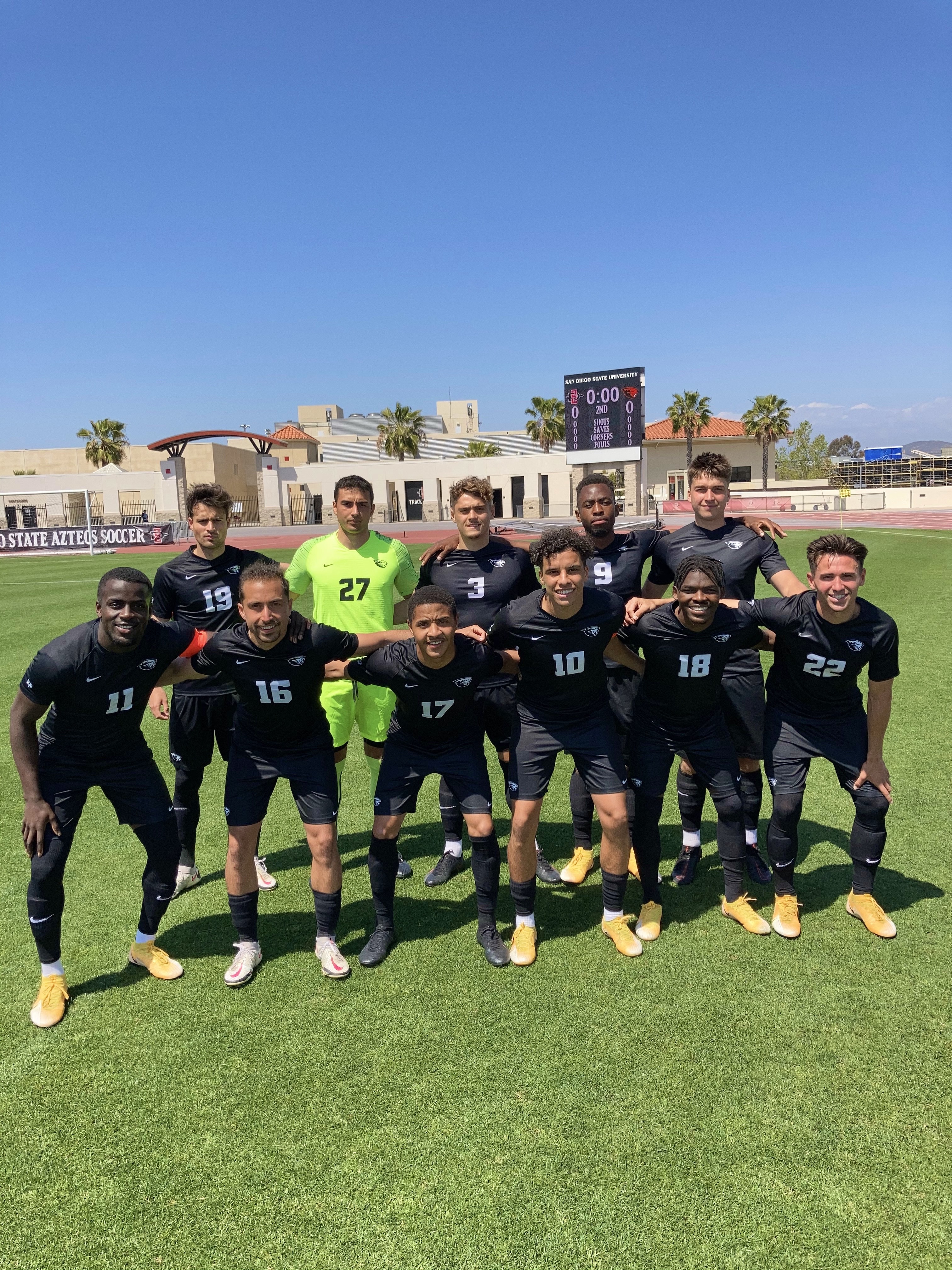 NCAA Eligibility Change
First, there is one more year of soccer. The midfielder was a 2020 First Team All American, the 2021 Pac-12 Scholar Athlete of Year and team captain, and he has one more year of NCAA eligibility because of Covid to pursue excellence in the sport.
What that may lead to, Walker says, is the chance to play professionally on a U.S. team. He's hoping to impress some scouts in his final year of collegiate play, and he'd gladly take playing pro as his starting job.
"Professional athletics is one of the greatest platforms you can have in this country or in the world," he said.
"I see that as something I could utilize to help those around me. And just see where the Lord takes me with the game I've loved since I was a little kid."
With this extra year at OSU, Walker has entered the College of Business' accelerated MBA program, the nine-month graduate degree designed for high-achieving students with an undergraduate degree or minor in business.
"The MBA program was a beautiful door that I was able to open due to the soccer season getting canceled and being here for an extra year of eligibility," Walker said. "I'm actually doing the in-person MBA program, so I'm looking forward to the fall and finally going to some classes again in person in Austin Hall."
If keeping the dream of professional sports alive and well, excelling at a prestigious Nike internship and just sliding an MBA credential onto the résumé seems like quite enough of a checklist for a single pandemic…
Just hold on: there's more.
A change of pace
The journey of an elite athlete and driven, high-performing student can be extremely busy and demanding.
For Walker, the pandemic was a complete change of pace.
Things slowed down; he had time to focus on himself, and for change, even say no on occasion. He reconnected with old friends in his newfound surplus of free time, including his high-school sweetheart.
They hadn't talked much since the pre-college breakup, but the flames rekindled quickly, and before long he was hoping she'd say yes to his marriage proposal.
"The rest is history," he said of the December 2021 wedding date. "She's such a blessing, seriously. Once Covid opens up, I want everyone to meet her when she comes out here because she's a special woman."
Things tend to work out for Joel Walker, and by his read it's because they go according to a greater plan: "I am a man of faith, so for me it's just a story of God's grace in my life. I don't think there's any accident about God's grace."
Lessons from community and faith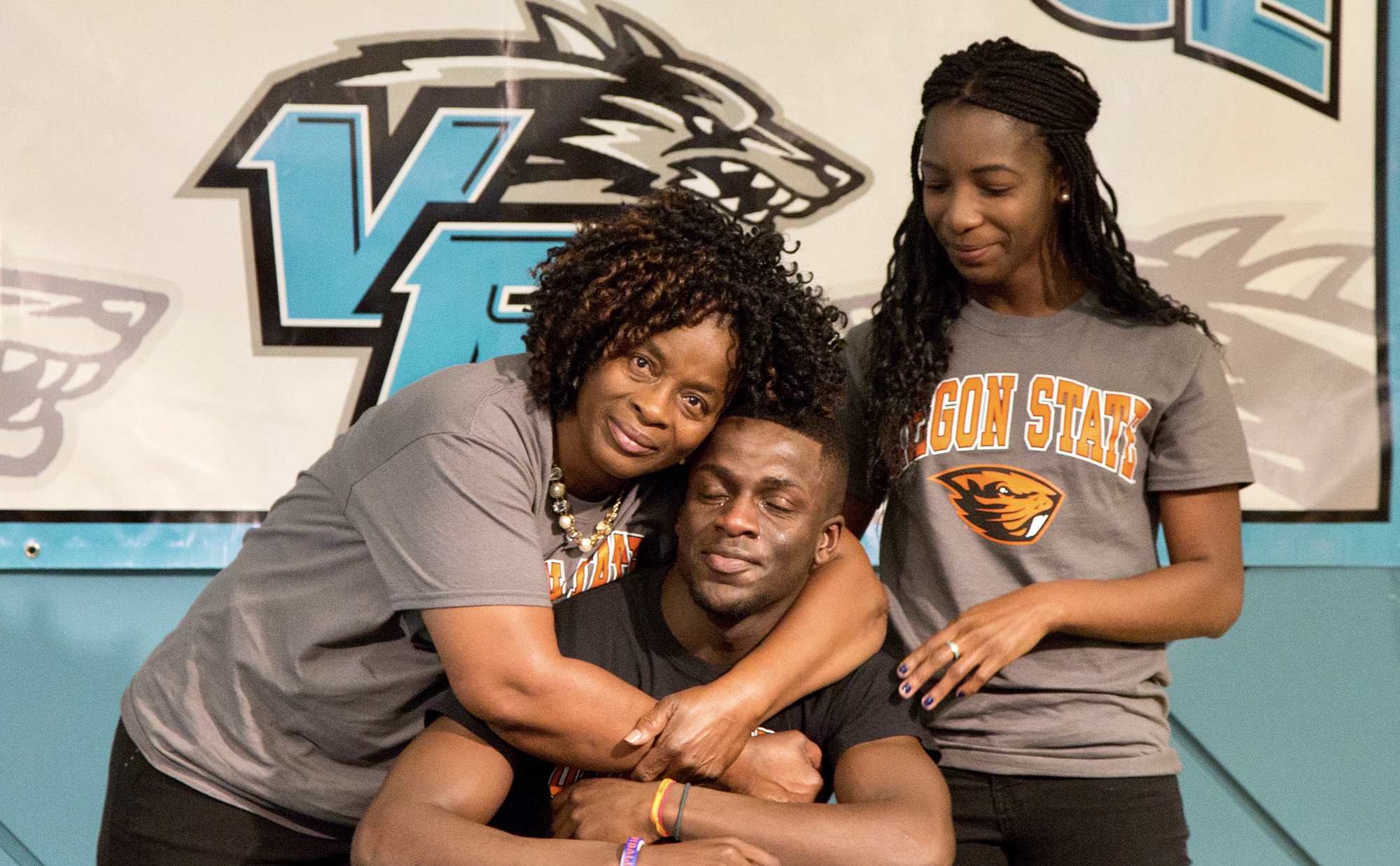 A huge part of that plan is the love and support that comes from faith. When Walker was a young child, the family emigrated from Liberia, and the church community in Chicago where they landed was generous, gracious and supportive, lessons he's carried forward and that have influenced his success. And he found a similar feeling of support and community at OSU.
"What happens with a lot of people when they're striving for quote-unquote excellence is that they're their own biggest critic," Walker said. "So my friends and family always remind me that I'm loved, first and foremost. I could never win another game; I could never get another award, but they care for me, and they love me.
"You have to know the importance of community, and how communities are there to pick you up when you're down and give a cheer for you when your spirits are high. I just hope that each and every individual who comes to OSU knows that you will find community and know that people are here to support you and show love and care for you. No matter what you're going through."