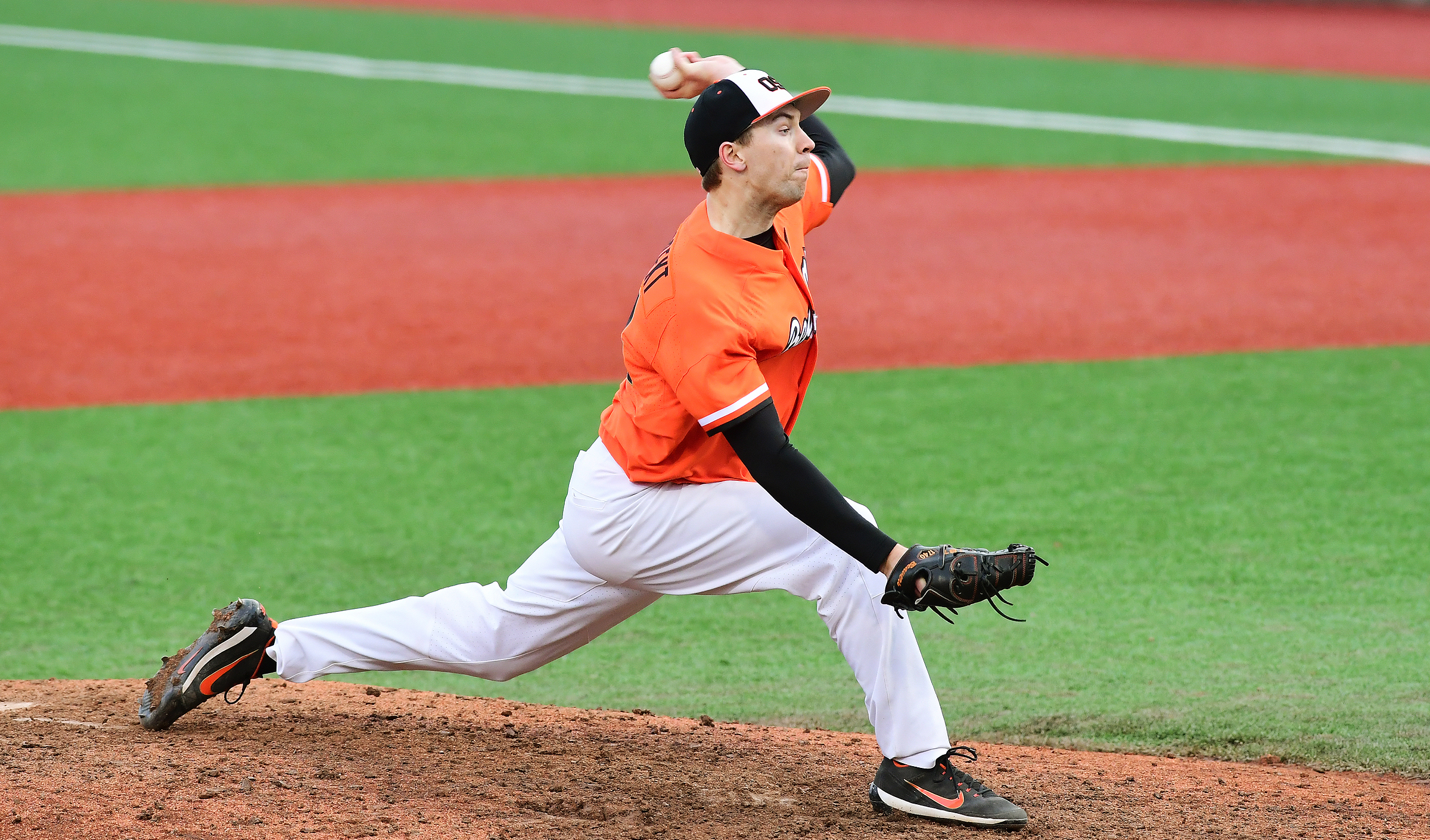 Max Engelbrekt understands the iterative, methodical exploration of organization's data. He is, after all, a baseball player and a pitcher. A closing pitcher, to be precise. Engelbrekt doesn't know when or if he's going to play ball, but when he gets called — he is ready.
Not known for his fastball, Engelbrekt has been described as a careful and thoughtful player with a battery of effective options for each pitch.
"Relief pitching — definitely — is a high-pressure situation," said Engelbrekt, who is credited with 22 career saves (technical term for holding onto a lead when the starting pitcher leaves the game) in his OSU ball career.
"If you give a couple of hits, you could lose. Baseball has quite a bit of data behind it — especially pitching. You are looking to get a specific result from pitcher to hitter. Basically, baseball is more predictable than other sports."
So when the College of Business graduate student got the call to play for the Washington Nationals in the 40th and final round draft of MBL first-year players – he knew he had nothing to lose. In a sport rife with magic numbers, jinxes and curses, the six-foot-four lefty may have used the last of his luck in that draft. But Engelbrekt knows the odds associated with longevity of his pro career.
"This summer I will treat this opportunity like the most fun internship I could have possibly arranged for myself," said Engelbrekt. "I went in the last round of the draft, so I am probably not going to play forever. I just want to play baseball for as long as I can."
The College of Business alumnus was redshirted his junior year with a torn ACL. He took extra coursework while sitting out the demanding schedule of an elite athlete, knowing how important it is to find the perfect balance of athletics and academics. He completed his undergraduate degree in finance winter term his senior year, and could focus all spring on baseball.

But, alas, in 2016, the call did not come. He was not drafted. If blind-sided by that, Engelbrekt did not show it.
Guided by academic and sports advisers, Engelbrekt utilized his remaining year of NCAA eligibility and his baseball scholarship to spend 2016-17 working toward his MBA in business analytics. He'll finish his degree in the fall.
Not a bad plan B when you consider that the two-time college world series player also was named a 2017 Pac-12 Scholar-Athlete of the Year.
"In a program that's as good as Oregon State baseball, where you do have guys that are signing million-dollar contracts as juniors, it can make going pro seem easy. I think that focusing on your degree and getting through school in four years — even when you are a top athlete — is so important, I'm not going to call it a backup plan," Engelbrekt said.
The College of Business is proud to call 17 of the 35 members of the nationally no. 1-ranked baseball team among its students, including junior KJ Harrison, who signed with Milwaukee in the third round of the draft, and Drew Rasmussen who was drafted by Tampa in the second round, but did not sign a contract and may return to the college fall term.
"There is a true potential for financial success, but I think we've done a really good job in the last couple of years to have everybody buy into academics, and really take it seriously," Engelbrekt said. "Each year, more and more players were business majors, and they were really interested in school, too. That's been a great thing to see happen."
Engelbrekt will return to Corvallis fall term, finish his MBA and hopefully get called back to baseball for spring training. "Ideally, I would move up the ranks and eventually make it to the major leagues – but they can release you whenever they want." Whatever comes next – he's ready for it.