Learning is a lifelong experience for Bend MBA student Alan Hansen
Alan Hansen was working as a senior project manager at St. Charles Health Care in Bend when he caught a presentation at work about something that had been a lifelong dream, earning an MBA.
It had always seemed just out of reach.
"When my children were small, I couldn't figure out how to do that with the work-life-home balance," Hansen said.
But now that the kids were older, it started to seem possible.
"Maybe this is doable," he thought.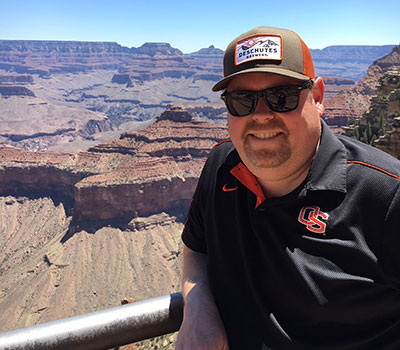 Hansen, who is 49, questioned whether it was too late to start an MBA program. But if not "now," then maybe the answer was never.
"This was my last chance to leverage the remainder of my working life," he said.
So after 25 years in the workforce, Hansen enrolled in Oregon State's hybrid MBA program in Bend. The Oregon State MBA allows working professionals to take control of their future by pursuing a degree while maintaining a stable career. Hansen's taking one class per term and figures it will take about four years to complete the program. But there's no rush.
"I'm not in a race to get my MBA. I enjoy each individual class," Hansen said.
Hansen, his wife Lahnay and children Lily and Hunter, moved to Bend eight years ago, where he enjoys fishing, golf and hiking.
"I'm taking it at a paced way, so I can still have a life and a balanced workload," he said.
Hansen is in the organizational leadership track. He completes most of his coursework online and meets twice each term at either OSU-Cascades or OSU Portland. From a stint working from home, Hansen knew he needed some in-person interaction. But living in Bend, he couldn't take classes in Corvallis either.
"I've found OSU's program to be the right balance of in-person and online," he said.
Hansen has many ties to Oregon State. His dad was a professor in the College of Agriculture. Both he and his brother studied there. Hansen earned a bachelor's degree in housing design from Oregon State in 1992. And now his daughter, Lily, is a student there.
But he did check out other programs before enrolling in Oregon State's MBA.
Hansen was eligible for the Beaver for Life Scholarship, an automatic discount that all Oregon State alumni receive when they are admitted to the MBA program.
Hansen values his education from Oregon State.
"It taught me how to learn, how to persevere. And it taught me systems thinking," he said. "My bachelor's degree prepared me very uniquely for the career I've had."
The MBA program is no different, allowing him to keep his career moving forward.
"What it has become is my annual professional development plan," he said.
Since starting the program two years ago, he's changed jobs. He is now project management director at Deschutes Brewery where he's in charge of the project management staff, the project portfolio, engineering, continuous improvement and sustainability.
"It seems like every class covers things that happen in my job," he said.
While Hansen had exposure to most functional areas in business, there were a few that were missing. The MBA classes have served to fill in the blanks. Those insights helped him to work more effectively across business functions.
As the grandfather of Oregon breweries, Deschutes has a focus on hospitality and a great presence in the community. Measuring that impact is part of Hansen's job, and it was a match for how he sees himself.
"There are no strangers around a beer. That's what we say," he said.
The Oregon State MBA fit another of Hansen's life philosophies.
"There is no end to improving," he said. "Learning is a lifelong experience."