For Domonic Biggi '85, CEO of Beaverton Foods, staying true to his roots might be the most integral part of running the business that has been in his family for four generations.
Geographically, those roots are in Beaverton, where his grandmother Rose started the business out of necessity. She began bottling and selling horseradish from her farmhouse during the Great Depression. There, Biggi grew up helping to harvest the horseradish that would go into Beaverton Foods' specialty condiments as his father, Gene, grew the brand into a worldwide success.
But Biggi's roots are also in the family's ethos, which Rose brought with her when she immigrated from the outskirts of Genoa, Italy, in the early 20th century, and supported a family with a startup business in one of the worst economies in U.S. history.
"Coming from Italy and owning land, growing a business, bettering your life and providing opportunities for your kids and their families – it's the American Dream," Biggi said. "My family takes pride in coming to the States and settling into Beaverton and thriving while keeping the business in the family"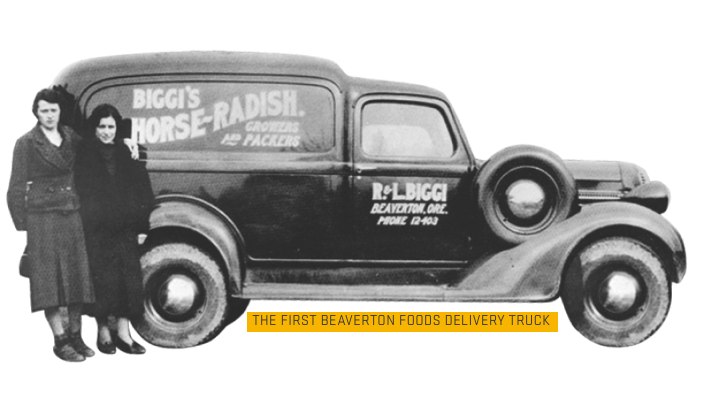 To thrive, Beaverton Foods had to be innovative. Gene, who is now the company's chairman, spent decades in the company's plant, standing over the bowls of product, experimenting with ingredients, and perfecting the sweet, spicy, zingy, original flavors Beaverton Foods would become known for.
Gene was first in the nation to develop and bottle Chinese Hot Mustard and Honey Mustard, and was working with ingredients like jalapeño, fruit and whole grain in the 1950s, years before competitors caught up.
"He knew he had to create things that were different than what was out there," Biggi said. "Oregon was a long way from the East Coast markets, where more people lived, and he had to be really creative to create products that people wanted and that he could charge enough for to cover the freight. That was really his forte."
Gene also knew how to expand the brand in addition to being involved in the day-to-day production of products.
Beaverton Foods is now the umbrella company for six brands of specialty condiments, and sells more than 150 products (including Rose's original horseradish sauce). Gene's recipes for favorites like Extra Hot Horseradish, Sweet Hot Pepper Mustard and Bread & Butter Pickle Mustard have reaped in awards throughout the company's history, including one from James Beard.
The company has recently celebrated 90 years in business with a rebrand of its products under the Beaver Foods label. "We're taking an old, established brand and giving it a fresh look," Biggi said. "We're letting our loyal customers know we're still here and still relevant, while trying to appeal to a new generation."
As CEO, Biggi takes the same detailed oriented approach as his father. He attends trade shows and goes to restaurants to see what trends are. He meets with his sales and marketing teams, and has a hand in how things are gelling on the plant floor.
"Most CEOs don't do what I do. I'm still out there in the trenches," he said. It's how my grandmother was, and how my dad was."
Biggi considers his own forte to be hiring the right advisors, like accountants and lawyers, to help the business move forward. "It's not very sexy, but it's my job to professionalize the business, and make sure we make the best decisions we can," he said. The company has never taken on debt, for example, and that kind of money management has always allowed them to weather difficult economic times.
Currently, though, Beaverton Foods is enjoying record sales, even as Biggi is especially conscientious of adapting operations at the plant because of COVID-19. "I try to stay calm and assure everyone that we're doing the best we can. There are no wrong answers at this point. We're just trying to keep each other safe," he said.
Biggi still believes in the immigrant success story, so much so that in 2018 he, along with his brother and sister, opened Beaverton's first food cart pod, "BG Food Cartel," which features 31 diverse carts along with a speakeasy bar and event space. Pod customers can sample cuisine from places as far-flung as Argentina, Guam, Thailand, and, of course, Italy.
The food carts are just one way Beaverton Foods is innovating into the future. For Biggi, who is now training his nephew, Jeffrey, for a leadership role, the idea is to keep the business going for future generations.
"There's no fifth generation yet," Biggi said, "But we're making long-term decisions for the things we need to do in the next 5, 10, 20 years. We want to keep this going."