Digging vines, studying climate, sniffing soil, pursuing the pinnacle pinot noir … If there's a new chapter in the works for the Oregon wine story, it surely includes Christine Clair '10, Willamette Valley Vineyards' winery director and someday successor to that winery's founder.
Clair, who studied business entrepreneurship at the College of Business, metaphorically "inhaled her first bouquet" of the Oregon wine industry while still a student by reading "At Home in the Vineyard," the plucky bohemian memoir of Oregon wine pioneer, Susan Sokol Blosser. Clair kept drinking in the story.
"I checked out Susan's book from the Corvallis Public Library, and once finished, I continued to read through the rest of their wine section," Clair said. "After that, I went to visit Jim Bernau and asked for an internship at the winery."
Clair worked at Willamette Valley Vineyards for a year and a half while she finished her degree. And much like the scrappy stories of her predecessors' business success with the Oregon grape, with graduation Clair got busy and creative.
Heading south to the Rogue Valley, she spotted her plot to start her own wine brand, GodKingSlave.
Clair bartered barrels and fermenting equipment from established wineries in exchange for social media training, a bandwagon onto which the older cellar owners had not yet jumped. She spent hours and miles on I-5, selling her product in Portland, 16 cases at a time straight from the car, not returning to southern Oregon until it was all gone. Miraculously, she always had exactly enough cash for her next season.
This went on for three years with a few notable successes until Bernau truly recognized the kindred spirit, the entrepreneur, the commitment, the winemaker, the hard worker as the one he wanted to keep his own dreams alive at Willamette Valley Vineyards.
"Jim has been a great coach and mentor to allow our next generation of leaders to develop beneath him as he scales back his operational involvement and focuses more on strategic initiatives," Clair said. "We've been on a deliberated and long succession plan together as he reels back on operational duties more and more each year."
Though working for a business that she does not entirely own now, the passion for starting her own business and being an entrepreneur that she had as a student remains at the forefront in her endeavors. "I am focused on continually building inside WVV and giving our employees, winery owners and customers more opportunities," Clair said.
Fortunately, her mentor keeps true to his own entrepreneurial roots; Clair and Bernau have orchestrated plans that will keep Willamette Valley Vineyards a significant Oregon brand for the next generation. The seasoned Oregon winemaker and the inspired millennial make a formidable pairing.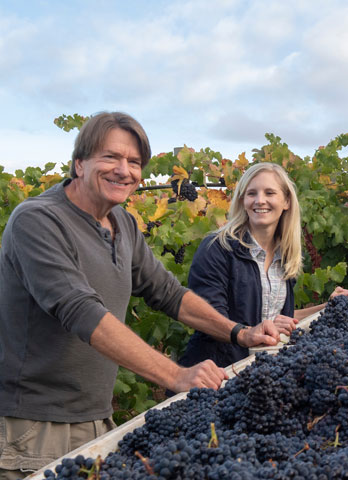 During fall term, Bernau also inspired a packed crowd of more than 250 business students in Stirek auditorium as part of the Dean's Executive Series, enthralling them with the origin story of his vineyard and the plans for the future.
Much like the original community-funded investment plan that Bernau used to start WVV along with a small community of shareholders, Clair and Bernau released a preferred stock option in 2015 to raise $20 million for their growth plans. They've seen roughly an 18 percent growth since then, but, more importantly, they've enticed a new generation of wine enthusiasts to take stock in their future success.
In 2014, they ended Bernau's 30-year personal quest – and many an Oregon grape grower's true ambition – by acquiring 100-percent estate-grown pinot noir grapes for their label.
They've studied weather maps together to identify perfection in microclimates and acquired or purchased land for five unique, boutique wineries. One of these five, in Milton-Freewater, is eligible for regional and state grants for promoting growth and business in underserved area. Committed to local business and community growth, they've planted WVV's first five acres in the Rocks District of Milton-Freewater.
Clair is taking the Oregon wine story on the road with an urban, wine pub concept where guests can visit and blend their own wines out of barrels. The first Willamette Wineworks will open in March in Folsom, California.
"There's a great story in Oregon as the hub of all good food – which is very good for travel and tourism – as well as promoting Oregon's excellence in the food and beverage industry."

Christine Clair '10
"Consumers, millennials in particular, are interested in authentic brands and experiences," Clair said. "We are going to continue to develop the Oregon story through wine by finding the most distinct vineyard sites, making storied wines and sharing them with our guests in meaningful ways."
She is also committed to the elevation of Oregon-made products in the food and beverage at the national level. Clair partners with the Tillamook Creamery in joint efforts to expand national brand attention.
"Oregon has a very strong food narrative," Clair said. "There's a great story in Oregon as the hub of all good food – which is very good for travel and tourism – as well as promoting Oregon's excellence in the food and beverage industry."
The College of Business, with its hospitality management degree program reestablished in Bend, and its emerging Food & Beverage Marketing Center, still in early stages, could not agree more with the goals of Oregon's expanded tourism and the national positioning of Oregon brands.
For Oregon State alumni, this branding excellence includes something local. WVV released the inaugural vintage of Elton wines in a tribute to alumni Dick and Betty O'Brien and their contributions to the Oregon wine industry. A portion of the O'Briens estate will benefit OSU's viticulture program – a creative and meaningful way to execute legacy giving.
WVV runs internships with College of Business students, and recently expanded its marketing team with the hire of Nicole Krill '18.
Perhaps reminiscent of Clair's own days on the I-5 corridor, WVV launched the GameDay Wine Club in a partnership with OSU to serve OSU loyal sports fans and their thirst for victory, with proceeds benefiting OSU's fermentation sciences, the OSU program that Bernau endowed years ago to spur its foundation.
Ultimately, in a story about symbiosis in the Oregon wine industry, there's a great benefit to having a strong OSU alumna among them, and it will serve WVV well. "Branding comes down to values, and I believe our values match and serve our customers and wine-enthusiast owners now and in the future," Clair said.
"So we are positioned well."