Last Friday, nine teams of MBA students in the Commercialization and Clean Technology tracks competed in the 12th Annual MBA Business Plan Competition. The two day event brought 16 business leaders from around the state to Oregon State's campus to judge the competition and to serve as mentors.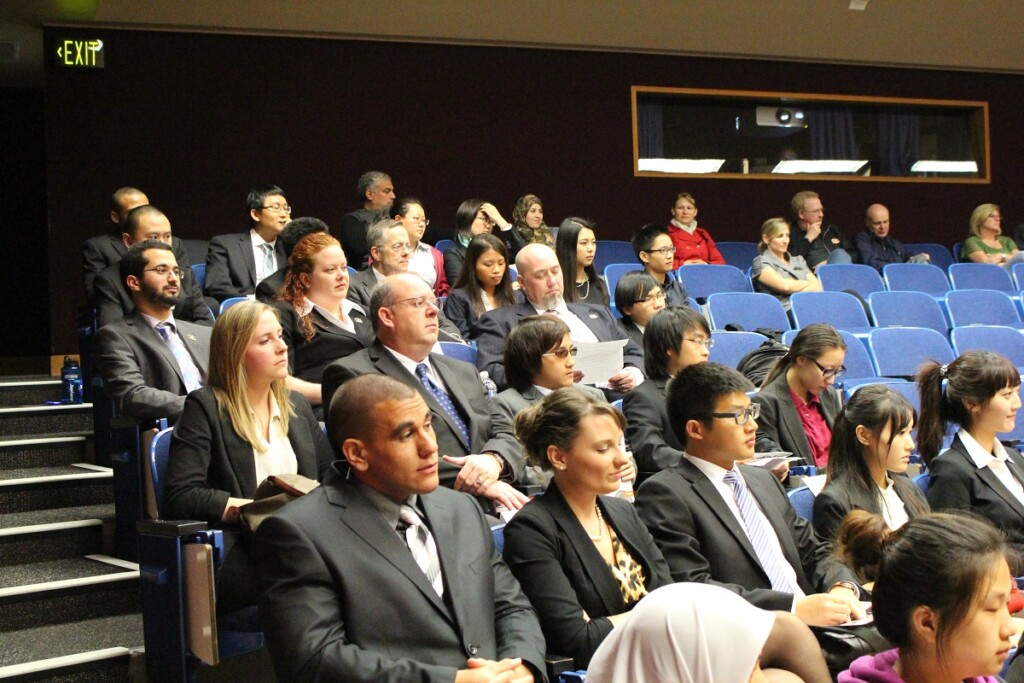 Each team was tasked with creating a viable business plan based off of real-world scientific breakthroughs, then presenting their business plans in a variety of competitive formats. The presentation is a culmination of their Integrated Business Plan (IBP) projects which the teams have been working on since last October.
On Thursday evening at the LaSells Stewart Center, each team gave a brief "shark tank" pitch outlining their business' market opportunities and objectives. Then, one student from each team presented their "elevator pitch" to one of the judges. This pitch is a simulation of a chance meeting with a potential investor in an elevator, whereby the seller has only 45 seconds (or about five floors) to pitch their business.
"As time intensive and energy-consuming as the Integrated Business Projects can be, the process is so valuable for our students and faculty that even though they're very challenging projects, they're equally rewarding," said Ilene Kleinsorge, dean of the College of Business.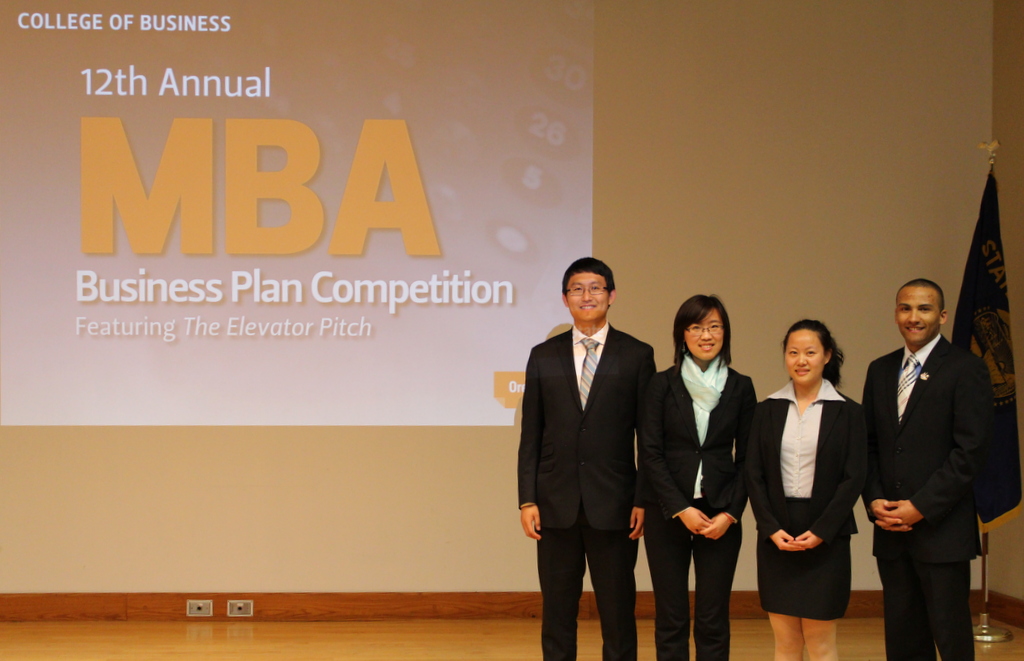 Team nine, composed of Jordan Stutzman, Wenqian Chen, Qinqing Song and Yuhang He took first place in both the shark tank and elevator pitch portions of the competition. Their business project is a technology for a storm water management company.
The next day, each team presented their in-depth plan to the judges, who are also potential investors. Each team had 35 minutes to present before being grilled on all aspects of the endeavor. By the end of the session, teams experienced more than an hour of a high-pressure, high-stakes sales meeting. On the second day of the competition, MBA candidates Jujie Hao, Pei Yu Lu, Muchen Liu, Milo Ullstad and Siqi Chen walked away victorious for their business plan for a technology company aimed at improving prescription drug label information.
While preparing for the Business Plan Competition was very challenging, the students know the real-world benefits the projects have.
"In a cross-functional business environment, being able to get all departments on board for a new project is the key to its success," said MBA student Sam Pincock. "Knowing how to effectively communicate to each department motivates and inspires cohesion within an organization, and the Business Plan Competition definitely helps prepare us for the challenges ahead."
"Every MBA class has unique and special attributes," said MBA program professor Tom Dowling. "I was very impressed by how well these students took on such challenging commercialization projects, quickly grasping the complexities and possibilities of innovative breakthroughs. This year's class never backed down from the challenges they faced week after week, and they should be proud."