Oregon's coastal tourism economy building for impact
Travelers remember the first thing about Oregon's natural beauty that made them gasp — whether it was a glimpse of Mt. Hood, riding through the Columbia River Gorge, or seeing the powerful Pacific crash against its rugged shores.
Tourism in Oregon is a $12.3 billion industry employing 115,400, according to state agency Travel Oregon, making it an important "export-oriented" industry. Outside the urban areas, tourism generates roughly 10% of jobs. As today's adventure seekers are climbing cliffs, kayaking, biking, camping and hiking, OSU and the College of Business are poised to help this industry grow. And it is impactful.
Tourism in coastal communities also contributes to Oregon's "blue economy," a collection of industries that have touchpoints with ocean and marine resources and function best under a sustainable business model — one that allows not only for economic growth but also protects ocean and river resources for future generations. Alongside sustainable fishing or ocean wave-based energy, coastal tourism contributes to Oregon's position among the nation's leaders for the blue economy.
OSU is currently helping to define the state's blue economy in support of the Marine Studies Initiative as well as the university's Vision 2030 strategic plan. As a yardstick the European Union recently valued their blue economy at more than $550 billion annually.
According to Miles Phillips, associate professor of the College of Business with OSU Extension and Oregon Sea Grant, sustainable tourism and outdoor recreation in coastal regions have room for growth, and consistent with our land grant mission, we have the need to better prepare communities for tourism business.
"We're planning ahead for big opportunities within guided experiences, or adventure tourism," said Phillips. "These visitors tend to have a higher spend as tourists, and this brings greater opportunities for business development."

For example, Phillips runs a program called GORP — the Guide and Outfitter Recognized Professional program which certifies participants to lead tourist adventures. He's also preparing for a national conference on sustainable tourism.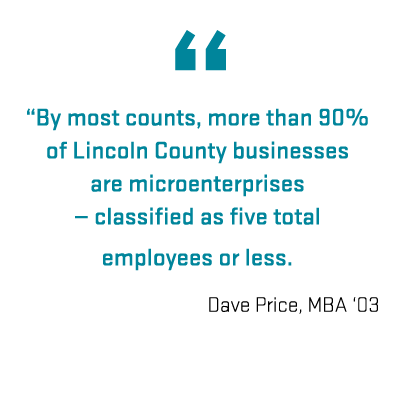 The October 2019 Conference on Sustainable Tourism & Outdoor Recreation in Astoria, Oregon, calls on private industry, local businesses, government agencies and professionals from Extension and Sea Grant to explore funding models, research and case studies focused on sustainable tourism and outdoor recreation. Phillips expects the conference to elevate the resources and opportunities available in Oregon. The conference is open to public attendance.
Bike Newport owner Daniella Crowder speaks well of the support networks available to business owners. "Living in Newport and being on the Destination Newport committee, the city's all-volunteer marketing committee, we are always working together to bring visitors here," Crowder said.
Crowder runs the bike shop with her husband, Elliott, who sits on the Oregon Bicycle Pedestrian Advisory Committee and Oregon's Scenic Bikeways committee. They're both very actively promoting coastal tourism and building their business community network.
"We're very plugged in, and we're involved in bike events all over the state," she said. "We're big advocates for more trails. We are working with the city, Travel Oregon and the Oregon Coast Visitor Association to create more hiking and biking trails in Newport. This brings more sustainable tourism and adventure tourism to the area, and it's great for our community."
Bike Newport rents, sells and repairs bicycles as well as supports bicycle touring, which brings bikers to other tourism businesses. For example, Bike Newport will lead a trip to a microbrewery in Yachats, a plus-20 mile trip south, and arrange transportation back to Newport for weary bikers.
Tourism businesses all face similar challenges — small businesses and family businesses needing skilled employees, or entrepreneurial self-employed service providers needing good marketing, business upskills and community support. The college's hospitality management degree option is offered online and at OSU Cascades — addressing Oregon's growing need for business skills related to tourism.
These concerns are live on the ground in Lincoln County with Dave Price, MBA '03, director of small business development and community education at the Oregon Coast Community College in Lincoln City.
"By most counts, more than 90% of Lincoln County businesses are microenterprises — classified as five total employees or less," Price said. "And it's very hard to find a business that's not impacted by tourism in Lincoln County."
Price cites the contractors maintaining and improving vacation rental homes, hotels and restaurants. He says their project work, pickup trucks and work belts might not apparently influence tourism, but certainly during the recession, many business owners put maintenance and improvement projects on hold, and the community was impacted.
Price's initiatives provide business training and workshops to small business owners and potential entrepreneurs, including a nine-month small business management program. He sees great potential for sustainable tourism.
"There's been plenty of talk about how Lincoln County can set itself apart by becoming 'Oregon's Greenest Beach,'" Price said.
"We've looked at bans on Styrofoam containers or a plan to use transient room tax funds to subsidize private businesses' investments in compostable tableware. We, and others, have an eye on tourists who realize one stretch of sand is very much like the next, but finding a vacation community that syncs with one's closely-held values could be a powerful attractor."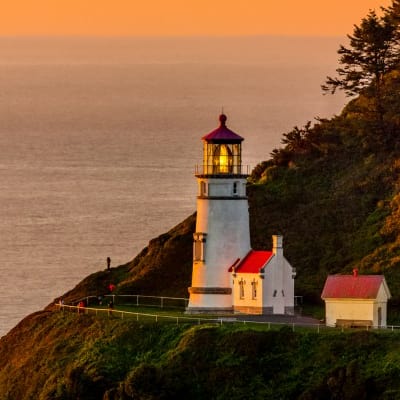 Misty Anderson, innkeeper of the Heceta Lighthouse Bed and Breakfast located in Yachats, Oregon, knows what it's like to command a special niche of tourism. A protected heritage site operated by the U.S. Forest Service, similar to the Timberline Lodge, a stay at the inn is a special experience. Anderson admits she's lucky, "I'm not paying for internet marketing because we just have the reputation."
The 125-year-old house has "all of those challenges and that charm," and Anderson makes certain to provide the nicest linens, the softest robes, the fluffiest towels, and a seven-course breakfast.
"All of our food and wine is Pacific Northwest, as local as we can get it," Anderson said. "From our inn's culinary garden to the Florence Farmers Market to the garden at my house, everything is as local as we possibly source it. We really want to feature for those people who come from all over the world what Oregon and the Pacific Northwest has to offer."
Photos courtesy of Oregon Sea Grant and Heceta Head Lighthouse