Fund brings support for design faculty, Dr. Marilyn Read
For Dr. Marilyn Read, a career in academia started backstage, painting scenery for theater – and helping out family by babysitting her niece and nephew. The associate professor of design at the College of Business pursued three degrees, B.A., M.A. and Ph.D., in interior design inspired by the goal to improve the lives of children and families.
"As I spent time watching my niece and nephew navigate their environments as very young children, I started connecting ideas between interior design and the betterment of children's care and education environments," Read said.
Read's research analyzes the designs of child development and care centers for design elements that support children's social development. She works with a focus on color and form and their impact on children's social behavior. Another area of interest has been children's perspectives of color and the designed environment.
Teaching the history of interior design, a broader goal for Read is to teach her students about past and future, and the idea of making decisions with both the short term and long term in mind. "The most important outcome of my teaching philosophy is for students to recognize that their ideas matter," Read said. "The best guidance I have for our graduating seniors is to ask themselves the question: What do I want to see when I look back on my life?"
And as the newly named Laura B. Smith Faculty Scholar, Read sees numerous parallels in her journey to that of her endowment namesake – art and family inspiration.
Laura B. Smith's son, Murray Smith and his wife, Linda Smith, created the legacy gift of the endowed support fund in remembrance of his mother's career as design faculty at OSU. It is designated to support College of Business professors in the area of interior and apparel design.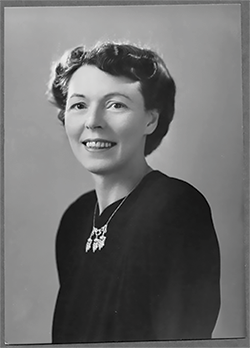 When Murray is looking back on life and reflecting on his mother, the daughter of a Canadian wheat farmer, and his father, the son of a minister, he shares that it was his mother who changed the damaged wheel (not just the tire!) on the first family car while his dad looked on in amazement.
Laura, who earned a masters in fine arts, was also the one who – because of student debt and employment restrictions during the Great Depression – worked in academic positions across the country (with Murray and away from her husband) until both academics reunited in Corvallis at OSU in 1945. Cairns Smith taught history. During this era of economic hardship, it was common practice to only hire one qualified full-time faculty per household – in order to spare a job for another family. And Laura frequently had just part-time assignments, teaching interior design, mechanical drawing and other subjects.
Murray's college years at OSU begin with ranch management studies before he decided that becoming an architect was his desired goal, "especially since my mother had graduated with a strong design background." He designed the new family home as his senior project, and was one of the first architects hired by what would become CH2M HILL. Murray and his wife later moved to Washington, D.C., so Linda's career in the U.S. Environmental Protection Agency also could flourish.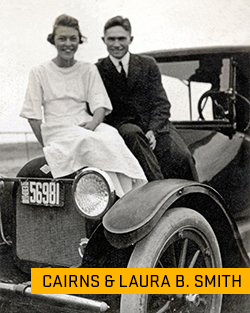 "There is little doubt that our constant moving around the country forced my mother to either focus on teaching, or on being a mother to me, if we were all together where my dad happened to be teaching," Murray said. "She never said this, but I often think that her frustration with not being valued as a full-time professor led her to express her feelings in an artistic manner. As proof of that, she had periods where she painted extensively, and many of those paintings are now on display in our home."
Marilyn Read says she's grateful and honored to receive the endowment. "The environment has improved over the years for women in academia," Read said. "However, I do believe that we are still challenged when balancing work and family responsibilities."
As testament to that lingering legacy of multitasking, some of Read's recent educational output – an 8-week series of presentations and projects about plate tectonics, minerals, soil and fossils – stem a request from her son's third-grade teacher to talk to the class about rocks.
As an educator, Read also feels that her career inspirations stemmed from her mother, a chemistry instructor for almost 30 years at Merritt College in Oakland, California. "She highly valued science and public education," Read said. "When I look at this present youth work, I see how I honor my mother's values and my own by designing projects to enhance children's understanding of science concepts."
* The painting that leads this story is "Firestorm," by Laura B. Smith.
---
Would you like to learn more about
how to make a meaningful impact through endowing a faculty position?
Please contact:
maria.schell@oregonstate.edu.