Walking to the CH2M Hill Alumni Center library July 12, Oregon State College of Business Dean Ilene Kleinsorge took one look at the buffet table and sighed.
"My immediate thought was how unfortunate it was they had to order so much for six people," Kleinsorge said referring to the number of people she thought would be at the reception.
What the Sara Hart Kimball Dean didn't know was her family, friends and colleagues had assembled to recognize her by naming the Dean's Boardroom at Austin Hall, the future home of the College of Business, in her honor.
Kleinsorge was presented with a plaque recognizing the accolade, which will hang in her office until permanent signage is installed in Austin Hall after its scheduled completion in 2014.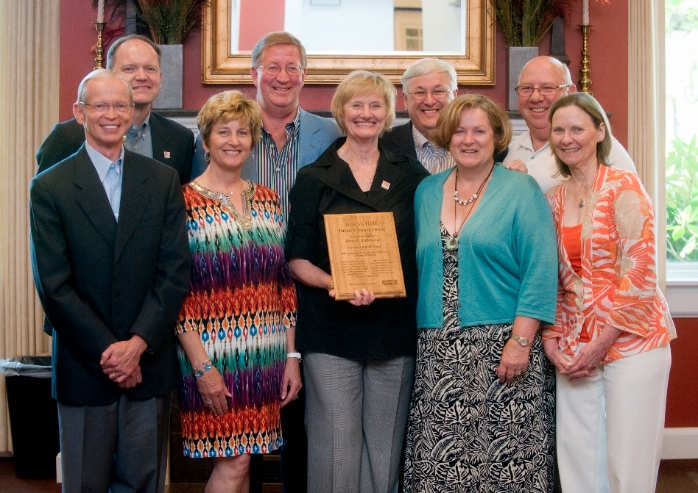 "I see three faces [walking in]," Kleinsorge remembered. "I see [alumnus and donor] Larry Brown, [OSU President] Ed Ray then I see my daughter. I'm trying to put it together and it didn't make sense. It really didn't until the plaque."
Since becoming Dean in 2003, Kleinsorge has pushed for the new building, working tirelessly to help raise the needed funds. The building is named for Ken and Joan Austin, alumni who committed $10 million to the project.
With the project nearing success, a group of alumni decided a more permanent reminder of Kleinsorge's efforts was needed, stepping up to make the naming possible:
Stephen and Marian Bailey
Larry H. and Dena Brown
Malcolm and Monette LeMay
Duane and Barbara McDougall
Jon and Margie Masterson
Bernie Newcomb
Irva Kay Neyhart
Tod and Kimberly Perkins
Patricia Reser
Don and Jennifer Robert
John and Kate Stirek
Ken and Marta Thrasher
Jack and Virginia Wilborn
Ken Thrasher hosted the presentation, thanking Kleinsorge for her service and noting her commitment to getting the Austin Hall campaign off the ground.
"Her leadership has been absolutely phenomenal," Thrasher said. "It's been a wonderful tribute to her to have this be a part of her legacy of what she's created at Oregon State University and the College of Business."
President Ray said he's been impressed with Kleinsorge's ability to articulate what the building would mean to those outside the university. As Ray pointed out, just telling someone you need a new building isn't enough.
"You actually need to be talking about the extraordinary things you're accomplishing despite the [current] building, and you need a great building to match the great people and things that are being accomplished," Ray said. "Ilene and her colleagues did a tremendous job demonstrating the quality of the faculty and students they were attracting and what the possibilities were longer term, bringing them all together."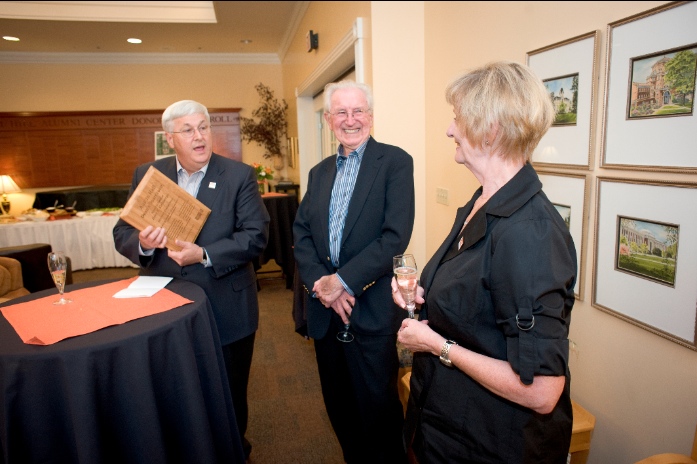 Kleinsorge said she didn't feel the full impact of the honor until an early-morning walk on Sunday.
"I was an emergency room nurse," she said. "You take that shock and trauma, and if you emote, you do it at home where it won't affect the outcome.
"[Sunday] I began to think about each of the people on the plaque, how important each has been in supporting me, and the tears flowed," Kleinsorge said.
While Kleinsorge said it's difficult to express the depth of her gratitude for the honor, she sees it as an indication she succeeded in both staying true to the needs of Oregon State students while connecting with those outside Corvallis.
"It means a great deal," she said. "Future Oregon State University business students will know they had a dean who cared enough that they had a place to inspire them."
As for the donors who made the honor possible, Kleinsorge said each name engraved into the plaque represents a personal connection that's helped make Austin Hall a reality.
"They reflect what is the best part of OSU. A generous spirit, success, strong ethic, and they value education.
"I will always be in their gratitude," she said.