E&J Gallo Winery senior analyst Leslie Mak says it's the corporate culture – not the employee discounts on products – that inspires her to love her job.
Alumna Inside a "Best Place to Work"
Let's just get this out – it does sound glamorous – working in the wine industry. But it's another thing altogether to work for the largest winery in the world, which also is a three-generation, family-owned business. That's called prestigious. And, finally, why not add some modern accolades, and be a part of a company honored with Glassdoor's "Employees' Choice Award, Best Places to Work" in 2017?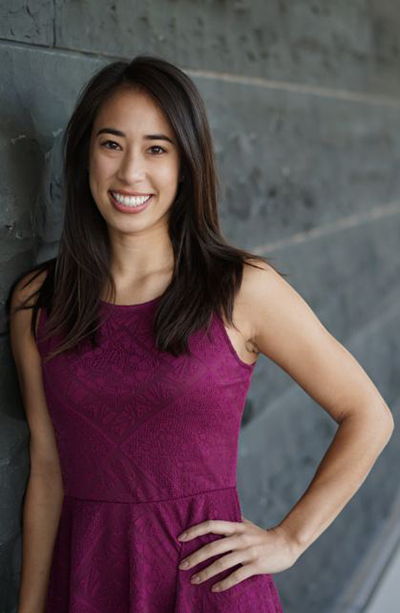 If you've not guessed yet, we are talking about Modesto, Calif.-based E. & J. Gallo Winery. From among 600,000 companies in Glassdoor's corporate data files, Gallo is included with the likes of Google, Facebook, Apple and Forrester, corporations known for employee satisfaction.
In addition to being honored with Glassdoor's "Employees' Choice Award, Best Places to Work," Gallo was also recognized by Glassdoor in September of 2016 as a top company for employee culture. "Because this recognition was the result of our employees makes it particularly important and meaningful," said Michelle Lewis, vice president of global human resources. She added, "We appreciate the honest feedback our employees provide at all levels to make Gallo a better place to work every day."
For the occasion of Gallo Winery's no. 47 ranking, we talked to Leslie Mak, a senior analyst and College of Business 2012 graduate with a B.S. in marketing. Mak says there's much more than employee discounts on products inspiring the employees'-choice style reviews for the Glassdoor ranking.
"I consider Gallo to be the best place to work because I am always valued and empowered as an employee," she said. "I work with wonderful people, and I do love our products. The alcohol beverage industry can be glamorous, but it takes a lot of hard work to produce, market and sell our products successfully."
The winery's efforts to emphasize employee satisfaction stem from strategic and innovative decisions that have built the 6,500-employee, industry-leading global business.
The Gallo wine portfolio includes more than 80 unique brands, ranging from small-batch luxury vineyards to high volume productions; such brands include Barefoot Cellars, Orin Swift, Gallo Family Vineyards and Columbia Winery in Washington. Additionally E. & J. Gallo Winery imports a portfolio of wines from prominent winemaking families and wineries around the world. This includes Don Miguel Gascón and Alamos in Argentina, Whitehaven in New Zealand, Las Rocas and Martín Códax in Spain and Brancaia and La Marca in Italy. Gallo's LUX Wines division is also the U.S. importer for highly acclaimed Italian producers such as Allegrini, Jermann, Pieropan and Renato Ratti.
Its history of solid business decision-making includes embracing current trends such as corporate sustainability initiatives and old-fashioned controlling the means of production: Gallo was the first winery in the United States to receive the ISO 14001 certification, a rigorous benchmarking standard for companies to reduce their impacts on the environment. Gallo also has owned the Gallo Glass Company since 1958, the state's largest glass plant which currently uses 25 percent of all recycled glass generated by California, or about 200,000 tons.
Equally inspirational – from our perspective – numerous Oregon State University graduates are employees of the winery. Beginning with Gallo Chairman of the Board Robert Gallo, '56, and Jim Coleman, Co-Chairman, '58, the company reports about 40 alumni across the organization, making OSU the sixth largest alumni base at the company, and the biggest base from outside the state of California. The company recruits business students and last year hosted a College of Business regional alumni event in Modesto.
Mak, who was hired into the Gallo Management Development Program after a meetup at the Oregon State University Career Fair, has gained experience in three positions. She started as a sales rep in the Portland area, and currently conducts analysis to support the marketing of the Gallo spirits portfolio.
Mak calls her career trajectory with Gallo a great opportunity, and she's grateful that Gallo is investing in her as an employee. The company encourages rotations on different teams in order to develop skills and work cross functionally to better prepare employees for manager positions. She is president-elect of Gallo's Women of Wine organization, where the mission is to unlock the full potential of all female employees to achieve company objectives. There also are opportunities at Gallo to receive support for graduate studies.
"I am interested in getting my MBA while continuing to work at Gallo. Who knows, being back at Oregon State could be within the realm of possibility," Mak said.