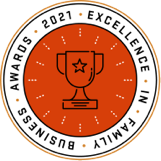 Business Renewal Award
By Rebecca Barrett
The showroom and home store Rich Kansky first envisioned building for Green Acres Landscape about 10 years ago is nothing like what it has become.
"It turned out so much better," the company president said.
That's because some of the best ideas for business ventures come from employees of the family-owned Salem landscaping business and nursery.
The gift shop and showroom reflect the interest and hard work of Amy Kansky, Rich's wife. On their travels, they discovered local markets where people would gather as a community. When the right property became available in 2018, just minutes from where Rich was born and raised, they were ready.
"We were very patient. We knew what we wanted, knew what we needed," Rich Kansky said. Video.
What began in 1992 with Rich and his best friend mowing lawns based out of a garage has evolved into a full-service residential and commercial operation with more than 100 employees.
The new facility consolidates all of Green Acres' business enterprises into one location, from residential and commercial design and install to maintenance and enhancement.
The expansion reflects the ideas and involvement of the second generation and future of the family business. It's one of the reasons Green Acres Landscape, Inc., was selected as the winner for Business Renewal in the Excellence in Family Business Awards for 2021.
Rich attributes the success to working together with his family and employees. Other family members involved include vice president Rob Kansky and his wife, Stacie, Rich's brother and sister-in-law, who joined the business after serving in the military. Lisa Livermore, Amy's sister who works in the office, and Steve Gieseker, Amy's brother, is in charge of facility improvement.
The second generation is also starting to work, including Rich and Amy's two oldest children, Madison, who is pursuing a degree in communications at Oregon State, and Jackson, a freshman at University of Oregon. Holly, daughter of Rob and Stacie, is in high school and fills in with administrative tasks.
"It's great when the kids come back every summer," Rich said.
Other family members have helped with special projects. And at Green Acres, employees feel like they are treated as family. The management structure includes 20 positions across eight departments and many decisions are made by committee.
"We've always tried to emphasize that group success comes from personal success," said Rich. "It's important that they look to me for leadership, but everybody's confident and comfortable."
Green Acres Landscape is ranked as one of the 100 Best Companies to Work for In Oregon in 2021. Part of that company culture is what employees call "Rich's Rule," which is to do what's right and don't say no.
Back when he was mowing lawns, a customer would ask if he could pull in a garbage can or paint something.
"My dad taught us at a young age, make it hard for people to go someplace else," Rich said.
Green Acres can't do everything for its customers. But they can find partners to help if the request falls outside the scope of work.
"If we can be a solution, make somebody's life better, we will take it on," Rich said. "Let's do it."
At a Glance
Year started: 1992
Number of generations to work in the family business: 2
Number of family members working in the business: 9
Last family vacation destination: Hawaii
Favorite restaurant for family dinner: DaVinci Ristorante, Salem, OR
Name and firm of most helpful family business professional that you would recommend to other family businesses: Calvin "Skip" Palmer, CPA
Best business decision: Acquiring new property for business expansion
---
About the awards
Every year since 1988, the Center for Family Enterprise (formerly the Austin Family Business Program) recognizes family businesses who exemplify the values we hope to foster in the work we do in the College of Business: harmony, generational development, leadership and growth.