You know it's a pretty good day within the College of Business when your day-job takes you to the mall. Especially if you are a marketing major, and you get to conduct live interviews with the unsuspecting public and get their feedback on advertising campaigns.
That's how it worked for six students affiliated with the College of Business Close to the Customer (C2C) marketing lab who tested a major outdoor advertising campaign for healthcare provider The Corvallis Clinic and creative agency Funk/Levis & Associates.
Get in the field, work with the big brands, learn how it's done, analyze the data, and make your report.
The students, charged with analyzing consumer feedback to help Funk/Levis create prominent messaging on billboards for The Corvallis Clinic.
"I think the students really enjoyed this project because it was so hands-on," said Amanda Terhes, C2C manager. "They were physically out at locations talking to community members, and then within a short amount of time were able to see their efforts translate into a finished product."
At four locations in Corvallis and Albany, including different service points in The Corvallis Clinic, the Benton County Public Library in Corvallis, and the Heritage Mall in Albany, the group sought out public opinions. The team engaged them in a survey to determine their preference and opinions regarding three potential billboard advertisements.
"I thought C2C was perfect," said Mindy DeForest, account manager at Funk/Levis. "They know the Corvallis and Albany area and were able to select appropriate locations for each interaction point. They also handled all of the logistics, from garnering permission from the locations to be onsite to developing the questions and doing the research and analysis. The final report was very comprehensive and professionally assembled."
Though mentored by marketing faculty and C2C leadership, the team, with contributors ranging from first-year to senior students, is responsible for the deliverable. All said and done, they talked to 100 subjects in these public settings.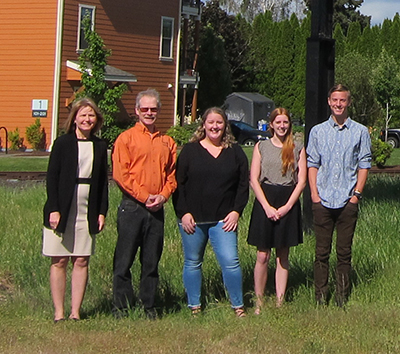 According to The Corvallis Clinic's Director of Marketing and Foundation Judith Corwin, the faculty mentorship is a valuable component of the research team. "Hal Koenig and Amanda Terhes are expert professionals," Corwin said. "They provide more than research; they provide thoughtful expertise and ask important strategic questions to help shape our research project."
Corwin has called on the C2C marketing lab for research on a number of projects over the years, and would choose a Portland area market research firm, were it not for C2C. "Having a firm in our market area is far better and we love to support local and the students," she said.
The work experience is eye-opening to business students, and an invaluable part of their learning curve.
"Personally, when working on this project, I found it fascinating how members of the community responded to the proposed campaigns," said Kasey Babcock, a freshman in pre-business.
"Certain images, color schemes and word choices each produced a varied emotional response from the potential customer."
This was Babcock's first experience researching with C2C, working individually with interviewees, and seeing how market branding can affect the public and then the business decision. She looks forward to more projects in the future.
The team, led by Joseph Bridges who is a senior in marketing, tested three creative concepts themes. And they came back with some great findings – a dominant winner on impression, imagery and alternative preferences for slogan; some suggestions and preferences about design and logo treatment; and some significant data variance among survey participants that "were not familiar with The Corvallis Clinic," according to the C2C client report.
"This project was a really fun one," said Bridges. "As a project manager, I knew that I had to make sure things happened on time, everyone was on the same page, and our final report looked good."
It is typical for C2C researchers to be able to work directly with a client, and then have a small team to complete their analysis and other project requirements. Such models, according to Dr. Hal Koenig, associate professor of marketing and C2C faculty mentor, show the students the same skills they need in the work force: the ability to communicate and adapt with a customer, and deliver.
The experience with the clinic and the ad agency delivered just that.
"What I loved about this project was that I felt that Funk and TCC took the full scope of our finding and suggestions and reworked the campaign around those ideas," Terhes said. "We saw that potential patients preferred a certain slogan and certain pictures the most, and we recorded comments about logo size and color. Funk put those suggestions, ideas and elements together to create a new design. "
Intercept testing results showed that the most favorable billboard theme was ranked no. one by 51 percent of participants, while the runner-up appealed to 26 percent of participants. However, the team's analysis of preferences based on the photo, colors and other design elements showed those noteworthy variances and factors. The creative agency took note, according to DeForest.
"The C2C group delivered a high-quality product, and their research findings helped us make informed decisions as well as refinements to the final campaign creative that is in use today," she said. Funk/Levis deployed a hybrid campaign based on the research.
"I think this is what was most exciting to the students. There was slight 'winner' in our findings, but Funk/Levis and The Corvallis Clinic took into account all of our findings to create a fourth concept which was then launched," Terhes said.
Mirroring the respect the clients showed our student researchers, Bridges said he valued working with the first-year students. His efforts to make everything clear for them also helped his ability to be clear and thorough with the client. He looks forward to a future job in marketing.
"I have been taking every opportunity I can get, and that's what my future holds next year ― taking the best opportunity I can get," Bridges said. "After working for a few years, I want to move to an industry I really love ― something like motocross or surfing. I truly believe that I can bring a fresh perspective.
Student Project Lead:
Joseph Bridges, Senior in Marketing
Team members:
Kasey Babcock, Freshman in Pre-Business
Fabriel Nguyen, Junior in Finance and Accounting
Levi Lewandowski, Senior in Marketing
Leigha McCreery, Senior in Marketing
Nicole Frydenlund, sophomore in Pre-business (Finance) (Honors College)
Faculty Mentors:
Dr. Hal Koenig, Marketing Professor, College of Business
Amanda Terhes, C2C Director, College of Business (Amanda.Terhes@bus.oregonstate.edu)