better creative firm takes on the big issues
Jonathan Riley '09 could entice you to buy a pair of sneakers. He could probably compel you to buy 10, given that he's creative, charismatic and very, very good at messaging.
But if that's what he really wanted to do, he'd still be in management at Nike.
Instead, he's the head of better, the creative firm he started in 2017. He has a team of five, a network of hundreds and one mission: to empower and help create equity for communities of color in Portland and beyond.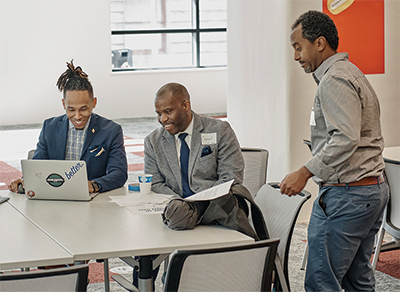 "Impact and intention are first for me. I want my work to go toward things that I care about and the people and communities that need it the most," Riley said. "We make sure we're supporting businesses of color, nonprofits and key initiatives that help people of color. We want to empower the community."
The firm's reputation has grown through word of mouth and the relationships Riley's built in Portland. And his focus on equity is the same, whether he's working with the City of Portland on their digital equity plan or with firms whose missions are aligned with his; helping plan Sneaker Week, which creates a pipeline for people of color to find careers in the footwear industry; or advising small, Black-owned businesses, to whom Riley offers his services for free.
"We do the work to dig trenches and make things attainable and accessible," he said.
Serilda Summers-McGee, principal and CEO of Workplace Change, a progressive human resources firm in Portland, hired better when a friend of her brother recommended them.
Summers-McGee chose HR as a career to effect systemic change for underserved communities, and has worked with more than 90 companies since she started her firm in 2016. She's created a niche in the region: an HR firm that offers broad services with diversity, equity and inclusion embedded into them.
"We can tell a company, for example, that Black people make up 5% of their workforce but account for 17% of the firings. We ask them why that's so disproportionate," she said. "Data is our primary approach to disruption. We're asking different questions than they do."
Riley and better provide marketing and messaging for Workplace Change, and Summers-McGee credits them with helping her launch her firm successfully.
"I love the fact that he has an urban undertone while understanding the conservative nature of corporations. What he put together for us is engaging and elite, and still authentic," she said. "It's special to work with an all-minority firm led by a Black man. There aren't many Black-owned firms on the West Coast."
Riley's work has been recognized often. He's won numerous awards, among them the Don and Shirley Wirth Young Alumni Award from Oregon State. Riley was recently featured in the Portland Business Journal as one of their "40 Under 40 2020," an honor which recognizes innovators, rising stars and well-known names.
"In 10 years, I see us promoting or supporting a political campaign," he said. "It's a way for us to hit a different target and reach an elevated demographic. It's a way we can influence the people who make rules and can make even bigger changes."

Jonathan Riley
But for Riley, these accolades are a way to gain exposure for the organizations he works with and to further his goals for the community. He's not the type to put better's logo prominently alongside his clients'. His company's website is bare-bones, without a lot of information.
"We're like Batman. We're vigilantes. You don't know who we are," said Riley, who does not even have a presence on social media. "We're highlighting the people we're helping. Being a glorified hero doesn't push the needle."
While COVID-19 has ravaged businesses in Portland and elsewhere, Riley has been even busier in the past year — in part because of the increased awareness of systemic racism in the United States. Riley and better were prepared: It's the work they've been doing all along.
"Everyone is on that trend, but our partners and the people we've built relationships with already know us," he said. "Now, we're working on exciting projects in health care, media and social justice. These are 100% impactful. These things will create generational change."
Riley and better, for instance, are working with F.C. Hurdle Consulting, an educational consulting firm helmed by Conrad Hurdle '96 on the City of Portland's Digital Equity Access Plan.
The plan, which proposed policies and operations to increase digital access for Black, Indigenous and people of color, was adopted in 2016, but COVID-19 has underscored how much work still needs to be done.
"Covid really exposed longstanding digital inequalities. Those fissures are exposed for everyone to see," Hurdle said. "Our work with Portland supports community-based organizations that help eradicate the digital divide. It's dramatic and important work.
Right now, nothing happens without a computer in front of you. And not everyone has internet access."
Riley and better, Hurdle says, are elevating awareness of these inequities as well as other issues Hurdle's firm takes on.
"Jonathan gives everything a professional visual look and creates solid communication strategies for our clients," Hurdle said. "He's been 100% aligned with my firm's mission: to reach out and work with people who have been disenfranchised."
Riley's goal, ultimately, is to create the broadest impact he can.
"In 10 years, I see us promoting or supporting a political campaign," he said. "It's a way for us to hit a different target and reach an elevated demographic. It's a way we can influence the people who make rules and can make even bigger changes."