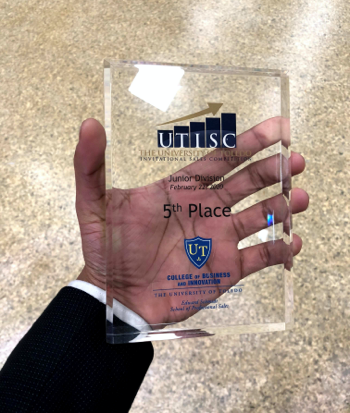 The idea to launch the OSU Sales Academy and create a new opportunity for students to gain exceptional sales training is just a few years old now, but it started off strong. Back in 2018 Michelle Barnhart, associate professor of marketing, outlined the foundational academic needs to create a sales minor, option and professional certificate as well as the extracurricular needs, including the launch of a student club.
Corporate partners quickly anticipated the value and benefit to building a talent pipeline of students with sharp sales tools, including negotiation, problem-solving and deal-closing. Pacific Office Automation became the title sponsor of the academy, and multiple companies followed into sponsorship, with a current roster including American International Forest Products, Consolidated Electrical Distributors, E&J Gallo Winery, Tek Systems, The Partners Group, Target, Federated Insurance and UNUM.
And that's … just the backstory.
By spring 2021, the OSU Sales Academy had hit its first victory in a national collegiate competition. In other words, they are knocking it out of the park.
Caitlyn Gill, College of Business instructor and director of the OSU Sales Academy since 2019, and Todd Laurence, business instructor at OSU-Cascades and sales team co-coach since 2020 have built a prominent nationally competitive sales team in these short years.
Gill points out that most universities OSU competes against have long-established sales centers with technology-laden, multimillion-dollar sales labs for students to use to role play whereas she's working with lesser resources, a lot of coffee and good old-fashioned Beaver grit. And that includes expanding Sales Academy to the Cascades campus in the past year with her co-coach to benefit businesses and business students in the dynamic Bend community.
"The OSU Sales Academy is just beginning to establish a presence on the Cascades campus," Laurence said. "However, it's clear that there is very strong demand for skilled sales professionals here in Central Oregon, too, especially recent college graduates. Local companies in industries including travel/tourism, outdoor products, construction, consumer goods, and high tech are hungry for business talent that wants to live and work in Oregon."
Gill and Laurence leveraged their many years of hands-on sales experience, their passion for mentoring promising business talent, and their network of sales leaders, to help OSU Sales Academy graduates land great jobs and succeed in their business career. But first, there are the competitions to win.
In 2020, at the University of Toledo Invitational Sales Competition, which is recognized as the apex national sales event, OSU took fifth. In 2021, the college team moved to No. 1 in the nation.
Sales team captain and business analytics and computer science double major Santosh Ramesh won the 2021 national title at Toledo for OSU's first-ever victory in a sales competition. Marketing and business administration major Isabella Johnson placed eighth to contribute to OSU's overall runner-up position as a university. The competition, held virtually in February, brought together 33 universities and more than 90 students.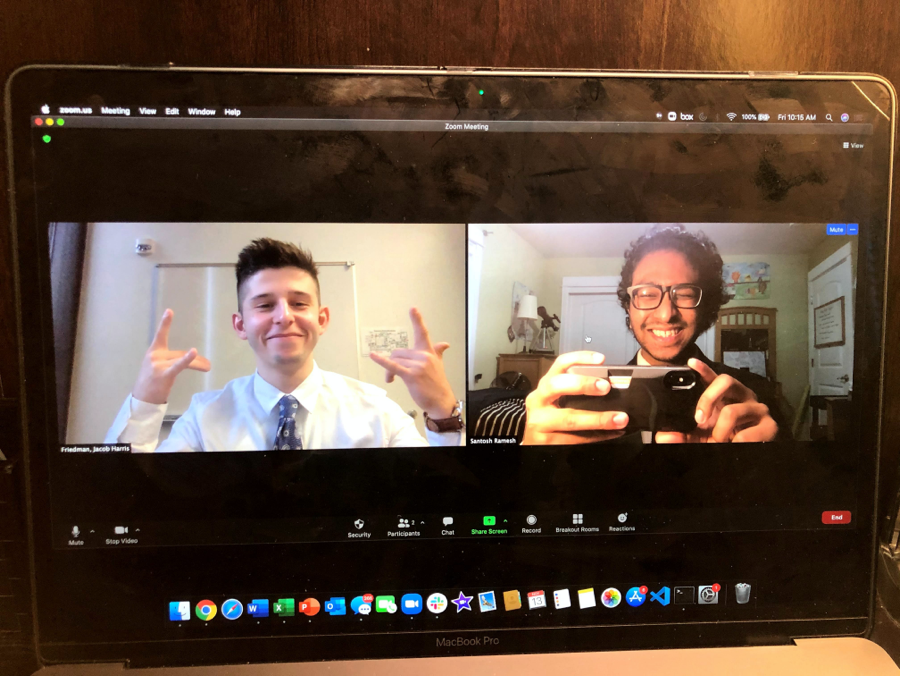 "Santosh and Bella have put hundreds of hours into preparation," Gill said. "They've given up nights and weekends, doing whatever it takes to bring home a win for the Beavers. They really earned it."
Johnson, who joined the Sales Club with a fellow student in her first year, says she was hooked after just one meeting because it was so much fun. She competed in multiple in-persons events prior to the pandemic, describing them as "the most valuable, fun and professional experiences" she's had at college. The transition to Zoom competitions taught her perseverance as well as simulated real-world sceneries that business professionals work within today.
"I would love for other students to know that taking advantage of opportunities that Sales Academy presents can be used to catalyze all passions in life," Johnson said. "Build your network, work on communication, develop hard and soft skills, and — not just take classes — but actually use this opportunity to build your professional life early. The trials and errors I have made while still having a safety net of support from OSU is incredible."
Ramesh credits some of his recent success to his experiences in high-school entrepreneurship clubs as well as helping his family with real estate sales. "They say that hard work beats talent when talent doesn't work hard — in sales, this is one of my driving philosophies," he said.
So what is the encore to all that hard work? Why, taking on the world, of course.
Just a few weeks after Toledo in March, the OSU Sales Academy attended (again, virtually) the National Collegiate Sales Competition. The NCSC is the largest sales competition in the world with 70 elite universities competing and more than 540 student competitors. This time, the sales team — with a lineup of Santosh Ramesh, Zak Lehman, Steven Trotter and Jimmy Li — placed sixth on what's considered the world stage for collegiate sales competitions.
Ramesh was fifth in his role play event. Teammate Li, who earned top honors in the speed selling event, delivered the best short pitch of 500 competitors for the competition sponsor Aflac. Like Ramesh, he found his talent for sales through work.
"I discovered my passion for sales when I started a job at Cutco cutlery where I earned commission on selling high-end kitchen cutlery," Li said. "I did over $10,000 in sales in my first ten days. That's when it truly hit me that sales is my passion. I was involved with Sales Club and met some brilliant individuals that brought me to Sales Academy."
The business administration major intends to pair sales and entrepreneurship for his future career and has recently started his own LLC.
With a few more events on the calendar, including OSU's annual POA Northwest Sales Competition with the OSU Sales Academy's title sponsor, we only have great things to look forward to.
"I can say confidently that the OSU Sales Academy is a unique differentiator for the College of Business," Gill said. "Our students have proven that they can compete at an elite level, and we will absolutely build on this momentum. Our goal is to create a curriculum that develops all aspects of sales and go-to-market expertise, including sales leadership skills."