That the West's largest capital equipment provider, The Papé Group, Inc., is located in Eugene, Oregon, might seem surprising.
What started in 1938 as a single, family-run equipment dealership in Eugene has become a trusted powerhouse for heavy equipment and technology solutions across industries and geography. Papé is a household name to companies in industries throughout the West as varied as construction, agriculture and forestry (to name just a few).
"There's no reason why a company that started in Eugene should have grown to become the largest consolidator of heavy equipment dealerships in the western United States," said Jordan Papé, CEO of Papé, Inc., and the fourth generation of family leadership. "It could have easily been a company in a larger metro area like Seattle, San Francisco or Los Angeles that decided to roll up smaller players. But our commitment to creating a business our customers could rely upon led us to become a consolidator before consolidation became an industry trend."
The Papé story is one of adapting to customers' needs, surviving adversity and diversifying early. It's one of the reasons that The Papé Group was awarded the 2022 Dean's Award for Family Business Excellence by the Center for Family Enterprise in the College of Business. The company's roots in Eugene point to its longstanding commitment to the community and its customers.
Papé was created in 1938, when E.C. Papé purchased a single Allis Chalmers tractor dealership in Eugene. After his passing in early 1945, his wife, Hazel, took over the dealership and kept it thriving until her sons Ed and Dean returned from WWII.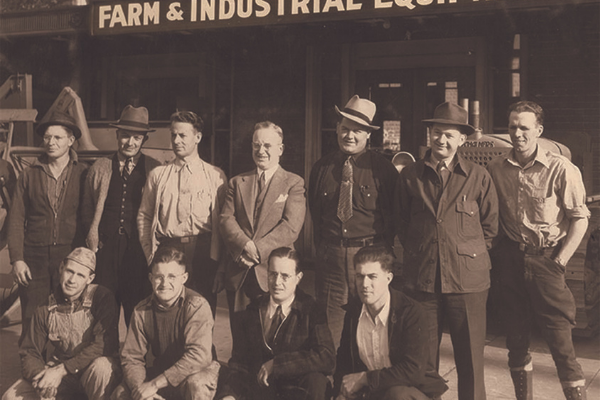 Over the following decades, Ed, Dean and Hazel, who remained involved in the business, expanded their equipment dealerships throughout Oregon and developed new equipment for the logging industry.
"All of the time we were trying to find ways to diversify our product lines to serve our customers better and gain a larger geographic footprint," Papé said. "We were serving the forest products industry. We had to be attentive to their needs and be sensitive to the issues they dealt with, like seasonality and treacherous conditions. The ebbs and flows in that industry also hit us very hard, and we needed ways to adapt so we could keep responding to our customers."
Each subsequent generation of Papé's leadership – with customers in mind – diversified and expanded the business. Through Randy Papé's leadership, the company grew to include flightcraft and forklift dealerships and further investment in the construction, forestry, trucking, warehouse and trenching industries.
When Randy, passed away in 2008, Susie stepped in to keep the business a family enterprise. She transitioned the company to fourth-generation leadership, appointing Ryan to be president of Papé Machinery Agriculture and Turf in 2012 and Jordan to be CEO of The Papé Group in 2013.
"When my mother came into the business, she said, 'If Randy's not going to be there to guide the next generation in the business, I want to put G4 into significant responsibilities while they're still surrounded by a veteran team who trusts and believes in our values," Papé said.
It was an unusual move, and one that some advisors warned Susie against. But Susie saw it as an advantage.
"In many family businesses there is a leader who believes that they're the most important person on the team and that they need to oversee everything," Papé said. "They don't always get to a point where they surround themselves with professional talent that is stronger than they are and trust them to make the right decisions. We rely on our team which has allowed us to continue to grow."
The Center for Family Enterprise – then known as the Austin Family Business Program – helped the Papé family navigate the transition to its current leadership.
"The program helped normalize the things that all families go through as they're growing and expanding and transitioning between one generation and the next," Papé said. "It's a huge help to our state. And at the end of the day, family businesses are the bedrock of the U.S. economy."
By the 2010s, Papé was solidifying its model of bringing end-to-end solutions to customers through further investments in these industries as well as new ones in agriculture and turf.
Take the new house you're looking at on Zillow, for example.
Papé sells the machinery that loggers use to harvest trees as well as the log loaders needed to load the Kenworth trucks they also supply. Those Kenworth trucks travel to mills, where Papé has sold the forklifts that move lumber and plywood as it's being processed and readied to transport.
From there, Kenworth trucks bring that lumber and plywood to a new housing development, where Papé's John Deere and Ditch Witch equipment are putting in the roadways, utilities and pads to build new homes.
"Each step of the way, Papé is focused on supporting our customers as they transform our natural resources to the final products we use in our daily lives," Papé said.
Starting in Eugene and then building the business from that home base has also set Papé apart. In the world of dealerships, place has meaning.
"Many businesses, if they're upset about what's happening in their geographic region, politically or otherwise, they can leave," Papé said. "With us, we're committed to where we are and to improving the lives of people around us. We succeed when opportunities grow for more families in the West."
To learn more about the Excellence in Family Business Awards, visit us at the Center for Family Enterprise website.