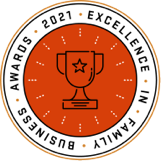 Madison Buckley, '20, has tried out many different roles in her family's business. She's done filing, inventory, data entry and project management for The Ulven Companies. The business produces forgings, castings, as well as precision machining and turn-key components and assemblies for a variety of industries from maritime to aerospace.
"I had the opportunity to pour some hot steel once," Buckley said. "But we leave that to the professionals."
Working summers and winter breaks while she was a student helped her to understand the different facets of the family business. It also inspired her focus of study.
Buckley transferred to Oregon State for the family business program. She earned a bachelor's degree in business administration with a minor in family business and is the recipient of the 2021 Family Business Student of the Year award.
"My studies at OSU and my previous roles in the family business helped prepare me to serve in the role I'm currently in," she said.
As business analyst at The Ulven Companies, Buckley handles marketing, including the website, social media, catalogs and trade shows, in addition to tracking internal and industry trends, searching for opportunities to improve and expand.
"It is a very dynamic position," Buckley said.
Ten months into her new job representing generation three, she applies what she learned in her classes and from fellow family business students. Her studies taught her the ins and outs of business. And the connections she built with other students who come from family-owned businesses are invaluable.
"I learned so much from my peers who were going through similar things," she said.
At Oregon State, Buckley served as vice president and president of Generation Next, the family business club. Her brother, Drake Ulven, also studies business at Chemeketa Community College.
One of her earliest memories is watching movies with her brother at the office.
"We would push two chairs together to make a more comfortable seating arrangement," Buckley recalled. "We always had to keep our shoes on because of the metal shavings that would occasionally get tracked in from the production floor." More recently, the siblings have worked together on summer projects.
"We enjoy working together," Buckley said.
Other family members involved in daily operations at Ulven are Buckley's father, Dan Ulven, president, and her uncle, Mike, senior operations analyst. Her mother, Adrian, and aunt Whitney serve on the Board of Directors.
"Some of the best advice I received was to limit the amount of work talk after hours when you are with family," she said. "It makes it much easier to set work and relationship boundaries within the family."
This year, The Ulven Companies celebrates 50 years. Buckley's grandparents, Andy and Diane Ulven, started Ulven Forging in 1971. The business expanded, building a reputation for high-quality products and excellent service.
"Today, we specialize in industrial turnkey manufacturing, engineered solutions and branded product lines globally," Buckley said.
She encourages students and family businesses to take advantage of all the resources available through Oregon State and the community.
"Get plugged in," she said. "Connect with others and share your experiences, struggles and successes. Being in a family business is not always easy. But if you're committed, it's worth it."
---
About the Awards
Every year since 1988, the Center for Family Enterprise (formerly the Austin Family Business Program) recognizes family businesses who exemplify the values we hope to foster in the work we do in the College of Business: harmony, generational development, leadership and growth.