NASPO procurement and supply chain researcher, Christopher Wilson
Meeting clients and expectations, understanding project scope, finding and delivering solutions — the opportunity for undergraduates to research alongside faculty is a defining experience.
Just ask Christopher Wilson, a College of Business senior studying supply chain and logistics management. He knew he was getting an exciting opportunity to conduct undergraduate research with college faculty and a "real" client," the National Association of State Procurement Officials (NASPO). But Wilson didn't quite grasp the scope of the assignment until he was sitting in the kickoff meeting with, as he says, "all the adults."
And never mind that his client and one of the project leads, Dianne Lancaster, NASPO's chief learning officer wrote the very textbook he used in his class.
"My expectation at that meeting was that I was the student, and I would be helping them, assisting someone," Wilson said. "But I quickly realized that I was their researcher, expected to supply them with information they didn't have."
He recalibrated quickly.
Wilson, with supervising faculty Dr. Zhaohui Wu, professor of supply chain and logistics management, conducted a portfolio analysis for laboratory equipment and supplies for NASPO's contracting processes.
"NASPO is a valuable partner to us," said Wu, adding that OSU with Chemeketa is the academic partner in the Pacific Northwest, while nationally universities such as Michigan State, Arizona State and others collaborate with the organization. "And clearly public procurement is a critical process because it's about effective use of tax dollars in all 50 states. NASPO's mission is to educate more professionals to understand public procurement and encourage students work in this profession."
NASPO is a national organization that supports best practices and innovative procurement strategies, with NASPO ValuePoint being the organization's cooperative purchasing program functioning to facilitate public procurement solicitations and agreements. NASPO essentially works with governmental and municipalities to achieve parity and transparency throughout the procurement process in service of taxpayers and citizens of states.
Some important businesses that rely on a transparent procurement process for lab equipment and supplies are higher education, crime labs, health departments, medical labs, and city agencies managing water and sewage treatment plants. The project required research into the industry leaders of laboratory equipment and supplies, including Thermo Fisher Scientific, Danaher, Roche Diagnostics and Nikon, modeling for market size and capture rate, the price environment and other factors to determine a sourcing strategy.
Wilson worked with College of Business MBA student, Shanoah Maine, and the pair spent several months interviewing procurement officials at the city, county and state level to understand a range of practices and gain perspective of how the procurement process works through at Multnomah County procurement office, the City of Portland procurement office, and Oregon State University's purchasing department.
For Wilson, this interview process not only increased his knowledge, but gave him confidence.
"The interviews also allowed me personally to become more comfortable speaking about the topics — procurement processes, contract solicitation, RFPs, contract negotiations, many things," the senior said. "By having these discussions with very educated and experienced professionals, I feel that I've learned much more information than I could have predicted going into this project."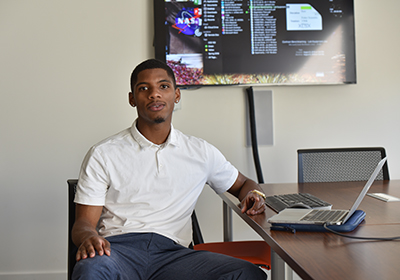 NASPO data analyst Jonathan Hollinger also served as a project lead while consultant and supply chain and logistics management advisory board member, Soren Anderson, assisted with process documentation in order to create a learning lab for other College of Business students.
Wu describes a research project like Wilson's as an equivalent time commitment of taking a class, but the experience gained from conducting a client research project is tremendous. "What's special about our supply chain program is that so many projects that the students pursue are "real" projects sponsored by companies," Wu said. "So the opportunity to conduct undergraduate research — while a special opportunity in some circumstances, is an excellent probability."
Wilson, who had honed in on the supply chain and logistics management degree program at the end of sophomore year, admits he's lucky to be involved with undergraduate research and to work with such a reputable client as NASPO.
Wilson spent an entire day researching supply chain and logistics management — as a course of study, the career potential, and its impact on everyone's day-to-day life — loves the business side of the major as well data crunching involved with the information processes. For example, just for this NASPO project, Wilson examined the impact of the price of glass, steel and wages, trends in research and development expenditures, government funding for entities such as universities, the industrial production index as well as total expenditures on healthcare.
He also realized while pursuing the major that supply chain is becoming one of the largest industries not only in the United States, but in international business operations worldwide, touching everything. "Supply chains are what connect us to someone across the globe every time we try to purchase an object or product," Wilson said.
"Supply chains are what get grocery stores their goods, what get convenience stores their candy bars, what get tires to a car shop. Simply, objects get to the places that they need to be when people need them. This job is so greatly in demand as the interconnectedness of global business becomes more and more complex."