by Carlee Benjamin
Many women of all body types are frustrated with the fit, style or availability of swimsuits they feel great in. As someone who grew up around the ocean and searching for just the right swimsuits, Enjoli Rodriguez wants to change that experience for other women looking for just the right swimsuit. Her company, Sunkst Swim, provides "sexy, stylish, and sustainable swimwear to women of all shapes and sizes."
Many plus-size customers compromise between fit and fashion in their swimwear. Brands offering plus sizes tend to offer modest, plain and purely practical designs for swimwear. In response, Rodriguez is committed to offering trendy, fun and interesting suits in sizes XS-6X. Ensuring that customers above a size 1X or 2X are included in her brand is a priority. With Sunkst Swim, customers who are currently sized out of trendier swimsuit designs will have access to options that look and feel great.
Rodriguez's focus on the plus-sized market is a smart business tactic as well as a demonstration of her commitment to inclusivity. While it's widely recognized that the average American woman ranges in size from 16 to 18, apparel companies rarely include sizes above 2X in their product lineups. Rodriguez intends to "deepen my connection with the plus-size community in order to develop products that are representative of their needs."
"I'm interested in getting samples of different styles and sizes made to get valuable feedback in what areas of my designs need improvement," she said. For customers who are used to exclusion, this attention to their needs is a welcome change from the norm.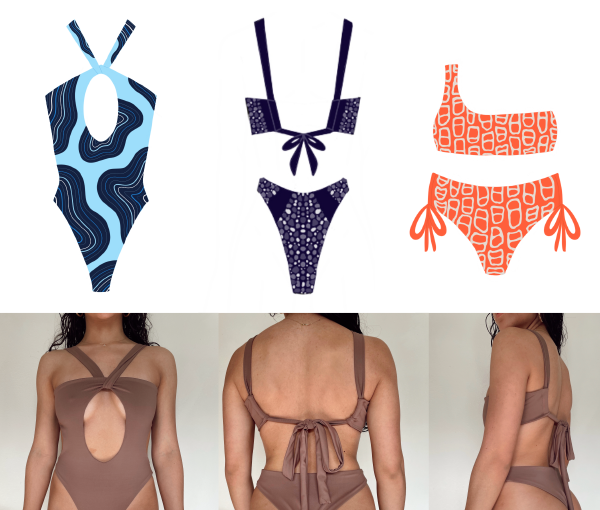 Rodriguez has been balancing her degree, Honors College thesis, and the work of launching her brand as she heads towards graduation this spring: "As a graduating senior, finding time to work on my business through Launch Academy, finish up my degree and work on an honors thesis has been hard to manage. Both Launch Academy and the Honors College have provided a lot of support in helping me succeed and navigate proper time management," she said.
Launch Academy, a program of OSU's InnovationX Center for Innovation and Entrepreneurship, provides a variety of resources to students, including mentorship, prototyping support, DAMLab makerspace access and exclusive competitions to win startup funding. Launch Academy also allows students to earn credits while developing their business ideas.
Because of this, Rodriguez was able to work towards her multiple goals simultaneously. She recently claimed second place in the Launch Academy design stage pitch competition and is one of six finalists in OSU's Next Great Startup.
She described working with Launch Academy as "one of the biggest highlights" of her college career, and emphasized the value of her mentors. Launch Academy has helped her find her motivations for Sunkst Swim, including her dedication to serving plus-sized customers as well as sustainable practices.
Michelle Marie, InnovationX program manager, says many students feel like entrepreneurship is something they are interested in doing someday. However, she notes that while starting a business during college may seem intimidating, it's actually a great time to jump in. InnovationX and Launch Academy support all students developing any kind of business.
Rodriguez agrees: "I struggled with the idea of starting a business while in school versus once I have a more established career post-grad."
"My thoughts were that if I didn't start now then I would never dedicate time to starting my business in the future. Plus, utilizing the resources and services provided by Oregon State and the College of Business has made my experience a lot easier compared to navigating my idea on my own," she said.
To stay in touch with Rodriguez's progress, follow Sunkst on Instagram: @sunkstswim.