Zoe-Vonna Palmrose '68, was in Professor Arthur Stonehill's macroeconomics class when she found out that learning in the classroom is for students and faculty.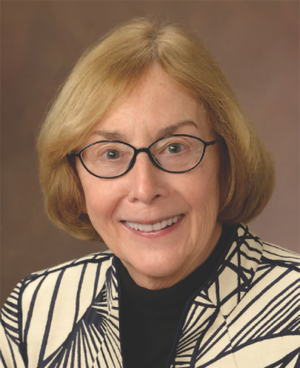 She had dutifully done all the assigned readings before class, and puzzled quietly over the lecture and growing span of diagrams across the chalkboard. Finally she had to ask: "Professor, could you possibly have this all backwards?" He paused, studied the board, and agreed with her.
Palmrose herself has had a long, prestigious academic career that was capped by being the 100th inductee into the American Accounting Association Accounting Hall of Fame in 2019.
"Over my career, I have had similar moments and tried to handle them as graciously and with such openness to disconfirming evidence as the example set by Professor Stonehill," she said. "At OSU, I began to appreciate that teaching is a partnership, learning is a two-way street, and openness to disconfirming evidence is critical to both."
This outlook has served her through the many changes in the technology for accounting and auditing, the standards for reporting and auditing financial information, and the business and regulatory environment in which financial reporting and auditing occur.
I can suggest that one way to manage change is to approach it as a lifetime learning process.

Zoe-Vonna Palmrose
It's also why she has been named the OSU College of Business 2019-2020 Innovative and Distinguished Business Professional, and offers this advice: "I am not particularly good at predicting the future. However, I can suggest that one way to manage change is to approach it as a lifetime learning process. Continuing to learn and grow helps in preparing for and adapting to change."
Currently, Palmrose is the Accounting Circle Professor Emerita of Accounting at the University of Southern California and was on the faculty at the University of California – Berkeley as well as the University of Washington.
The seeds for her academic career were planted at OSU as Stonehill, considered one of the foundational thinkers on international business, encouraged her to pursue a Ph.D. Another former OSU professor arranged for her first teaching assignment — an evening principles of accounting course — while she was working as a CPA in Portland.
Palmrose has published extensively on issues related to the quality of financial reporting and auditing. She's received numerous awards for her research and was selected as the 2008 American Accounting Association Presidential Scholar.
Her many public service activities include serving at the U.S. Securities and Exchange Commission as Deputy Chief Accountant for Professional Practice in the Office of the Chief Accountant from 2006-2008.
"I have been fortunate in that accounting and auditing issues – the focus of my research and teaching – also created opportunities for meaningful public service," Palmrose said. "For me, research, teaching, and public service have been very synergistic."