On July 30, Dr. Tim Carroll began his tenure as Oregon State University's Sara Hart Kimball Dean of the College of Business, replacing Dr. Jim Coakley, who served as interim dean of the college for two years.
Dr. Carroll comes to Oregon State from the University of the Pacific, where he was dean of the Eberhardt School of Business and professor of management since 2018 and worked to prioritize a superior, student centered learning experience.
Prior to joining the University of the Pacific, Carroll held the position of associate dean of executive development at the University of South Carolina's Darla Moore School of Business.
There, as president of Corporate Solutions LLC, a private arm of the business school, he built corporate partnerships and also led the school's nationally-ranked professional MBA program.
Dr. Carroll's expertise focuses on competitive strategy and organization design, and he has consulted and delivered executive development programs to companies across industries.
Here, Dr. Carroll talks about what brought him to Oregon State, his goals to strengthen industry partnerships, inclusivity and how alumni shape an institution.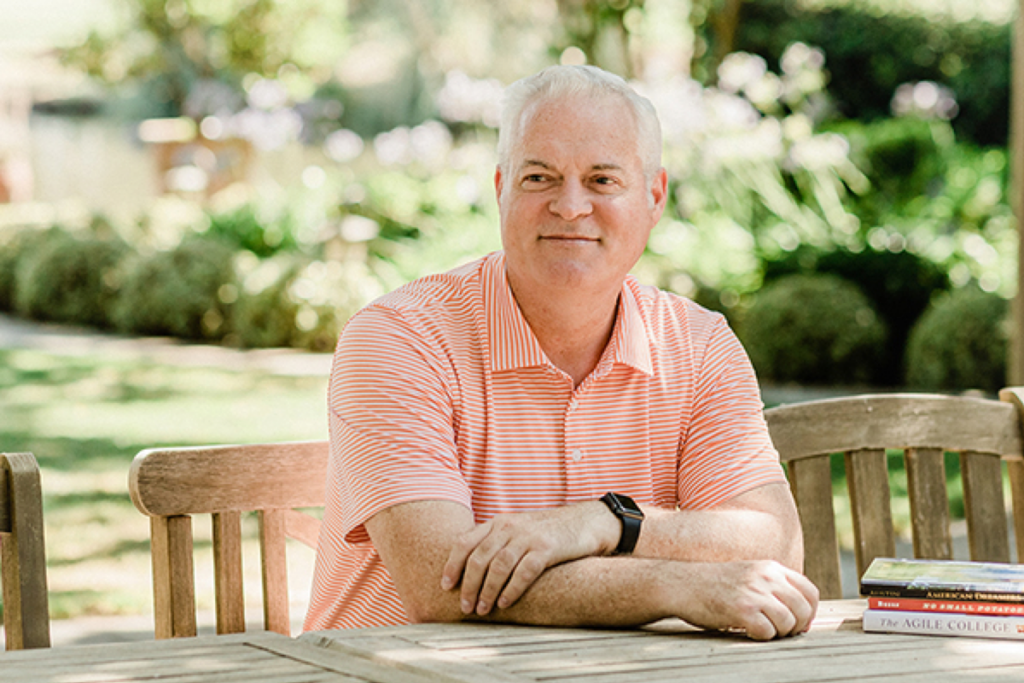 What drew you to the deanship at the College of Business?
DC: I knew about the College of Business through meetings I attended with other deans, and I was impressed that the College of Business was doing interesting and innovative things, especially on the student-support side.
Colleagues and friends who had firsthand experience with Oregon State also described a strong community with growing momentum. I wanted to join that community, contribute to that momentum and find new ways to make an impact.
How does the OSU land grant mission resonate with you?
DC: We all understand that the university is here to serve the people in the state of Oregon, and we do that through scholarship and innovation, through access to quality academic programs and by contributing to the state's economic development.
The interesting element underneath that mission is how Oregon State and the College of Business — with our assets and opportunities — can uniquely accomplish those things.
"I think alumni in many ways are the brand. And when people think of Oregon State, they probably think of the people they know who are associated with the university and the qualities they represent."

Dean Tim Carroll
What do you see as unique about Oregon and OSU?
DC: I'm excited to dig into the state of Oregon's economy. My background is in strategy and organizational design. In strategy, you look for market opportunities, and you match them to unique capabilities and resources that you have.
Oregon State has some real strengths across campus, such as in the sciences, forestry, atmospheric sciences and more. I think that there are natural affinities between those areas and the College of Business that I'm looking forward to learning more about.
An interesting angle is matching up where the state of the economy is and how the university's and college's strengths can be applied, especially if nobody else is doing it and it's locally relevant.
How do industry partnerships aid these matchups?
DC: I was so impressed when I found out that more than 250 people serve on advisory councils in the college. I don't know how many companies they represent, but that is a built-in, robust set of partnerships, and I'm sure many of the interesting questions they're asking are interdisciplinary.
So, if you talk about climate change and sustainability, as an example, it's a broad-based question that requires interdisciplinary thinking. And I think the College of Business has a part to play in that conversation.
What are early steps to strengthen industry ties at the college?
DC: I'm looking forward to spending my first couple of months learning from advisory council members and stakeholders. I want to hear what's already working, where they see opportunities and what the College of Business can do for them.
What are some ways the college can become a more inclusive place?
DC: In my past roles, I've had success learning from the experience of industry partners that are leaders in creating inclusive environments where everyone can thrive.
I'm also looking forward to leveraging the good work of our Center for Advancing Diversity, Equity and Inclusion in Business. We have faculty and leaders on campus paving the way for inclusion.
These vehicles for having conversations with people in industry coupled with our own work creates a virtuous circle where we can all learn from each other and make a difference. I look forward to being a part of this process.
How do alumni shape an institution's future; how do you want to engage with them?
DC: I think alumni in many ways are the brand.
And when people think of Oregon State, they probably think of the people they know who are associated with the university and the qualities they represent.
I'm looking forward to connecting with alumni, so I can learn what makes them proud of Oregon State, what their experiences have been like, and whether we're doing everything we can to provide value across their lifetimes. We know that lifelong learning and retraining for different industries is going to become even bigger. I want us to be involved in that.
I'd also love to learn more about how we're already engaging people through Ecampus and our presence in Portland, how those vehicles serve our alumni, and how our alumni already help us by providing opportunities for students.
Your leadership role begins as OSU fully returns to campus. What lessons are you bringing from your experiences?
DC: In many ways I'm fortunate because we're going to be on campus in the fall and hopefully experiencing all the interpersonal interactions that we've been missing out on for a long time.
Still, we have found some things worked better remotely, both with teaching and student support. It's interesting to me — this question of how to keep the positive parts of being remote without losing the benefits of being together.
What are you excited about doing outside of work when you are in Oregon?
DC: My two brothers will be in Portland, and I don't think the three of us have lived this close to each other since my oldest brother went away to college. It's really special that we get to be together after all these years, and it's even more gratifying to put down roots in Oregon knowing that I'll be joining some of my family here.
I'm also excited to explore the state beyond what I have seen in the Willamette Valley and Portland. We're big sports fans and can't wait to be in the stands again. I'm also looking forward to live music.
Is there anything you'd like to add?
DC: I know that there's world-class work going on at Oregon State and in the College of Business, and I want us to get credit for it. I feel like part of my role is telling that story and getting the word out. I hope to create connections with industry, alumni, donors and across the university that will instill even more pride in the college — without losing our down-to-earth ethos.