Award-winning business owner and designer's adaptive apparel line
Crutch, says the Oxford English Dictionary, is 'a long stick with a crosspiece at the top, used as a support under the armpit,' or 'a thing used for support or reassurance.' Somewhere between these two definitions is a story about April Davenport.
The College of Business senior, who pursues a double major in apparel design and merchandising management, has lived with a condition since age 12 that requires her occasionally to use mobility devices — crutches or canes — to carry on with her day-to-day life. Only recently, Davenport says, has she opened up about this.
Her condition, known as complex regional pain syndrome, affects a previously injured limb with chronic pain often in a more severe form than the pain of the actual injury. This glitch in the body's nervous system has some similarities to the pain felt by amputees or stroke victims.
"I've become comfortable talking about my disability," Davenport said. "Hopefully by sharing my story with others, I'm able to empower them. I want to give people confidence that their disability does not make them inferior, or any less deserving of acceptance."
She describes the dread, the self-consciousness, of pulling her crutches out of the closet as a youth because of a pain episode. She describes pushing herself to the absolute breaking point of pain to avoid this transition to appearing disabled. She describes keeping her illness from friends. And Davenport describes feeling fully excluded from the fashion industry because of the disability — despite her long-held dream to be a designer.
Today, just months before graduation, she has an award-winning fashion line, an award-winning business and a position at Billy Footwear, an adaptive shoe company, beginning in June.
And it all came together while designing a prom dress.
"Personally, my high-school experience was difficult," Davenport said. "I was still fighting to find a diagnosis and develop coping methods. Because my disability is invisible, it means now, and meant then, that people often don't know or understand that I am disabled."
Her company, Crutch'n It, spawns from her national award-winning submission to the American Association of Textile Chemists and Colorists and Runway of Dreams annual student design contest. This contest challenges college students to design especially for the disabled community.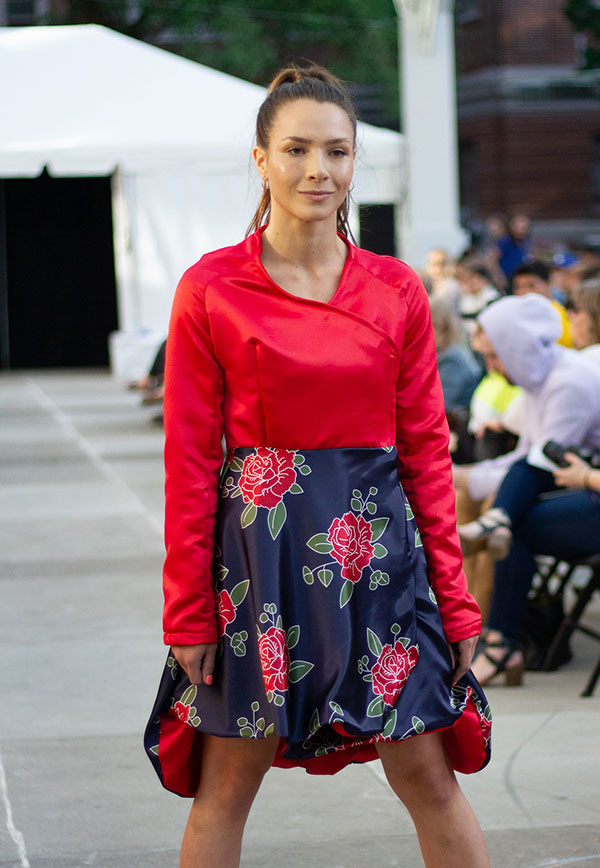 For the prom dress, she avoided cumbersome fabric and bulk, and designed a trendy mid-length gown with an asymmetric hem and side fasteners similar to a wrap dress. But the pièce de résistance — matching fabric covers for a pair of forearm crutches.
"I loved the idea of my crutch accessories, and once I won, I realized that maybe other people would like the idea, too," Davenport said. "I mainly started the business because I wish I had products like this when I first developed my disability. I want to give people the chance to express their personality and personal style through their mobility devices, and make them something to be proud of, and not ashamed of."
Her design instructor, Brigitte Cluver nominated her to apply to Launch Academy, a signature program of InnovationX, the OSU Center of Excellence for Innovation and Entrepreneurship.
Davenport's remarks are casual, almost as if the business was accidental, but Marcel Newsome, who worked with Davenport on the startup as her coach in the Launch Academy program, tells a different story. He describes her as highly motivated, extremely focused and determined. "April is definitely a go-getter," Newsome said. "She's unusual in that she's already producing her product and generating online sales at such an early stage. She's proven that there is market demand for her product, which is something many startup companies struggle to achieve."
Crutch'n It won the Launch Academy pitch competition and earned an honorable mention in a second-year event. Crutch'n It is a 2020 finalist in OSU's Best New Startup, and her crutch covers are for sale — florals, plaids, camo, stripes, cheetah print and more — at crutchnit.com.
Davenport admits that she never envisioned herself as an entrepreneur, but she's always wanted to design adaptive apparel. Winning last year inspired her to start Crutch'n It, and the business has snowballed since then.
"My company's doing well, and I'm excited to see what happens. I hope to keep running it as a side project," Davenport said. "I received so much helpful advice and encouragement that has helped me make Crutch'n It what it is today. And of course my design instructors, Ann Vong and Brigitte Cluver, were big believers in me all along the way."
As the winner of the design contest, Davenport travelled to New York during fashion week to receive the award and attend an adaptive fashion show. She met her role model Mindy Scheier, founder of the Runway of Dreams Foundation, the nonprofit that advocates for people with disabilities in the fashion industry.
Crutch'n It's motto, Davenport explains, is 'crushing stereotypes one crutch at a time.' She wants to use mobility aids as a tool to open conversations about what having a disability looks like, and why people with disabilities deserve to be represented in the fashion industry.
If there is not yet a fully represented fashion voice or fashion image for people with disabilities, there certainly is a well-represented market. Vogue says the global market for adaptive clothing is expected to reach $400 billion by 2026, while the U.S. market for adaptive clothing was estimated at $47 billion in 2019 by Forbes.
According to Newsome, there's no reason why Davenport won't tap into this: "I've seen April embrace the challenge of taking an idea and turning it into a viable and exciting product, then develop a growing capacity to turn that product into a sustainable and growing business concern. It's been most exciting to see her embrace and tackle the challenges at each stage of the business-building process as she continues to take her company forward."
They're working to set business goals and the sales and revenue milestones needed to meet them. They're also examining how Davenport can increase her online market presence.
Davenport said her Launch Academy classes and resources were exceedingly valuable to her throughout her journey with Crutch'n It, providing everything from mentors and guest speakers to a community of student entrepreneurs to the pitch competitions. Davenport has excelled and earned funding to continue her enterprise — and continue her dreams.
"Growing up I always had a struggle inside me when I thought about the fashion industry," she said. "I was confused about why I didn't see people like me being represented by fashion companies. When I learned about adaptive apparel, it seemed to answer the question I continually had about why people like me weren't worth representing. Through adaptive design, I have been able to use my difficult experience with a long-term disability to inform my decisions, and cultivate empathy for the people I am designing for. I find this very rewarding — and empowering."