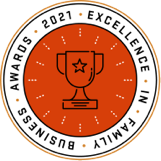 Family Harmony Award Winner
By Rebecca Barrett
When husband and wife Aaron and Kelsy Ausland started Ausland Group in 2002, they created a harmonious family business set to address an aspect in the development industry that wasn't working: fragmentation in the construction and engineering business.
Their vision: a company that integrated architecture, engineering and construction, so that they could manage projects from start to finish. https://www.youtube.com/embed/E6on-2J8-eI
After graduating from Oregon State in 2000, Aaron Ausland was poised to take over and expand the family business, Ausland-Dodson Engineering and Surveying, that his grandfather, also an engineer, started in 1947.
"Coming out of World War II, there was a huge need for construction," Aaron Ausland says. "People started begging my grandfather to build things."
Ausland-Dodson grew to become one of the region's largest contractors, whose notable projects in the 1950s include Crater Lake National Park facilities, the Siskiyou County Courthouse in Yreka, California, and The City of Newport Water Treatment Plant.
Aaron Ausland's father, John "Mike" Ausland, took over the business in the late 1970s. By the time Aaron Ausland graduated in 2000, the industry had become fragmented.
"There was a lot of brokenness," he recalls. "Silos of interest did not serve clients well."
Kelsy Ausland joined the family business in 2002, after graduating from Oregon State and marrying Aaron. They soon realized there was a better way to deliver design and construction services and still continue as a tightly knit family business. Together, they started a new entity that carries the heritage forward as a modern, fully integrated design-build commercial construction company.
Ausland Group headquarters are in Grants Pass. The company employs about 70 people with offices in Eugene and Ashland and operates throughout the Pacific Northwest. Ausland offers architecture and engineering design, public and private commercial building and development consulting.
While the Auslands created something new, their company remains a family business.
President Kelsy Ausland and CEO Aaron Ausland start each week with a meeting to review the alignment of company values, vision and mission with day-to-day operations.
"I never sensed what it would be like to carry on this foundation of trust that has been in our community now for going on 75 years," Kelsy Ausland says. "We're not just building. We're not just designing structures. We're really carrying on a legacy of caring for our community and giving back."
At Ausland, a committee called the Ausland Culture Engagers plans company events and outings. During the pandemic, the team's focus shifted to making sure employees and their families were coping with all the changes.
At the heart of the family business is taking care of employees.
"In really simple terms, great people get great results for our clients, as well," Kelsy Ausland says.
Employees know the difference and feel a sense of pride in working for a family business. Being genuinely welcomed at Ausland isn't something that's earned. It's expected.
In addition to recognition for Family Harmony in the 2021 Excellence in Family Business Awards (and as further proof that company culture is working), Ausland Group was selected for exceptional engineering with the Top Project award in Oregon by the American Society of Civil Engineering and as an excellent employer by being named one of Oregon's 100 Best Companies to Work For.
"We're so proud of everything our team is doing" Kelsy Ausland says.

At a Glance
Year Started: 1947
Number of generations to work in the family business: 4
Number of family members working in the business: 4
Last family vacation destination: Family cabin along the banks of the Illinois River
Favorite restaurant for family dinner: Door Dash at home
Name and firm of most helpful family business professional that you would recommend to other family businesses: John Hickey and the team at Jordan Ramis, PC
Best business decision: Investing locally, both monetarily and through community engagement.
About the awards
Every year since 1988, the Center for Family Enterprise (formerly the Austin Family Business Program) recognizes family businesses who exemplify the values we hope to foster in the work we do in the College of Business: harmony, generational development, leadership and growth.