Diana Tuz Bojorquez, a Class of 2022 graduate in merchandising management, has a passion for fashion and retail, and she will, indeed, find her dream job in this industry.
But for the time being, she's working in another area of passion, and one that has defined her life: advocacy for underrepresented and marginalized groups.
Tuz Bojorquez is 'Deferred Action for Childhood Arrivals.' She is DACA; she is a Dreamer.
DACA is the result of a 2012 executive order that allows certain undocumented immigrants who entered the U.S. as minors to receive a renewable period of deferred action from removal and eligibility for a work permit. OSU has created policies and issued statements that support students with DACA, undocumented students and students from mixed-immigration status families while the DACA order is reviewed in courts.
Meanwhile, Tuz Bojorquez, who graduated from Benson High School in Portland in 2017, has pursued her own dream – to be a Beav, to graduate from OSU, and she succeeded winter term 2022 and looks forward to the in-person commencement celebration.
"I'm so excited," she said. "My whole time when I was at Benson, that was my thing. I was like, I'm going to work – I'm going to work and study, and I'm going to graduate from OSU."
The ceremony will be a bright spot, a highlight for a young woman who transferred to OSU from Portland Community College – because of DACA issues – and then faced the pandemic after just a few months on campus, heading back to Portland when learning went remote.
Tuz Bojorquez says she was grateful to have her last two terms on campus again, and she also was grateful to learn about the People of Color in Business student club that was just getting started in 2019 during her transfer orientation, and to become connected with this emerging group.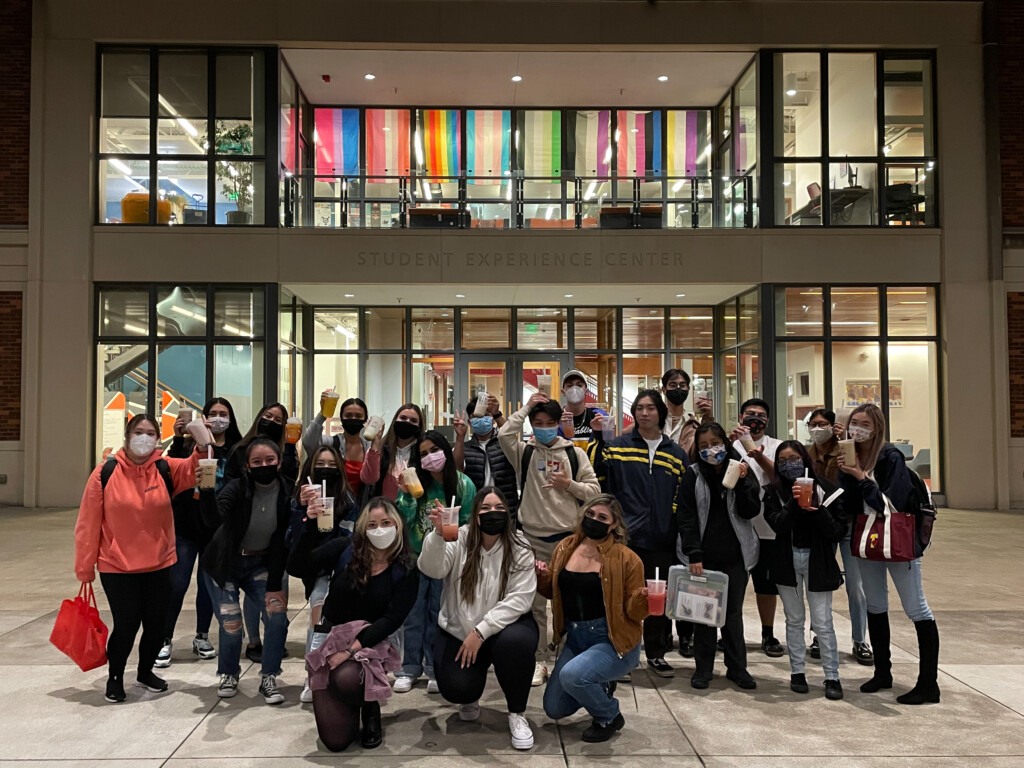 From among the handful of original members, Tuz Bojorquez stepped up to become People of Color in Business' social media manager and graphic designer, a position she kept until graduating. And she's enjoyed watching the group grow from under ten members to the scores of student members now. People of Color in Business is clearly filling a need, reaching almost 90 members in two years.
Tuz Bojorquez sees it as a safe space. "When I transferred from PCC to OSU, it was definitely almost a culture shock," she said. "I didn't really feel like I belonged in the College of Business at first. I think having safe spaces for people and communities, especially these days, is incredibly crucial."
Why safe? The power of safety, safeness – some people never even think much about that.
Others think about it at every traffic stop – or when an administration terminates DACA as happened in 2017, jeopardizing the futures of hundreds of thousands of immigrants and their families. Or when OSU needs a special notarized letter of residency for the application, but does not list this anywhere on their website. Or when financial aid becomes so complex after DACA goes into limbo, eliminating all federal resources and possibly in-state tuition for some. Or when you are trying to be a first-generation college student, living in the U.S. since age two months, trying to keep up with all this red tape.
"There were multiple times when our status kept on changing, and I didn't know if I would continue to be able to go to school," she said.
Tuz Bojorquez shares another bright spot of these years – advocating for the passage of an Oregon law to help those who are undocumented qualify for an Oregon driver's license.
In between attending Black Lives Matter demonstrations in Portland, she actively protested in Salem for House Bill 2015, which eliminated the requirement that applicants have proof of legal presence before receiving a driver's license. The bill passed in 2019, and finally went into effect in January 2021.
Tuz Bojorquez says she's extremely proud of her activism in support of this law's passage, and she's also happy for her license and social security card she gained during high school through the DACA program, so she can work. But there's also much greater stakes: "A lot of the times if somebody was undocumented, and they went through a traffic light, or I don't know, something happens, and they would get pulled over, it was super easy for the police to immediately take them to ICE or get them deported. When maybe they were just trying to take their kids to school in the morning. Or something."
Or something.
DACA status was preserved by the Supreme Court in June 2020, but the ruling was so narrow that Dreamers remain vulnerable to additional legal actions. For example, a 2021 ruling at a federal district court in Texas may impact the approval of new DACA applicants and another in Texas' 5th Circuit challenges the work eligibility of Dreamers, slated for arguments this July.
During the years between 2017 and 2020, Tuz Bojorquez's mother, an early childhood education provider who works for a Latino nonprofit in Portland, was part of a social workers' group chat that kept members up to date on the current activities of ICE and their locations.
She, like so many of her 2022 classmates, praises the sacrifices of her parents. "I just want to thank my parents for all their hard work, and for creating this path for me, my sister and my older cousin to actually have the opportunity to break the system and make it better for future generations."
Tuz Bojorquez has two jobs since graduating. Starting at C+C, a Portland-based communications agency, in May, she is their full-time marketing and social media intern. At Global Works Community Fund, she's a part-time program associate working to provide educational opportunities through art, nature and travel. Among her responsibilities, she helps youth from GWCF with travel to places like Panama or Costa Rica to gain diverse perspectives. The irony, she cannot travel herself because of her DACA status.
She also has a call to action: "Listen to different stories, but not just listening to listen. Listen to pay attention to where people are coming from. Maybe you won't know exactly what it feels like for the marginalized communities, but just actually listen and look for the insight to understand on a deeper level. I think that's the most important thing, community stories."