Becca Ziegler '23 curated not just her design portfolio, but a wide array of experiences, from study abroad to club leadership. She took on many opportunities and challenges during her course of studies at the College of Business. And it paid off for the designer, who will start her career at Abercrombie & Fitch as an assistant technical designer.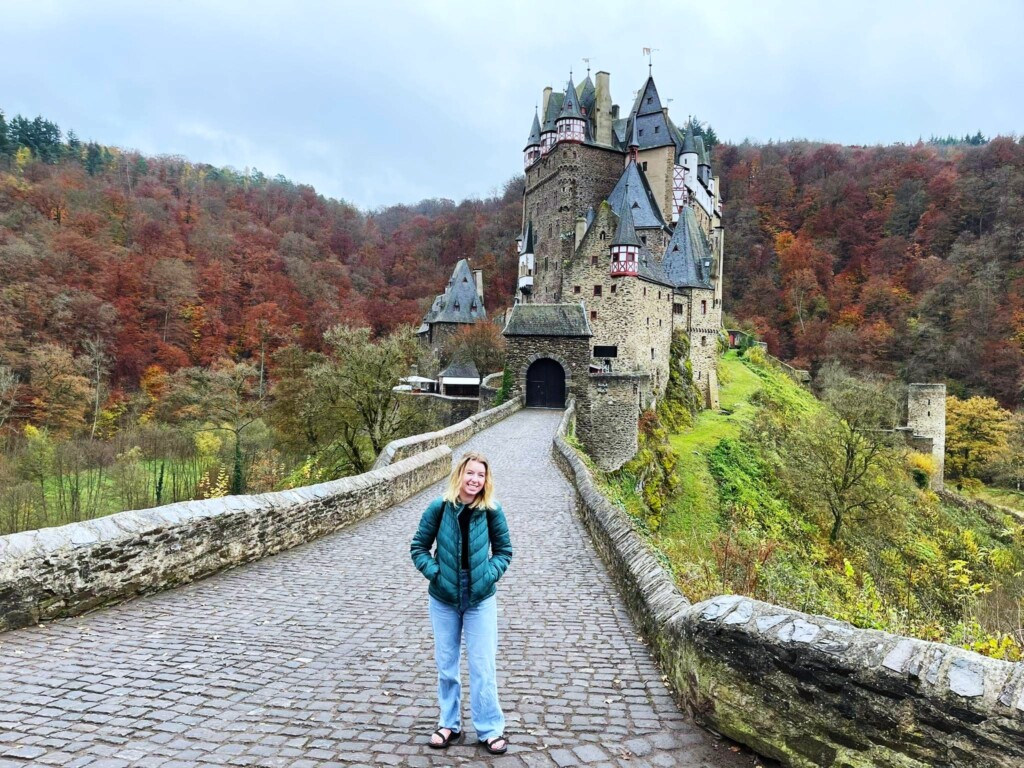 College of Business: We tell our students about the importance of "getting involved." You took it to heart! What did you experience?
Becca Ziegler: I studied abroad in Florence, Italy, for a semester at the design school, Accadamia Italiana. I had an incredible time getting to meet and interact with people from all around the world as well as travel and experience so many new cultures. I also got to take courses in apparel design that aren't offered at OSU and some that transferred back for my degree. I always recommend studying abroad for design students as it was one of the best experiences of my life where I got to challenge myself, but also make many new friends and have a great time living life in a foreign country.
I also have been involved in the apparel design club since freshman year, and this year I hold the role of president. As president of the club, I organize and lead meetings, delegate tasks to the club leadership team, and am in charge of the efforts to put on our annual fashion show. The goal of the apparel design club is to provide networking and career growth opportunities for apparel design students. Our signature activity is putting on the annual spring fashion show where students have the opportunity to showcase their work to a crowd of attendees including several industry professionals. This year's fashion show is titled Fashion of the Mind.

COB: What is the most valuable thing you learned, regarding your academic major?
BZ: The most valuable thing that I learned was how to best utilize my connections and resources. It's been very helpful having so many professors willing to answer my questions, provide advice, and connect me with opportunities or resources to help get me closer to achieving my goals. I've also gotten to learn from OSU alumni who've been excited to offer advice and help prepare me for entering the industry.

COB: You will start at Abercrombie & Fitch; what can you share about how you prepared for this opportunity?
BZ: To prepare for this opportunity I completed quite a few informational interviews with professionals to first learn what I was looking for in a starting position. These interviews were great networking and so many of the professionals also offered me really beneficial advice. I also prepared by doing a lot of research on the brand and updating my portfolio to show current projects. My design professors were very helpful in just being excited for me about the opportunity and providing me with resources as well as connections to help me prepare and learn more about working for A&F. I wanted to make sure it was somewhere where I could grow and challenge myself in my tech design as well as leadership skills.

COB: What are you most proud of regarding your student experience? What was your biggest challenge? 
BZ: I am most proud of all the opportunities that I have been able to take part in that have put me outside of my comfort zone. I've gotten to grow personally and professionally through taking on new experiences that challenged my normal, whether it was studying abroad, leading the apparel design club, being a student leader for Young Life, or any of the other opportunities that came along. My biggest challenge during college has really been trying to balance everything between school, work, clubs, and still having time to hang out with friends. It is manageable, but it gets busy and exhausting fast.

COB: Anyone to elevate and thank? BZ: I'm really appreciative of all of the people who've supported me during my college experience and were a big part of helping me to land internships and now a full-time position.