Ben Kahn, '88, MBA '89, has seen a lot of technological change in his life: he's studied it, he's worked it; he's lived it. He can recall at OSU, taking a deck of punch cards over to the mainframe computer across campus, and unfortunately tripping and spilling the cards onto the grass.
Possibly, a modern-day equivalent of sadness and discouragement could be dropping your cellphone in the toilet – or standing last in line at the DMV.
Kahn spent the next hour and a half re-ordering the cards, to the best of his ability, because the project was cheaper to run if the cards were in order. And Kahn must also have been thinking there's got to be a better way.
Because he fixed it; he fixed the cards, then fixed the system: One of his early accomplishments, working that student-job for the Pacific Northwest Council on Foreign Languages, was transitioning the organization from a punch-card record management system to an electronic database system, for thousands of records.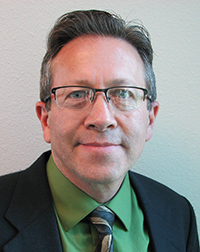 That wasn't the end of his work to get data off of paper. Kahn spent 25 years with the Oregon Health Authority after completing his MBA in management information systems, seeking the holy grail of digitized medical record-keeping.
In his first days as project manager at OHA, Kahn asked a question, "What's with the backpacks?"
This was at Oregon State Psychiatric Hospital where patients receive mental health treatment on campus and go from building to building for their care. All of them wore a backpack, all day.
"And I was told that's their chart," Kahn said. "That's for their medical records, all printed on paper. And if something happens like they had an allergy or they need a medication, we need to rip open that backpack and learn a little more about that patient."
And thus began the $28-million, multiyear on-budget, on-time project to gather requirements, procure, configure and implement an electronic health record system for the Oregon State Hospital. The paper records system had been in place for more than one hundred years, since 1883.
When on-boarding the doctors, who were informed early in the process about the move from paper to digital, they told Kahn no, they "don't do Windows."
But Kahn fixed it, the doctors, too: "After a few years there, we were able to get an electronic health record set up, and the patients didn't have to wear those backpacks anymore," Kahn said. "And anywhere they were on campus, we could pull up information, see the medication, see their dosing and see when they got their last medication, what they ate last. Everything was in there, their diagnoses, everything."
The project was a massive success, impacting thousands of employees and patients.
Kahn, who earned his bachelor's in marketing management at the College of Business as well as pursued the Project Management Institute's Project Management Professional credential, has worked on these large-scale, transformative system-wide projects his entire career.
"As an undergraduate in marketing, I thought I would work for an advertising company someday," Kahn said. "But it turns out it was great having the knowledge on how to communicate and how to be persuasive." He says that organizational change management plays a key role in these projects as well.
He took his energy, experience and success in 2015 to the Oregon Department of Transportation – yes, the DMV. Because at his core, he cares about customer service.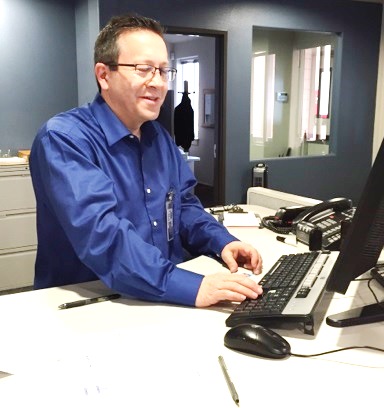 Kahn leads the $90-million DMV Service Transformation Program, a revival project of sorts. "Back in the nineties DMV tried to modernize their system and services, and they came up short," Kahn said. "I wasn't there at that time, but they lost some confidence with the public involving state government's ability to run large technology projects. So we tried again 30 years later, and we were successful."
The DMV Service Transformation Program received the 2021 Oregon Chief Information Office Award for Outstanding Large Agency Project for the best technology project among all state agencies. Kahn's project was recognized by the National Association of State Chief Information Officers (NASCIO) as runner-up among technology projects nationwide.
There are only 60 DMV locations in the entire state, so Kahn is leveraging technology to improve access and service to more than four million Oregonians; the plans are big. Kahn describes the service transformation as similar to banking. People used to go to banks, go inside, fill out a form, make a deposit, get a loan, or get some cash.
"People expect a certain kind of service from state agencies similar to what they're used to now in the private sector," Kahn said. "They're used to being able to do things online, used to being able to have a voice in what they order. And so we follow that private-sector model in designing and planning for our own system."
Kahn is thinking about it, and he is fixing it. Impressive things have happened, services like vehicle registration and driver license renewal are online. And impressive things are to come: the DMV will roll out self-service kiosks in grocery stores capable of printing, there's a phone app planned that will control data displays – "so you can show the bouncer that you are 21, but you don't have to show your address, too." Proctored driver knowledge tests will move online, as well, to expand accessibility. Online booking of appointments, rolled out early to address pandemic needs will continue. His work in data security, agility and customer service allowed for Oregon households impacted by forest fires in 2020 to more easily request replacement driver's licenses after they lost so much.
If you are not impressed, his daughter is (and that's what counts!) nominating him for our annual alumni awards and following in his footsteps at the College of Business. Leah Kahn graduates in spring 2023, double-majoring in management and business administration with a minor in theatre arts and an option in international business. She wants to pursue an MPA, and then work for a non-profit.
"My dad is a really great guy," Leah Kahn said. "He is one of the most dependable and honest people you will ever meet. His employees love him, and he goes out of his way to help in the community as a bishop and religious advisor for the college-aged kids at our church. His project management achievements are incredible, and growing up I got to watch him take a project from certain death to thriving and a couple thousand under the estimated budget. My dad works hard, and he has really cultivated a career of empowering others through his honesty and selflessness, and that's why I nominated him."
You might be impressed with your fellow Beav the next time you are at the DMV, (or conducting DMV business online or at a kiosk!) because his work is a win-win for all of us.
---
Who impresses you? Make a nomination about your fellow College of Business alum, and let the story of their career and life achievements inspire us all.