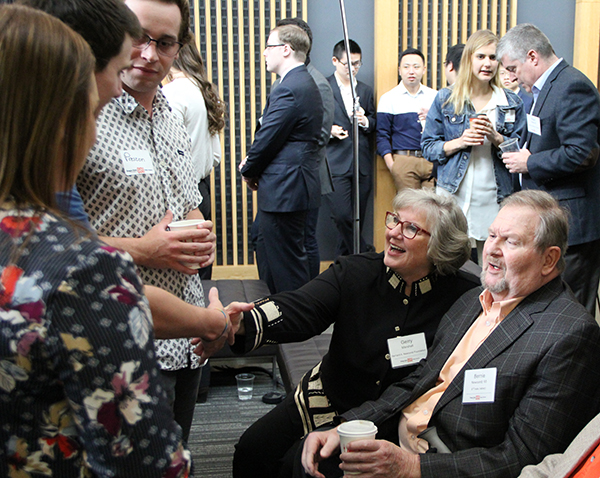 Bernie Newcomb, E-Trade founder, gives back
After E-Trade went public, Bernie Newcomb received an exuberant thank-you note from a vendor whose invoices Bernie once paid in E-Trade shares. The online stock trading platform, incorporated in 1982, long before households had personal computers, broadband and wifi, would have to spend decades in the dark trenches of software warfare before the E-trade "talking baby" would make it all seem so easy. Cash flow, after all, never is.
Nose to the grindstone, in man-vs.-machine fashion, Newcomb coaxed a modem to communicate to an Apple II, and as technology progressed he shared the wealth management tools of professional brokers with the masses. A breakthrough software platform, it turns out, takes a lot of work.
When E-Trade became – as Newcomb jokingly describes it – "the 14-year overnight success" with consecutive public offering in 1996 and 1997, Newcomb took his winnings and invested heavily in the places that shaped his life. Nowadays retired from software development and involved in philanthropic activities, Newcomb meets every year with College of Business students who receive scholarships in his name.
As one of the great benefactors to the College of Business, Newcomb visits Corvallis nearly each year to visit with students, the more than 30 recipients that are studying with assistance from the Newcomb Family Endowed Scholarship Fund. They share inspirational stories of overcoming obstacles on the path to success.
Legally blind since birth, Newcomb's story and message – to never give up – makes as much of an impact as the resources he shares.
"I never knew myself as disadvantaged. I was treated the same as the rest of my peers," Newcomb said. "Later, when I first attended school, it was a school for blind kids, but I eventually transferred to the public school system.
Though Newcomb graduated from public high school in Scio, Oregon, as his class valedictorian, he says it was only when his friends started taking jobs in the timber industry that he realized perhaps he wouldn't make a good logger and he ought to go to college.
The first in his family to attend university, Newcomb received scholarships, consistently made the Dean's list and graduated third in his class. Shunned by accounting firms and banks for his blindness, Newcomb faced an unprecedented challenge to make the next step. Newcomb's first job data processing at GE came only after his academic counselor from the College of Business personally lobbied on his behalf.
Positioned now in the burgeoning computer technology industry, Newcomb took it from there. Turns out, he can just run circles around the other coders.
When it was time to give back, Newcomb earmarked resources for high-achieving students, endowed faculty, and resources supporting academic support staff.) In the past year, 16 faculty members received professional development resources or cash awards.
Newcomb seeks students to whom he can offer similar odds-improving opportunities. He encourages them to be daring, take chances and work hard. Like him, many are first-generation college students, high achieving and gifted.
Nichole Beyer, who had a lifelong goal to pay her own college expenses, is grateful that a Newcomb scholarship allows her the time to focus on schoolwork without financial pressures.
"After hearing Mr. Newcomb speak, I was inspired by the resilience that he showed throughout his career, and it proved to me that with enough dedication and persistence, anything is possible," she said.
Jonathon Gengler, a first-year student, says hearing Newcomb's story inspires him to keep working.
"I am the first person in my family to attend college, and I am on my own for figuring out how to pay for it," Gengler said. "The scholarship I received from Bernie has helped me financially with my first year of college. Because of this scholarship, I am debt free coming out of my freshman year."