The College of Business's hybrid programs, a combination of online and in-person learning, emphasize the same accredited education as on-campus, designed and taught by the same leading researchers.
By Rebecca Barrett
Why does online education have a credibility problem? Skepticism around prestige and accreditation, along with a widening technology generation gap and a lack of engagement and accountability, fuels the debate around whether or not online programs fall short in meeting the needs of students and the demands for supplying an educated workforce.
Where other online programs lack rigor and results, Oregon State University's College of Business online and hybrid offerings — delivered through nationally-ranked Oregon State Ecampus — offer the same accredited education as the on-campus options, designed and taught by the same excellent business faculty.
"An online or hybrid Oregon State business degree is the same high quality Oregon State business degree a student gets on campus," said Mitzi Montoya, Sara Hart Kimball Dean of the College of Business. "It's the same high-quality instruction delivered in a different way to meet learners where they are."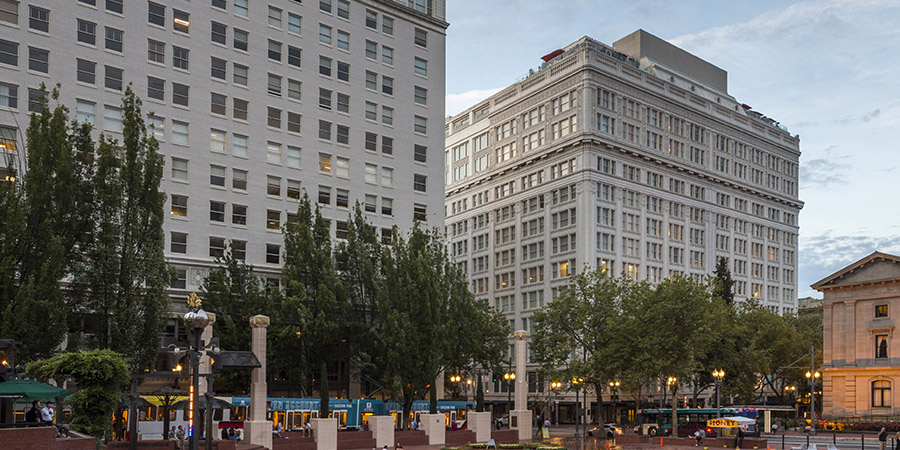 Starting in the fall of 2018, the College of Business will offer a new online/in-person hybrid track for undergraduates in Portland, building on the success of its four hybrid MBA tracks. The approach combines the convenience of online course work with in-person classes. With the addition of the hybrid business option to the Portland metro market, more people will be able to pursue a degree.
The first-of-its-kind curriculum and delivery mode shows why Oregon State is a national leader in online education, with awards and merits to prove it. Through its innovative programs, the College of Business is a valuable asset and partner in supporting the region's business training and development needs.
"No one else is doing this the way we are," Montoya said. "We're changing business education so more people can change business."
Delivering innovative hybrid education that meets workforce demand
Technology has been a transformative force in higher education over the last three decades. Online courses and programs are widely available from both traditional institutions and nontraditional entities, including for- profit firms and even tech companies.
Students today are digital natives, and 3 million students in the United States are enrolled in an online degree program.
"They're comfortable with technology being integrated into their lives and their learning," Montoya said.
Oregon State's hybrid business programs are ideal for the working professional, allowing people to pursue a degree while maintaining a career. In the undergraduate hybrid program, 50 percent of instruction is online and 50 percent is in person. At the graduate level, 80 percent is online and 20 percent is in person.
The College of Business is proactively engaged with the Portland business community. Its innovative programs leverage industry partnerships and provide connections and opportunity for the tens of thousands of Oregon State alumni living in Portland.
It's just one of the things that sets Oregon State apart.

Metrics matter
Whether in person or online, College of Business programs reflect the best practices in learning research. Oregon State's business rankings deserve attention.
The accolades include:
The Brigham Young University Accounting Rankings for Universities ranks the research of all 803 universities in the world that have accounting programs. Ranking is based on publications in top accounting journals. In the recently released 2017 rankings, the College of Business is No. 1 in the world for experimental research in accounting information systems and No. 8 for experimental financial accounting.
The annual Supply Chain Management (SCM) Journal list, governed by the SCM Congress, ranks schools based on research output in top-tier supply chain management and operations journals. In 2017, the College of Business ranks 28th in the world for empirical supply chain research.
The Texas A&M/University of Georgia Rankings of Management Department Research Productivity ranks management faculty in U.S. business schools based on publications in eight top-tier management journals. The College of Business management faculty is ranked 30th out of 150 schools in the 2017 rankings released this month — tied with Arizona, Illinois and Auburn. When faculty size is taken into account, OSU ranks 16th — tied with Colorado.
Oregon State's distinguished faculty are the same people teaching the online business courses.
"Not a lot of online providers can say that," Montoya said.
Another point of differentiation is how Oregon State invests in student success. Interventions such as tutoring, advising and assistance reach students to overcome academic difficulties.
Oregon State tracks retention and graduation rates, which have shown tremendous improvement. Since starting Innovation Nation, the College of Business' student success initiative, business students who started as freshmen were retained at a rate of 90 percent the following year, a substantial gain from 74 percent.
The placement rate for the most recent class of MBA students six months after graduation was 87 percent, with a median income of $91,000.

Bridging the skills gap
A strength of the College of Business is its ties to the business community. Oregon State is focused on experiential learning, and there is a strong professional development thread in College of Business programs.
Every week, students in Portland and Corvallis interact with business leaders at workshops, seminars and networking events. The college made this a requirement in response to critiques that millennials were entering the workforce lacking soft skills.
The College of Business curriculum is designed around active student engagement. In addition to teaching technical skills, there's a learning outcome for etiquette at a formal lunch and how to dress for a professional event.
When it comes to attaining skills that business demands, there's no opting out. Our graduates are work ready.
"We require it," Montoya said. "We're working to raise the bar."
Students get the chance to explore, engage and develop themselves while they're earning a degree. And employers have direct access to students, a place to interact with future employees and recruit interns.
There is a great need to train business leaders to fill jobs that add to the state's economic value. Take the hospitality and tourism industry. It employs more than 109,000 Oregonians, many of whom are business owners, said Todd Davidson, director of Travel Oregon, the state tourism office.
Business acumen is paramount to their success, Davidson said. A strong core of business knowledge including math, finance and marketing is necessary.
"The fundamentals are still going to be there," Davidson said. "The how and why will change."
Communications skills, both verbal and written, continue to be important, as well as another skill and trait Davidson calls the humility factor.
"We need to empower those who we work with," he said. "We need to be able to trust the people around us."
College of Business programs provide students with the core competencies to succeed, Davidson said.

Supporting the talent pipeline
When companies seek to relocate or expand in Portland, they often work with Greater Portland Inc. (GPI). This public-private partnership, which includes Oregon State University, supports and serves prospective companies.
Janet LaBar, president and CEO of GPI, said she's often asked about the availability of a talented workforce. To make sure the region puts its best foot forward, higher education is part of Greater Portland's pitch.
"We can be a solution-provider for what an industry needs to grow here," LaBar said. "We can assure a company that this is the place to be."
In the past, a majority of students went to a four-year college after high school. Now, the majority start in community college and transfer to finish their bachelor's degree. Oregon State partners with many Portland-
area community colleges. These higher education partnerships can be persuasive in the decision that businesses make to relocate or expand.
"It's incredible to provide higher education as a part of our value proposition," LaBar said. "Oregon State University is certainly one of our best champions."