In November 2021, Josiah Cruikshank, who is studying business administration and mechanical engineering at Oregon State, was elected Western Region Vice President of the National FFA (Future Farmers of America).
Throughout 2022, Cruikshank will take a hiatus from his studies and devote the year to representing and advocating for nearly 735,000 FFA members nationwide.
He'll join a team of national officers in advancing FFA, agricultural education and rural concerns with policymakers and supporters, as well as mentoring high school students throughout the country and leading FFA events.
Here, we talk with Cruikshank about how he got into FFA, what advocacy is like and why he's passionate about the organization.
COB: How did you get involved in FFA and elected to national office?
Cruikshank: My parents met through FFA and got degrees in agricultural business management at OSU.
They encouraged me to get involved in FFA when I was in high school at Mountain View High School in Bend. I'm glad I did. I appreciate the competitive side of things in FFA and eventually got involved in leadership roles.
When I was graduating high school in 2019 I was elected Oregon FFA state president. I visited more than 100 high schools in Oregon, teaching leadership classes to high school students, and traveled throughout the U.S. and internationally to do the same.
I was elected the national FFA western region vice president in November.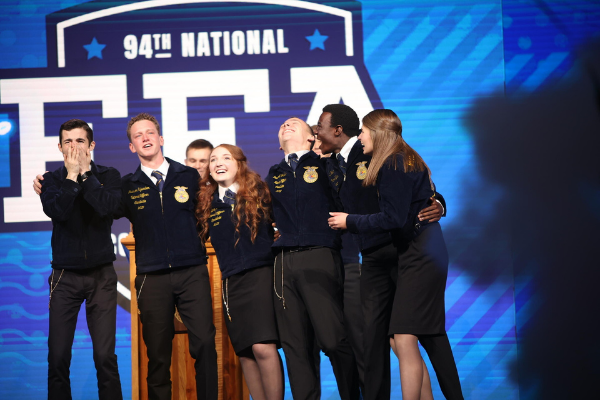 COB: What is your day-to-day like in your national role?
Cruikshank: I usually wake up in a hotel room and put on our official FFA outfit. Then I either engage with students that day or speak with government or business leaders who partner with our organization. Financially, these partners help make everything we do possible.
COB: You do advocacy work on behalf of FFA in Washington, D.C. What has that been like so far?
Cruikshank: So far we've been able to meet with a lot of cool people who are furthering agriculture on different committees in the Senate and the House.
One of my favorite people to talk to was Representative Glen Thompson from Pennsylvania.
Another is Jimmy Panetta from California. He's one of the co-chairs of the new Congressional FFA Caucus that was formed in December. He's not necessarily from a district where you think he'd care about FFA, but he saw the difference that it made in students' lives in his community and wanted to be a part of that on Capitol Hill.
We're so thankful for his support coming from an urban area and understanding that, even for urban people, agriculture is the industry that feeds, clothes and fuels the world. It's also really cool to see bipartisan support for FFA as well as rural and urban support.
Our goals when we are talking with lawmakers are to advocate for agriculturalists when they need things that are critical to their businesses, like broadband access. We also advocate for funding for FFA programs and agricultural education programs, and to make sure our own organization is being supported by the government.
COB: What makes you passionate about FFA?
Cruikshank: FFA provides premier leadership, personal growth and career success to its members. That's in its mission statement. I'm really passionate about all three of those things because I experienced them in different ways throughout high school. I didn't know exactly what I wanted to do with my life in high school and didn't have the skills to be successful even if I'd had my sights set on something.
My teachers were extremely helpful to me in terms of developing a plan to have a career in agriculture communications, which is what I hope to do in the future.
In my first year in FFA, I spoke on stage at a convention with 2,000 attendees and I was terrified. Before we talked today I was preparing a 20-minute keynote that I'll deliver in a few days to 4,000 people, and I'm looking forward to it!
I also have five national officer teammates from all over the country. I'm really thankful for the relationships that I've developed with them. We didn't know each other that well at first, but now we're like siblings.
COB: What makes a good leader, in your opinion? Which leaders do you look up to?
Cruikshank: I think the qualities that make a good person are the same that make a good leader. I think to be good people we need to be focused on how we can help the people around us. If my life is about making my life easier and not making other people's lives better then I failed as a leader and a person.
I think you also need to be a good communicator and you need to be able to work with people a lot and really well.
I don't necessarily look up to a lot of famous leaders. It's the people in my life who I see who I want to emulate. From a very young age, I saw how my dad served our family and I thought 'You know what, someday I hope to live my life that way.'
My grandfather was an agricultural educator for 30 years, and he changed so many students' lives and made them better. That's something I relate to and want to emulate.
COB: What do you hope for in the future?
Cruikshank: I think that the agriculture industry needs to be able to tell its story to the general population and to ourselves better than we do right now.
Right now, in my job, you could say I'm doing agricultural communications. I love being able to talk to people in small group settings and conduct workshops with 50 students or speak on stage to 4,000 students.
I don't know exactly what that will look like for me in future, but I'm very passionate about telling agriculture's story and using the skills that FFA has given me. I'm so thankful for those skills, and I hope to leverage them to benefit our industry and our country in the future.