By Molly Rosbach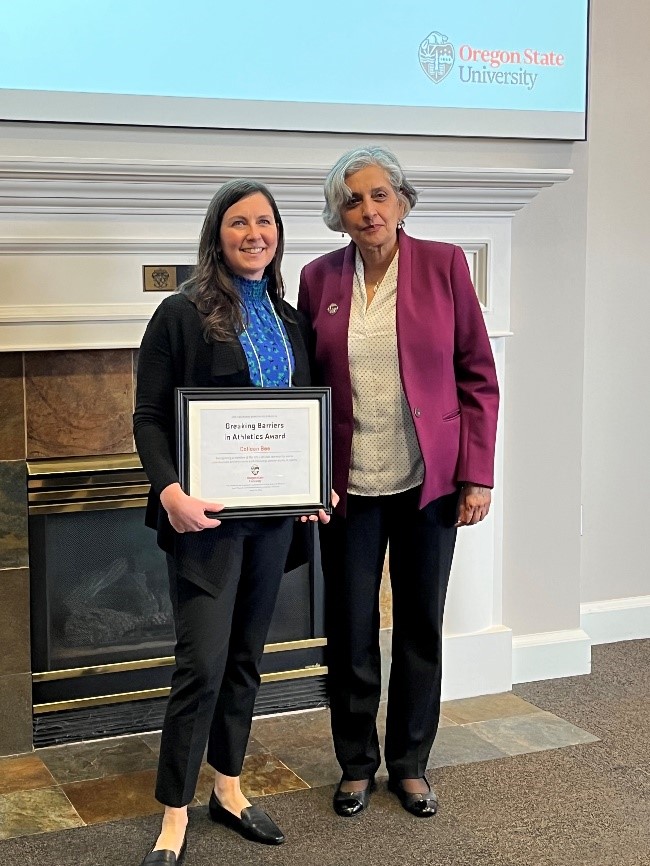 For her staunch advocacy of student-athletes and their well-being in both athletics and academics, Professor Colleen Bee has received the Breaking Barriers in Athletics award for 2023.
Sponsored by the President's Commission on the Status of Women, the Office of Institutional Diversity and OSU Athletics, the Breaking Barriers awards are given to those who have gone above and beyond in their efforts to lift up women and other historically marginalized genders at Oregon State University.
Bee is head of the School of Marketing, Analytics and Design in the College of Business, where she has worked for almost 15 years. In 2019, she was appointed as OSU's Faculty Athletics Representative (FAR), the first woman to hold the position.
"Her academic, administrative and leadership experiences and her knowledge as a sports business academic and scholar will serve her well in this role," Provost Ed Feser wrote at the time.
Bee's research focuses on sports marketing and she currently teaches a course on Name, Image and Likeness. With her expertise, she was able to help OSU student-athletes prepare for a new Oregon law allowing them to profit off marketing their own image.
"Colleen has an innate ability to navigate the world of academia and athletics, with the ability to see both perspectives and handle situations with grace and tact," said Assistant Athletic Director and Chief of Staff Jessica Coppolino, who nominated Bee for the award. "As the first female Faculty Athletic Representative, Colleen has been able to codify the role in a way where the focus is solely on the student-athletes."
As the FAR, Bee reports to the president of OSU and engages with the Athletics department in a number of areas, including compliance with NCAA rules and legislative governance within the PAC-12 and OSU. She works closely with the academic counselors that support student-athletes and acts as liaison with academic faculty, keeping the Faculty Senate updated on Athletics issues that might affect students and professors. She aims to bridge the gap between the athletic world and the academic world.
She's also an advocate for student-athletes and makes a point of attending a wide range of OSU student-athlete meetings and athletic events to show support for female athletes.
Her main goal is to ensure that student-athletes receive holistic support as both students and athletes.
"Academics are important; what they do in their sport is important; their health and well-being outside of physical health is also important," Bee said. "We're making sure there are resources for their physical health and mental health needs."