Early in the COVID-19 pandemic, and even before the U.S. Centers of Disease Control advised citizens to wear face coverings in public, supplies of personal protective equipment started running scarce. Shops and websites were out of inventory, and global demand from the top levels of government down to individual households skyrocketed.
"It was becoming clear that a lot of people might want to use a cloth face covering, but they might not be able to get their hands on one," says Jim Coakley, interim dean of the College of Business. "I figured we had the resources to help with this dilemma."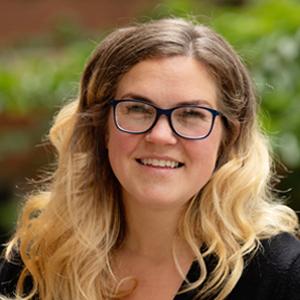 Coakley contacted Marianne Dickson, senior instructor of apparel design, and asked how the college could be part of a larger OSU task force that aimed to produce 1,000 face coverings for essential OSU employees.
Dickson assured the dean that she had students ready, willing and able to help. And Coakley assured her that there would be a safe, sanitized apparel lab with appropriate social distancing and resources for supplies and labor.
"My spring term task list suddenly included the production of a thousand face coverings. That involved the purchase of supplies, the delivery of supplies to 12 paid student workers, gathering the finished masks and working with our task force to distribute the product to employees on campus," Dickson says.
The students Dickson employs are mainly from the College of Business, but two are from across campus.
Dickson was both surprised and encouraged by the lines at Joann Fabric, and daunted by the far dark corners of the internet she'd have to traverse to find Beaver print fabric, but she prevailed.
"It was not as easy to do as you might think, but about half the masks have our OSU logo, and many others are orange, black and white prints of some variation," Dickson says. She also found rainbow prints for LGBTQ community members, and, in the spirit of generosity, made a few duck masks.
As word spread about the OSU initiative and the college's work, Teresa Preddy, who manages the Student Multimedia Studio in the Valley Library, wanted to get involved. Preddy greatly missed her daily interactions with students. Furthermore, Preddy and her sister, both avid quilters, could no longer meet with the 4-H sewing and cooking club they run for youth in the community.
"My making these individual masks helps me feel better, knowing I'm helping others stay a little safer in these unprecedented times."
Like Preddy, Sophia Vahsholtz, a second-year student studying biology and genetics who lives alone (except for her cat), was looking for connection and purpose during quarantine.
"When Marianne reached out to me and asked if I would want to get involved, I immediately said yes," says Vahsholtz, whose design aspirations include recreating the heroine Christine Daaé's grand finale dress from the 2004 Phantom of the Opera film. "I thought it would be a good opportunity to make some money when I otherwise can't work, as well as help the community during this time."
Vahsholtz is not alone in her enthusiasm. All 12 of the students who work with Dickson on the project have loved the ability to engage and support the community. Not only that, they have supplied more than 1,500 face coverings to the university, and plan to continue the initiative.  
"As long as there is a need we are ready to keep sewing," Dickson says.
———————
OSU task force: Anita Azarenko, Marianne Dickson, Cathy Hasenpflug, Jennifer Humphreys, Dan Larson, Julie Penry
Beaver sewing team: Enzo Allen, Justine Bennie, Julianna Bonacorsi, Yao Chen, Alia Homeid, Emma Johnston, Anna Roth, Kaitlyn Senger, Amneet Singh, Peyten Tucker, Daisy Schwimmer, Sophia Vahsholtz with Teresa Preddy