For more than 15 years, the College of Business has honored its alumni for their service and dedication to the college, the community and our students. Please read on for the stories about our 2017 winners.
---
Hall of Fame Award
Jackie Swint College of Business '51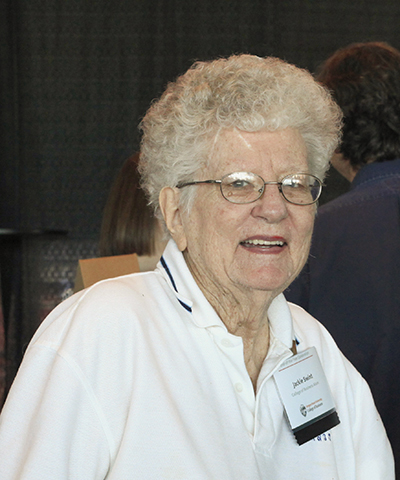 Jackie Swint, '51, served her country as a career foreign service secretary for the U.S. Department of State. Swint joins Al Reser, Ken Thrasher and Patty Bedient as a recipient of the college's highest honor.
Jackie traveled the world and worked in eight countries, eventually publishing a collection of stories about her adventures titled "Who Was That Man?" Swint established an endowed College of Business scholarship which supports four women each year, entrusting her entire estate to this endowment.
Jackie is unmarried and has no children; she re-engaged with OSU to talk about opportunities to give back to her alma mater beyond her established scholarship for women in the College of Business. For nearly a decade Jackie has met with her scholarship students, hosting them for dinner at a local Thai restaurant in Portland. She talks about her Foreign Service stint in Thailand and wishes the female students best of luck on their endeavors.
Jackie cannot travel much to Corvallis any more, but we are delighted that she could join us to receive her award this year.
She comments that she was one of the only girls in school in the 1950s and certainly used her college degree in her professional career. This is her first award from the College of Business and OSU.
---

Distinguished Professional Award
Ted Stalick, College of Business '87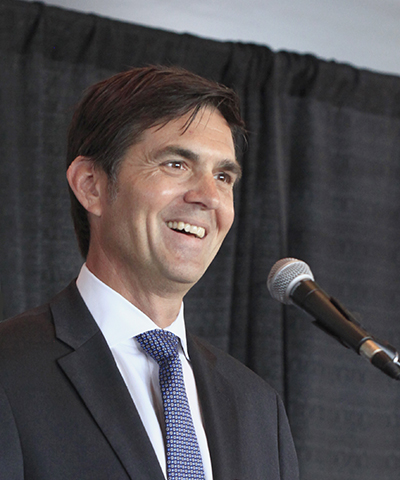 Mr. Ted R. Stalick serves as the Chief Financial Officer and Senior Vice President of Mercury General Corporation since October 2001 and July 2013 respectively.
Mr. Stalick served as Vice President of Mercury General Corporation since October 2001 and served as its Principal Accounting Officer since October 2000. He joined Mercury General Corp. as Corporate Controller in June 1997 and served as its Chief Accounting Officer from October 2000 to October 2001. Mr. Stalick is a Certified Public Accountant.
Ted has involved OSU and Mercury Insurance by providing internships and entry level jobs to students at their Pasadena office.
Ted joined the OSU Finance Advisory Council in 2014. Ted has made gifts to support Austin Hall, the First Year Experience Fund and the Finance Unrestricted Fund. Ted also has spearheaded the concept of alumni involvement in student recruitment and remains and active partner with the OSU recruiting team.
---

Young Professional Award
Tim S. Hildebrandt, College of Business '06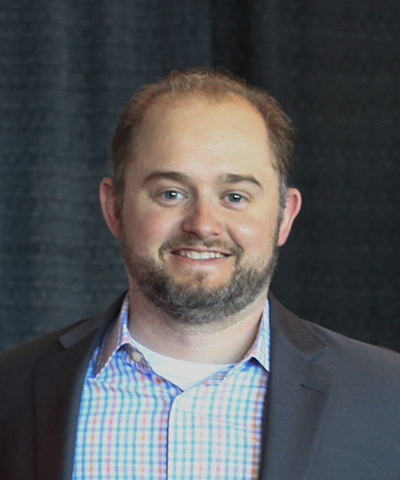 Mr. Hildebrandt is the director of finance and controller at Simple, an online-only direct bank based out of Portland, Oregon. Previously, Mr. Hildebrandt was a senior manager at KPMG.
Tim was honored with the College of Business Weatherford Award in May 2015. Also in May 2015, he re-joined the CoB Accounting Advisory Circle, on which he had previously served from 2010-2012. He has been active at OSU events in Portland and attended welcome reception for Dean Montoya hosted by Robert Zagunis in December 2015.
Over the past 5 years Tim's involvement and philanthropy as increased not only to support accounting but also the Dean's Fund for Excellence. He will be participating in a Friday in Austin for the accounting theme in Winter 2017.
Tim earned his B.S. in business administration from OSU in 2006.
Tim's father, Scott Hildebrandt, is a former OSUF Trustee and earned his B.S. in business administration from OSU in 1978. His grandfather, Emery Vernon Hildebrandt, earned his bachelor's degree in speech education from OSU in 1950; he currently holds an emeritus appointment in the College of Liberal Arts.