Dreams of skydiving, working for Elon Musk, building a home for their mother, backpacking across Europe, owning a cosmetic line – these are just some of the hopes and goals of College of Business students. Sharing their stories and exchanging words of thanks, 35 College of Business scholarship recipients and 30 donors came together to celebrate what it means for an opportunity to earn a college degree. And it comes down to a dozen versions of this:
"To the person who gave me a scholarship, I just want to say how grateful, blessed, and honored I am to be receiving this scholarship. Being able to have that cushion to get me through this school year has lifted so much burdened off my mom's and my shoulders. I am able to focus better on my education and the experiences that will lead me along the right path. Thank you so much for what you have done."
The College of Business's third "Impact at Work" event was a chance for alumni and friends, faculty and staff, and industry board members to witness what their contributions mean to a student's success, and affirm their commitment to making a difference.
"I hope that you know how much you inspire our students – I share your stories with our students often – stories of perseverance, success, hard work and giving back," said Dean Mitzi Montoya, in welcoming remarks to 170 luncheon guests in the Atrium Ballroom of the Portland Hilton and Executive Tower.
"The turnout today, and the energy in the room is a great testament to our shared values around student success at the College of Business, Montoya said. "And as we keep moving forward, we have to remember our 'why.'"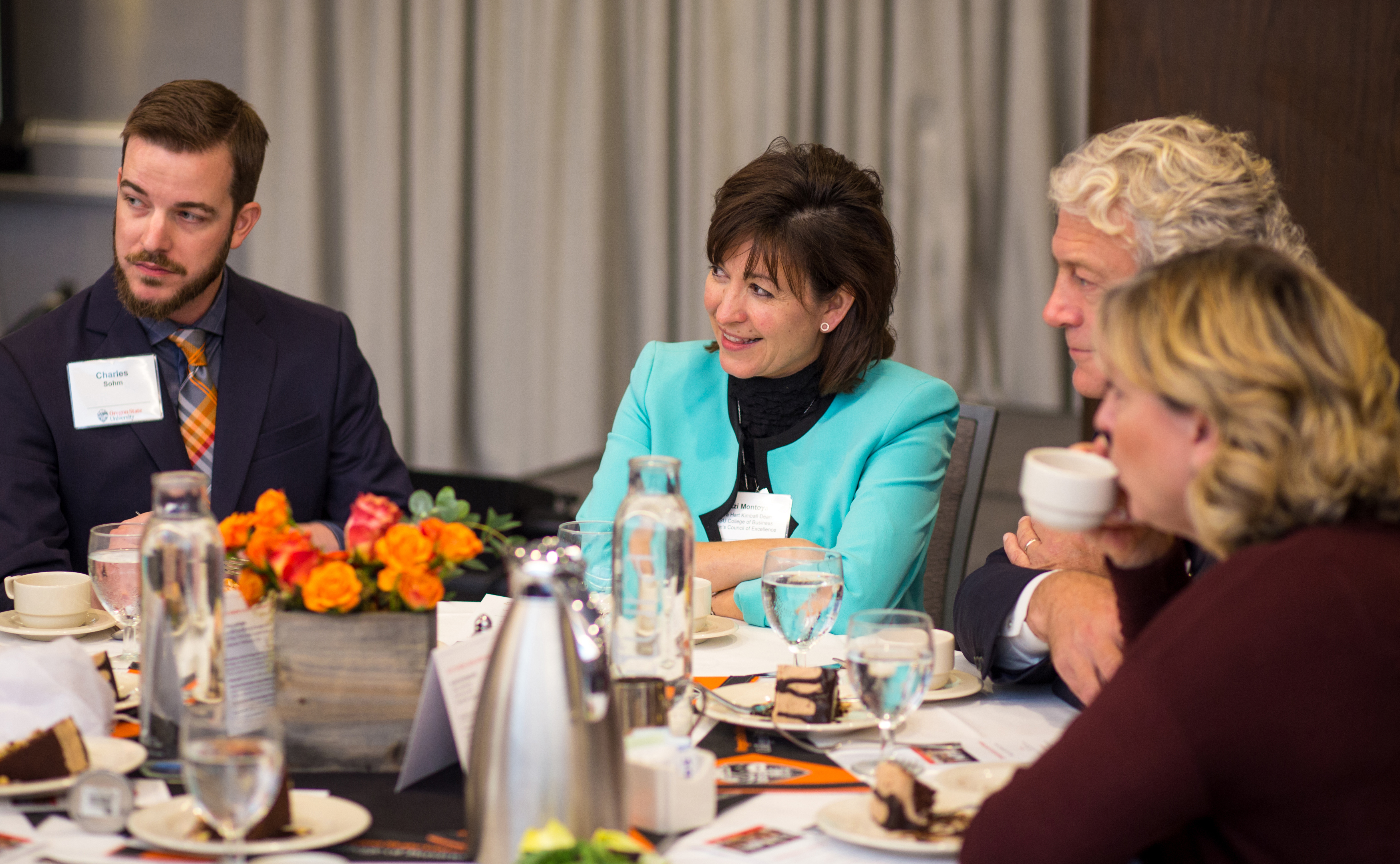 Convincingly, Charles Sohm and Moriah Shay shared their reasons why support is necessary in student keynote addresses.
Sohm, a junior who transferred from a community college, felt extremely humbled to be speaking to the room. He thanked his donors for the stability that scholarships offer.
"Through your gift of a scholarship, students like me are able to achieve peace of mind. We can focus on our studies, and we know we don't have to go running off to that minimum wage job," Sohm said.
Sohm, the Everson Family Scholar, was particularly savvy about the add-ons – "the internships and the mentorships" as he called it – at the college. He upgraded his hourly job to a paid internship at the career fair, and took full advantage of the Fridays in Austin networking platform, seeing each event as an opportunity to expand his network.
But his most impactful feeling after receiving his scholarship was that of "faith." Sohm posted a copy of the letter above his desk, and focused on it when he was studying hard.
"Every time I was in a tough class and had to push through the frustration, I saw my award letter," Sohm said. "Because of your faith in us, we know that we can prevail and stand proudly behind a podium one day with a degree in our hands. The first step to changing the world is believing that you can. And I'm proud that our donors believe we can do just that."
Moriah Shay, a senior standout who has turned down a job offer at Boeing to run her own nonprofit, experienced a clash of concept when discussing college with her high school classmates. Their indifferent remarks – "why don't you just go?" – struck fear in her heart. Shay, whose four-person family lived on a single income of minimum wage, started working at age 12 and thought more about poverty than college. But that changed.
"To get to college, I needed the grades, the clubs, volunteer experience, everything to prove myself," Shay said. "During the summers, I worked all day, and all night, every single day to finally get to this place called college." She got there, succeeded, and is already giving back.
Shay's business, which she co-founded with fellow student Steven Miller, seeks to find that scared kid who lacks opportunity to build skills. Ideation Nation is a travelling makerspace that brings modern technology to rural, low-income schools. Shay seeks to give students like her the chance to build skillsets, become competitive on college applications, and have confidence to dream.
"Fall of my senior year in high school came around and an acceptance letter from Oregon State University greeted me. Not only that, but they gave me a scholarship along with my acceptance," said Shay, the Decker Family Scholar. She would not need to work several jobs, and carve in time to study in order to thrive in college, and prepare for her future.
The College of Business has 77 named scholarships supporting more than 200 students per year. Additionally, according to Dean Montoya, 55 percent of enrolled degree seeking students have some sort of financial aid. "Potential is evenly distributed among people, but opportunity is not," Montoya said.
The dean also acknowledged the long commitment of the Reser family, thanking Pat Reser who was in attendance for the support of more than 40 students with business scholarships since 1993. As well Montoya introduced a new family of donors to the podium with the establishment of the Ann E. and David A. Thompson Family Scholarship Fund.
Representing the family were David O. Thompson '10 and William Thompson '14, two of the three sons of Mr. Thompson. All are graduates of the College of Business, and they agreed to make a difference: Their family's recent scholarship commitment that will support College of Business students from their first-year through their final year at the college.
"We see how impactful education is, and we see that it is an important and beneficial thing to get more people in our community through college," William said.
William told the story of his father's first charitable activity: David Thompson donated a truck to Roosevelt High School in Portland. The students within the mechanics area had the opportunity to deconstruct the huge machine, and Mr. Thompson sent some TEC Equipment experts to help the students rebuild the truck, and teach them about the process.
"This is something that we feel compelled to do – if anyone in our society today has the ability to do so, giving back is important," David said. "TEC Equipment, being based in east Portland, is probably not the nicest neighborhood in all of Portland, but we saw some opportunity to help out some in-need but high potential students. We put together this program to help several of these individuals."
The family aims to inspire students to not only go to college – but to get through and complete the degree.