Molly Switzer, Class of 2008, on what led her from the recession to her own business
As an active, connected and talented design student, Molly Switzer, AKBD, B.S., Interior Design and B.S., Housing Studies, was ecstatic to land her first job out of college with a reputable design firm in the Portland area. The year, however, was 2008, and Switzer watched wide-eyed as the established business – like many businesses large and small or wealth holdings worldwide – dissolved into ether impacted by the Great Recession.
"That was a lesson, my first lesson about running your own business. There are no guarantees," said the proprietor of Molly N Switzer Designs LLC, specialized to full residential interiors and kitchen and bath design and remodel.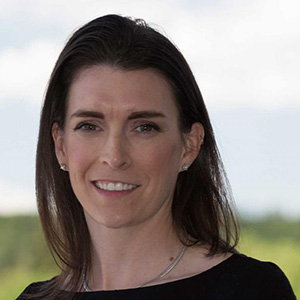 Mindful of what she saw as the economic condition of the industry and the need for survival, Switzer worked a few positions after that first job collapsed. Such jobs involved representing and selling lighting, designing countertops, and deluxe kitchen faucets and fixtures, even out of necessity in those times restaurant customer service, which invited her into the world of extreme high-performance kitchens. All brought necessary tools to her toolbox to eventually build her own business.
Here are Switzer's words of encouragement to the Class of 2020:
College of Business: Can you recall specific or general thoughts about what you needed to do to get through that economic time?
Molly Switzer: I remember being scared when I lost my job; I remember feeling like I had failed in some major way. But I realize that the experience of losing my job and seeking something that didn't fit my original idea of what I wanted to be was also really freeing. It's important to stay within your career field in one form or another, but it doesn't have to fit the exact verbiage of what's written on your degree. Employers down the road love the fact that you stayed within your field, and they also recognize the importance of the tertiary skills learned in order to benefit roles you will play later in life.
​But first I had to collect myself. It's easy to get lost in the depressing feeling of "I just got let go of a job I was really good at." I had to get out of my own head, and realize that I wasn't being let go of a job because of my own actions, but, in fact, actions that were completely out of my control. My biggest worry was, "what am I going to do now?!"


COB: What was the hardest thing, a bill, or a personal goal, or something else? How did you face it?
MS: To save money, I ended up moving out of my first solo apartment, and I moved in with three roommates. I also had to break my lease and had to ask my dad for money to do so. I hated borrowing from my parents. I'd had a job since I was a freshman in high school. It was an unfamiliar feeling having to rely on my family for such a thing.
My next big hurdle was finding a job. I didn't want to stray far from my industry because I knew that would be the most valuable experience for me. I worked at a furniture store for a few months, but the work environment was toxic, and it was not the right fit for me. Despite that, I took the experience and tried to learn everything I could. I quickly was looking for jobs elsewhere and soon found a part-time job at a countertop fabricator shop.


COB: What did you do to get back on track?
MS: Networking! I honestly got the interview from the countertop fabricator from an industry organization meeting that had been held there at the shop a few months prior. I ran into the same showroom manager at a different organization meeting, and the conversation blossomed to interview opportunities. My parents were a huge support, but my school friends were also big. We all communicated and kept each other up on what we saw happening and job opportunities that became available.


COB: I think there is a certain amount of emotional energy that can be expended, thinking about the experiences lost for our Class of 2020. What is a signature experience of your senior spring?
MS: My last semester I was awarded special recognition – to my complete surprise – in a fairly intimate ceremony held by the dean and the presence of my parents. It was a really special moment to be recognized amongst my peers. That they went behind my back to invite my parents to experience it with me was really special. Graduation was fun in its own way. It was a HOT sunny day, and we were baking in our black cap and gowns. As they lined us up in alphabetical order, I made friends with the person in front of me and in back of me, people I had never met and now we are still friends and connected on social media.


COB: Do you have a moment in the "real world" where that was topped?
MS: I recently was recognized as President of the Year by the National Kitchen and Bath Association for my efforts and time dedicated to our local and national projects as well as the overall Officer of the Year. Unfortunately, I was unable to accept in person since I was six months pregnant with twins. I was able to watch in remotely and the support given was amazing.


COB: So you've made it through the Great Recession, an impactful economic moment. What advice would you give to a student at this time?
MS: It's a time to look within and find the skills that enlighten you. Don't be afraid to try something new or different or out of your comfort zone.