A lighting system for vehicles that automatically adjusts high and low beams for safer driving, a wellness services business centered on meditation, and an app promoting disaster preparedness among community users. These are just some of the business proposals that student teams described to our panel of judges at the Launch Academy Fall Competition while vying for prize money to continue their business development.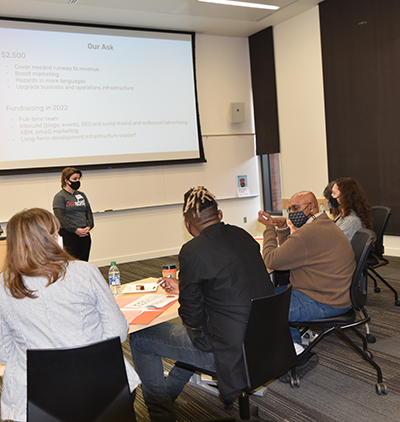 The finals brought together the business ideas of OSU students from four colleges at distinct stages of business development – idea, design and venture. Following the presentations, teams fielded questions from judges and audience members. The competition was hosted simultaneously in person in Austin and virtually via Zoom, giving audiences near and far the opportunity to support OSU student teams.
Two teams competed in each of the three stages. In the idea stage, Cassidy Hughes in the College of Business and Alihan Baysal in the College of Engineering, shared their basic concepts and next steps:
Baysal's gaming company, Baysal Productions, sees an opportunity to produce fresh, unique games on the console platform based on previous success designing mobile games. An impressive 4.5 million users have downloaded one of his free mobile games, and his next steps are translating that success to the typical PS4 or Xbox user.
Cassidy Hughes, founder of Knewt Auto Vision, is developing aftermarket lighting kits for any vehicle, to allow hands-free shifting from high to low beams. Inspired by her own harrowing drives over snowy mountain roads, she'd like drivers to be able to keep their hands on the wheel while in dangerous conditions. Her next steps are researching her competition and equipment.
In contrast, at the venture stage, Reid Burford's Howling Hounds Coffee Roasters sells freshly roasted-to-order coffee – right now – to discerning coffee drinkers. Howling Hounds' subscription service allows customers to renew their bean supply within the two-week window of optimum freshness. Burford is looking to increase social media advertising, purchase additional equipment and find the right storefront for his beanery.
Also at the venture stage is HazAdapt, led by Virginia Katz, whose app teaches community users how to respond to a disaster through simulations and "prep checks." As a career disaster management professional, Katz consults with agency-level contacts to analyze how user data can help these agencies respond – and says they are clamoring for her product to go live.
All teams are enrolled in Launch Academy, OSU's student business incubator, and earn OSU credit while enrolled in BA 367/368/599 as they work on their businesses. Launch Academy provides access to seed funding, prototyping equipment, co-working space, mentoring and training to help students advance their ideas.
Launch Academy is a program offered by InnovationX, Oregon State's hub for student entrepreneurs, innovators and changemakers. The center supports students who have ideas, who have already started a business or who are simply passionate and drawn to innovation.
---
Congratulations to all fall 2021 Launch Academy finalists:
Idea Stage Teams
· 1st Place & $500: Knewt Auto Vision, led by Cassidy Hughes, business administration, College of Business
· 2nd Place & $250: Baysal Productions, led by Alihan Baysal, computer science, College of Engineering
Design Stage Teams
· 1st Place & $1,500: Day by DAE, led by Dari Edwards, merchandising management, College of Business
· 2nd Place & $1,000: WxH, led by Austin Lally, computer science, College of Engineering
· Honorable Mention & $500: ShieldU, led by Manreet Brar, public health, College of Public Health and Human Sciences
· Honorable Mention & $500: SenseAbility Wear, led by Steven Smith, business administration, College of Business
Venture Stage Teams
· 1st Place & $2,500: HazAdapt, led by Virginia Katz, geography, College of Earth, Ocean, and Atmospheric Sciences
· 2nd Place & $2,000: Howling Hounds Coffee Roasters, led by Reid Burford, business administration, College of Business
And with many thanks to our Launch Academy Competition judges:
Tricia Clemens, Dan Ellis, Jeff Gardner, Greg Jorgensen, Virginia Lemos, Deborah Mourey, Zanda Pemba, Ravi Prasad, Skip Rung and Jackie Seto