Eight credits, twenty-one days, and a whirlwind tour, indeed – visiting major historical sights and museums in London, trips to Oxford and Cambridge, a day on the English seaside in Brighton, a staging of Hamlet at the Globe, Camden Town, and Greenwich…. And, lest we forget, riding the bustling tube to class every day to take two upper level courses – BA 352, Managing Individuals and Teams and MGMT 452, Leadership – rounds out this extremely packed study abroad experience.
Associate professor of management Anthony Klotz heads up the summer London study abroad trip focused on leading individuals and teams across cultures for an opportunity to demonstrate their leadership skills in workplaces – not only in the United States, but in global settings as well.
"This program gives students a three-week preview of what it's like to live in London as a young professional," Klotz said. "Rather than simply learning about cross-cultural management from a textbook, we use one of the most diverse and cosmopolitan cities on earth as our classroom, and experience firsthand the challenges and thrills of working and leading in a foreign country."
The trip is funded in part by the Tom Toomey Learning Labs resources, which support a range of learning opportunities outside the classroom. Students received scholarships from this fund and from the INTO OSU Joint Venture Internationalization fund to defer the travel costs, easing the barrier of expenses.
Marketing student Sydney Derrick sums up her trip – and, frankly, the overarching importance of experiential learning opportunities – when she describes the London experience as "one of the better three weeks of my whole life." Derrick says she'd really yearned for the opportunity to see the world beyond Corvallis. "This trip gave me an eye-opening experience that I needed."
Over the three weeks, students transformed from a wide-eyed gaggle of tourists to city insiders. In the process, they experienced the degrees of uncertainty associated with those of a stranger in a strange land. In the beginning, several students admitted to feeling flummoxed about how to simply cross a street in the downtown. Others noticed they were far too loud on the tube. One says she was surprised at how subdued the Brits are relative to Americans.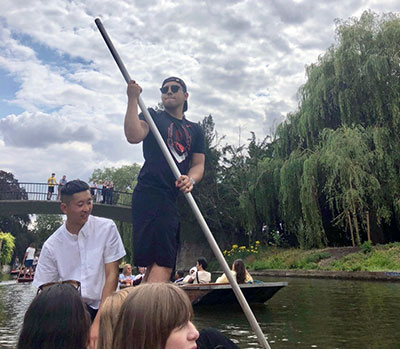 "One of the biggest takeaways from this trip was learning about the similarities and differences between American culture and British culture, in both professional and personal environments," said Amanda Fields.
"Going into this, I always assumed Americans and Brits were extremely similar – we're both westernized cultures that are well developed, share the same technological advantages, and speak the same language. However, I was surprised to become aware of all the small differences that end up making such a huge impact, especially in communication," Fields said.
And they all adapted quickly.
"I felt that I was able to adapt to the British way and 'blend in' with their culture," said Madison Biethman, a student in business administration. "I feel better prepared to deal with this challenge in the future because I can work on quickly shifting my actions to match whichever culture I am in."
Even though students learn about global business culture in the classroom, they also need to envision themselves in this career path. These insights came from their afternoons in the heart of London's financial district, "The City," visiting various firms and hearing from our alumni hosts.
Mark Farrington, '85, international business and finance, hosted the study group at his London office located at 1 Wood Street, which also is the European headquarters for Principal Global Investors, Ltd. PGI is the asset management division of the NYSE-listed Principal Financial Group. Farrington is the managing director of the Macro Currency Group, a specialist currency hedge fund group within PGI.
Farrington talked first on trends within the asset management industry and gave some high-level insights into global macro hedge funds. He also talked about his early experiences as a traveler, and career positions across the globe.
"Going by the patterns of questions the group asked, it would seem that many are trying to comprehend how an international career would play out in their lives," Farrington said. "There were a lot of questions about why I had made certain choices in my life, how I coped with certain challenges of living in foreign countries and working in different cultures."
Farrington's career spans three decades across three continents with stints in Japan, Singapore, Australia and the U.K. But he spent his first year after OSU travelling around Asia, with the purpose of considering what he wanted to do before committing to graduate studies. Footnote, Farrington committed to his master's degree from the London School of Economics in 2014!
"This group obviously had just spent some time thinking about the big career questions in their life, and the challenges of their summer experience," he added. "Nothing prepares you for the real thing, so best to hit the road and experience the country first-hand before concluding opinions otherwise formed only in the classroom or in books."
Jennifer Ward, '95, who's career post OSU has taken her global, welcomed the group to her company's headquarters. She's on the Board of Directors and runs Talent, Culture and Communications for Halma.
Halma, one of the UK's largest listed companies, is a manufacturer and developer of scientific instruments and environmental sensor technology for safety and health monitoring. Their corporation is headquartered in Amersham, Buckinghamshire, a market town and civil parish 27 miles northwest of London that delivers the perfect mix of past and present. The old town dates back to the 11th century, while Amersham-on-the-Hill developed rapidly as part of the London commuter belt with first a rail station and then the London Underground. Its reputation as a scientific research hub dates back to WWII, and the pub where the group lunched dates back to the 16th century.
Ward has met with the business students for the past several years to talk about living and working overseas, sharing her story about her five different employers and three trans-Atlantic moves. She introduced the group to the Halma Future Leaders Program, an accelerated leadership development opportunity for undergraduate and PhD students to work in Halma locations around the globe and in different functional areas, including sales and marketing, operations, or product development.
"The group were very engaged in their discussions with the Halma Future Leaders and asked great questions," Ward said. "It's clear that they are interested in what life might be like outside of Corvallis, which is fantastic as the world of work is increasingly global."
Austin Regimbal, while visiting Halma, was struck not just by the interconnectedness of businesses in the world, but also how people cooperate to keep these businesses running. At Halma, he enjoyed the Skype-based meet-and-greet with employees from many different parts of the world including China, Singapore, Brazil, and Switzerland. "Companies operate across different time zones throughout the world, but they learn how to make that work," he said.
Back in the heart of London, a visit to Experian's global headquarters is another cornerstone of the trip. Each year the group is welcomed by Experian Chairman Don Robert, '82, and given insights into the organizational culture of the financial information giant, Mr. Robert's personal and professional journey from Oregon to London, and how Experian manages its global workforce.
Boris Huard, managing director of Experian decision analytics, presented the product lifecycle of their data management business, a discussion illustrating the needs of the global consumer financial data market and how Experian responds.
Huard also stressed the importance of interpersonal skills when dealing with people, be it colleagues or customers. "The ability to engage and communicate with diverse groups is mandatory to lead and grow business," Huard said. "To learn this while in an international context, appreciating firsthand a different culture and expectations is all the more rewarding."
Above all, the students learn that they, too, if they choose, can make the move from Oregon to London – or anywhere else on the globe.
"This group was very focused on customer needs, and overall, it was pleasing to see them so confident and relaxed, and engaging in the conversation in a meaningful way," Huard said. "These are definitely the type of individual we would welcome in Experian, and if any are interested in discussing further, you know where we are."
All this – networking, career opportunities, global experience, culture, adventure – in three weeks.
"Leading this program is the most intrinsically satisfying aspect of my job," Klotz said. "It's so much fun to see the students transform from jet-lagged foreigners who are intimidated by their first tube ride to full-fledged Londoners who are ready to take on the world, in a few brief weeks. Having a global career seems out of reach to many of the students when they apply for this program, but by the time it's over, they have gained the confidence and the skills to thrive in cross-cultural settings, whether at home or abroad. It's really rewarding to play a small role in that personal and professional growth."