Mallory Strand was already a part of the Nordstrom Fashion Ambassador program, hearing testimonials directly from our merchandising and apparel alumni about the stregnth of the program, when she decided she'd come to OSU.
Strand arrived with a passion for networking and a drive to build experiences for herself. It paid off. She begins her new job at Kohl's in store leadership, a job she spotted first on Handshake and LinkedIn and then got her application fast-tracked by meeting in person Kohl's Northwest Regional Manager at a College of Business career fair.
"I am so thankful for the career-enriching opportunities to connect with industry professionals at Austin Hall – and beyond," Strand said. "I'm looking forward to bringing my merchandising expertise and management skills to this new opportunity. I am enthusiastic about participating and having a positive impact on the company and my community. I can't wait to see what the future holds!"
The merchandise management major learned during her studies the importance of trying everything.
And that is something she learned beginning with the design core – exposed to a variety of different topics in textiles, retail management, business analytics, supply chain, accounting, entrepreneurship, and many others.
Dropping a level deeper, Strand talks about textiles, trying and testing different materials, learning their properties, and how they can be utilized in product development.
From retail management she gleaned the intricacies of running a successful retail business, understanding the concepts that will optimize store operations, attract customers, and drive revenue.
Business analytics revealed the importance of data-driven decision-making. Strand collected, analyzed, and interpreted data to identify trends, customer preferences, and market opportunities.
She learned about sourcing, logistics, inventory control and distribution.
Strand took on internships – several.
"I am most proud of my internship opportunities," she said. "I worked as an Oregon State Athletics Marketing and Fan Engagement intern and Beaver Dam Student Section Outreach President. Through these roles, I had incredible mentors, Alex Krebs and Carlos Garcia, who taught me how to create marketing materials and a comprehensive campaign for men's basketball, create mindful short and long-term goals through a ten-year plan, and practice being my own biggest fan."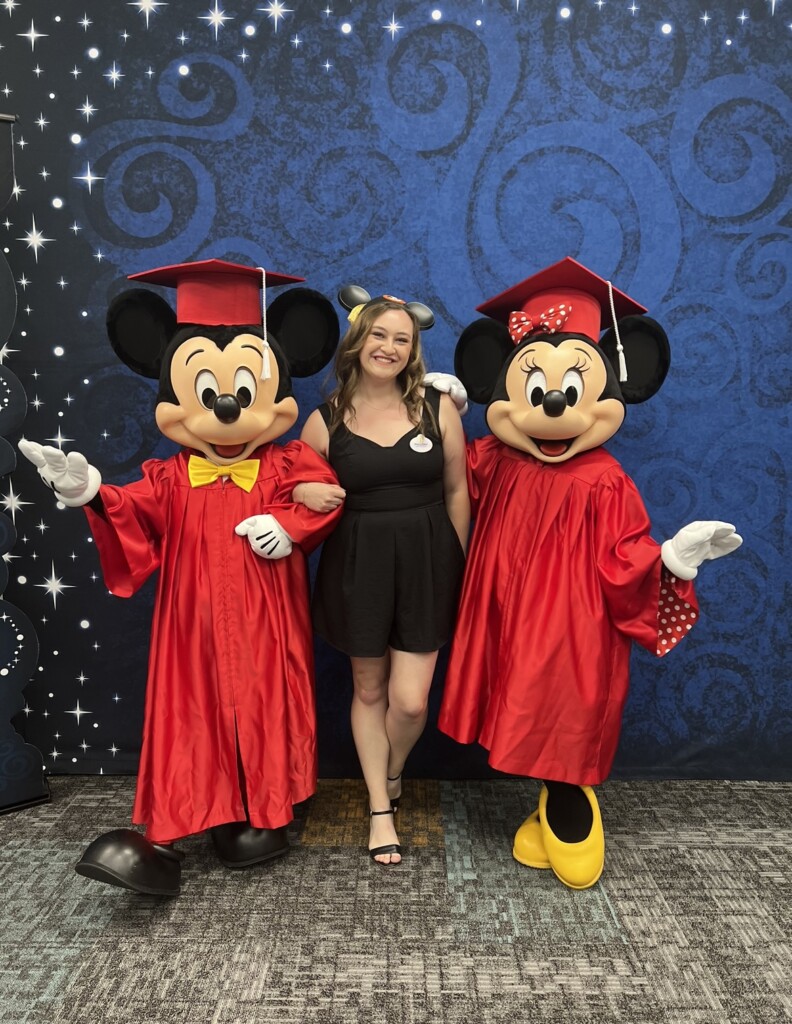 Junior year she moved to Florida to participate in the Disney College Program as a merchandise cast member. Strand's character was located in the Magic Kingdom on Main Street at the Emporium, the largest store in a Disney park, and on Hollywood Boulevard in Disney's Hollywood Studios. As a cast member, she learned about visual merchandising, store layout, customer experience, inventory management, and sales strategies.
Could she sound more ready for all multifaceted aspects of the retail and fashion industries? Could she make it sound any easier?
Well, in fact, it was hard and hard work.
Returning from Florida, she had both junior year and senior year classes as part of her workload.
"Coming back to the academic environment after a break was challenging," Strand said. "To overcome this, I focused on establishing a support network within the school community. Connecting with professors and support advisors provided guidance and assistance in navigating the challenges of returning to school and promoted grace and self-compassion. I would love to thank Kate O'Brien and Marcella Flores for their mentorship. Being proactive, seeking support when I needed it, and maintaining a positive mindset helped me overcome these obstacles and pave the way for a rewarding senior year."