After helping grow an energy efficiency startup into an industry leader and managing market research projects for a global platform, Megan Milliken '04, found herself at home with three young children and her husband in 2020.
It was the start of the global pandemic.
Everyone felt crowded. Among the many concerns weighing on her conscience, there were bags of outgrown children's clothing piling up fast as donation centers were closed.
"Our friends were done having babies. We couldn't take this to the dump," Milliken said.
Then the wildfires started.
"We were on vacation in Central Oregon and we had to leave because the smoke was so bad," Millken said.
As the family fled, it was near whiteout conditions driving back to Portland.
"It was terrifying. This cannot be the world that we're bringing our children into," Millken said when she got home.
Out of chaos, interruptions and the haze, an idea emerged.
"What if we could use our skills to try to improve something?" Milliken wondered.
The answer?
Woolybubs, a new baby shoe designed to leave a smaller footprint on the planet.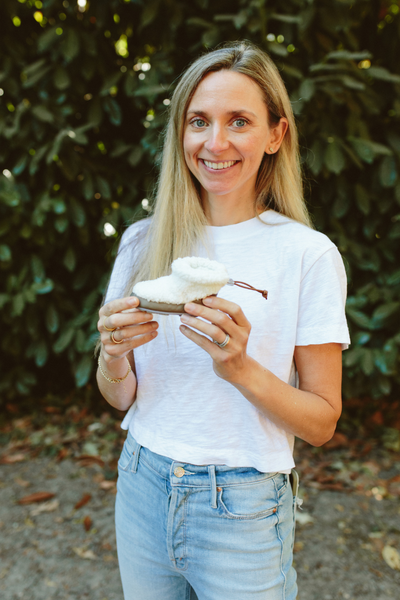 In 2021, Milliken and her husband, Jesse, started Woolybubs, the world's first disappearing baby shoe. Woolybubs are ethically made, planet friendly, durable, biodegradable and cute. Jesse Milliken leads manufacturing, and Megan Milliken does marketing and finance.
"Clothes in particular get ruined easily and they grow out of shoes so quickly," Megan Milliken said.
Their goal: to reduce the waste that providing clothes for babies creates.
Prior to starting Woolybubs, Jesse Milliken worked in footwear innovation at Nike. Megan Milliken studied marketing at Oregon State because she didn't want to become an entrepreneur like her brother, sister and uncle.
"I saw how hard they work. That is not in my wheelhouse," she said.
It turned out it was in her blood.
To create their shoes, the Millikens worked with a local engineering firm to find a dissolvable material, like that used to make biodegradable plastic bags and dishwasher pods. Megan Milliken cut and sewed, creating a prototype. After a few iterations, they landed on a design that was durable to withstand the wear and tear of baby's rolls, wobbles, spills and crawls.
Woolybubs is part of a new trend in clothing manufacturing using recycled or biodegradable fabric and textiles.
"As consumers start to understand and put pressure on where they shop, it could make a big change," Megan Milliken said.
Woolybubs shoes completely dissolve in boiling water after 30 minutes. Right now, the company produces shoes for babies up to 18 months.
"We're hoping to go into toddler sizes next," she said.
Milliken is proud to have founded a company that creates a product that leaves no trace and won't end up in a landfill.
"We're not taking from the earth," she said. "Change starts small, so hopefully it can grow."
Milliken remembers how her first job in sales taught her that she needed to keep searching for a career she felt more passionate about.
"I think that you should try as many things as possible to see what you like," she said.
When she felt pulled towards the environmental space, she worked all day in retail and a temp job at night until the right opportunity came along. While the years she spent at an energy efficiency environmental consulting firm were exciting and satisfying, it led her to a place where she felt that she could take a calculated risk by starting her own company.
"Make sure that you think before you leap," she said. "But don't be afraid of the unknown."
Learn more about alumni volunteering and giving opportunities, or update your information at: business.oregonstate.edu/alumni.