Striving to expand, we've found ourselves beating the odds
Male-to-female MBA student ratio meets, beats parity
Graduate business education is a competitive business, locally, nationally, and – with thanks to virtual learning – globally. For the OSU College of Business' fast-growing MBA program, creating an environment that works for students is paramount to program success. The college has significantly expanded academic programmatic offerings and its capacity to teach with more learning locations and digital formats, including new certificates and a Master of Science degree track.
But in these fast-paced times, we'd like to take a breath, and share a rather serendipitous but noteworthy detail of our growth: This year our newly enrolled MBA class is 53 percent women, a historic first at OSU. Just last year, the ratio of men to women admitted was about three to two.
This is a benchmark that many larger MBA programs strive to achieve. In January 2018, according to graduate business information resource Poets & Quants, top business schools hovered at the 40-percent mark for women enrolled. Harvard Business School, MIT Sloan and Northwestern reported a 42 percent female enrollment, while Dartmouth and Wharton reached 44 percent female enrollment.
"When we set our sights on building this program, our primary goal was to achieve quality and flexibility in our offerings," said John Becker-Blease, associate dean of graduate programs at the College of Business. "Inherent in that is a goal to create an environment for all students to succeed, and we're happy to achieve this milestone of gender parity that better reflects the diversity in the Oregon workforce."
In terms of overall growth, the college has had a remarkable few years. For example, in 2018 the MBA program grew its cohort of incoming students from 117 in 2017 to 163 – an increase of 39 percent.
This significant jump follows the rollout of expanded learning formats beyond the traditional campus presence or even the online formats – such as the part-time, flexible online hybrid program. Now students can supplement online studies with face-to-face learning in Portland, Bend or Corvallis, or study from anywhere in the world, fully online.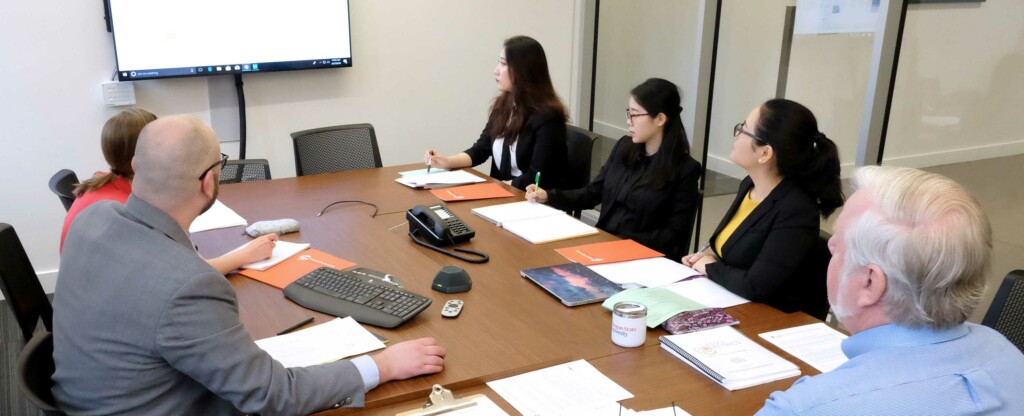 Case in point is current MBA student Katie Ryan, the executive director at Opal Creek Ancient Forest Center in Bend, Oregon.
"I chose the Oregon State MBA because of its hybrid program in Bend, first and foremost," Ryan said. "I travel a lot for business, spend a lot of time in Portland, and really wanted to engage more professionally in Bend, the town I live in."
As Ryan delved into the details of the program, including costs and reputation of the program's faculty, she grew more impressed with OSU's range of options.
Over the past four years, the College of Business has launched five degree tracks – organizational leadership, supply chain and logistics management, marketing, corporate finance and human resources management. A STEM-designated Master of Science degree launched in 2018.
"As we've grown, we've been intentional about every new degree and delivery method from hybrid to online," said Becker-Blease. "Our philosophy is to meet the needs of our learners as well as the demand for skills in the workplace, without compromising on educational excellence that students expect at OSU," Becker-Blease said.
And this does include providing excellent opportunities for women: While Ryan may have first looked at Oregon State for the quality education and the flexibility; when she was offered a scholarship specifically for women in leadership, it cemented the deal. Ryan funds her MBA studies with the help of a J.D. Power fellowship, a program of financial assistance for women leaders.
"I have 20 plus years' experience managing outdoor programs in wild places," she said, "But I have learned most of what I know about running a business by doing it. I wanted to formalize my academics around the finances and give myself more tools to continue to become the best leader I can be."
The J.D. Power Fellowship is just one opportunity. Other scholarships, for example, support married MBA students with families, male or female. The Maureen Leary Brown MBA Endowed Scholarship supports high-achieving female MBA students who have demonstrated strong leadership and contributions to their field, and the Gilleland Family Endowed Fellowship supports women with a science, technology, engineering or math background.
These are just some of the resources that contribute to how the College of Business has built its diverse, inclusive community.
"The diversity of our enrollment is mission driven," said College of Business Dean Mitzi Montoya. "We're fully committed to inclusive graduate and professional education that leads to diverse, rewarding careers for all of our students."