Oregon State senior Xandra Jobe is pretty clear when it comes to how much she got out of her experience with the MECOP internship program.
"It's probably the single most valuable thing I've done as an undergrad," Jobe said.
MECOP places students in two paid, six-month internships, each with a different company. The program is currently accepting applications for its 2014 program, with a deadline of April 10.
Jobe is planning to graduate from Oregon State spring term and interned with Intel in the summer and fall.
A marketing major, Jobe worked with Intel's Client Board division and helped to head up the department's social media efforts along with fellow College of Business student and MECOP intern Rachel Sauter.
The pair helped coordinate, produce and publish social media posts for the group, researching and developing strategies that could provide a tangible return on investment for Intel.
"I was the one who updated it and helped decide what the key messages were that needed to go out," she said. "Just the variety and magnitude of the things I was given to do went way beyond what I expected."
Sauter, a Business Mangement major, also worked on data anlysis reports for the department and helped troubleshoot a new website before launch.
"Being a part of launching a product was really fun," Sauter said. "It was such a broad range of experiences, I was able to apply all my knowledge from school and from working in my family business."
Jobe said the experience gave her not only real-life job experience but also a group of mentors who are already helping her shape her next steps after graduation.
"I can't even really put into words all the things I got out of it," she said. "My idea of what a job is and what a career could look like has developed immensely. I have resume items that are competitive with other people. I'm not going into the workforce blind."
Sauter, graduating this spring, already feels like she'll be a better employee because of her internships through MECOP.
"The references I have now, I could get four or five good references from managers at Intel," Sauter said. "This has been such a key part of my education, I can't imagine graduating without it."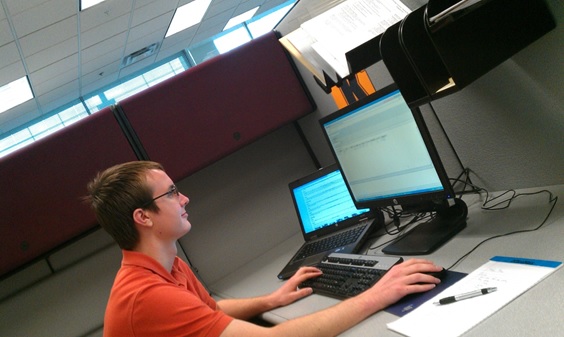 Trevor Husseman, an accounting and business information systems major, spent this past summer with Daimler Trucks North America in Portland.
There he worked on an internal application repository system to track the applications Daimler employees used, and helped integrate that with a system Daimler's international operation was expanding.
"It keeps track of applications created within Daimler that people use on the shop floor, on their computers that we created," Husseman said. "I worked with one of the engineers and actually implemented it into production."
The opportunity to push something into the company workflow motivated Husseman, giving him a taste of what his career could be like after graduation.
"I learned to step up my work and my work ethic," he said. "This is real life. This is going into production so it has to be perfect."
This summer he'll participate in his second internship, this time with Garmin in Salem.
Husseman said he already feels better prepared for starting his job search once he leaves Oregon State.
"It prepares you so much for your first real job, it's invaluable," he said. "You're a year ahead of everyone else that's starting."
Looking back at his experience and ahead to his joining the workforce, he can't imagine entering without his time with MECOP.
"I get a year of experience and two six-months of awesome pay, but really the work experience was worth it," he said. "I think MECOP is just phenomenal and anyone who doesn't do it is crazy. How could you not in this day and age when it's so competitive?"