Partnership Allows Peet's Employees to Pursue Undergrad Degree
There is nothing quite like a big cup of coffee and a big project to complete: the excitement, the energy, the determination, and halfway through that cup — the ideas start coming together.
So why not leverage the excellence of OSU's nationally top-ranked Ecampus online degrees with a committed and conscientious employer like specialty coffee company Peet's Coffee, and create a plan that offers a college degree to hard-working employees?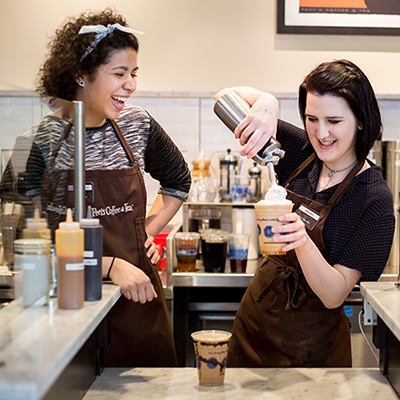 The newly-launched program, Peetnik Pathway to College, is a partnership between OSU's Ecampus and Peet's Coffee. It provides about 5,000 Peet's Coffee employees nationwide — full- or part-time — with an opportunity to earn their bachelor's degree, including degree options from OSU's College of Business. This tuition reimbursement program is offered to the "Peetniks," the internal tag for Peet's employees, who are eligible for their benefits program. The students must meet OSU's admissions requirements and not already hold an undergraduate degree.
"Purpose is powerful, and it's our purpose to help people find their opportunities for a better future," said Dave Burwick, CEO, Peet's Coffee. "This is an opportunity for Peetniks to open new doors professionally, here and everywhere, without having to go into debt or put their lives on hold."
As part of the program, Peetniks can pursue the College of Business' Business Administration degree that prepares students with classes in leadership, management, finance and marketing. Inspired by conversations with Peet's, the college has also developed a degree option in retail management through a customized suite of course offerings.
"We're excited to be a part of this new collaboration with Peet's," said Mitzi Montoya, dean of the College of Business. "The existing online business administration bachelor's program is immediately available to Peet's employees, providing them with the tools to solve complex challenges and lead by example as innovative business people. The new retail management option will add another important dimension to our business education offerings."
So, let's welcome the Peetniks – from baristas with big dreams to sales folks with miles yet to travel. You'll fit right in here, and we look forward to raising our espresso shots to you.
College of Business Degree Pathway Programs
The Peetnik Pathway to College is a model for other industry segments that want to invest in employee development. The College of Business has launched other educational pathway opportunities with key state and regional business partners in various sectors — allowing for these companies to continue to fine tune and advance their workforce and build a talent pipeline.
For example, the Oregon fruit industry has long attracted fantastic talent from life sciences disciplines — yet, companies in the industry have seen a need to augment life science knowledge with business acumen and recruit talent that understands both the technical and business facets of a fast-paced industry.
In response to that need, the College of Business worked with industry insiders to create the Berry Industry Scholars program through which top life sciences students earn scholarships to pursue undergraduate business courses and participate in professional business experience through internships with Oregon's berry growers. Berry Industry Scholars can then further enhance their business acumen through an accelerated, nine-month MBA program.
These types of partnerships create degree options that are valued by both our students and their employers.
"We design our new curriculum initiatives, certificates and degree options to be flexible and relevant to meet the needs of our industry partners — in the Northwest and around the globe. But more importantly, we are demonstrating to our students, current and future, that we anticipate and respond to the changing world of business, and they will be ready to do the same," Montoya said.