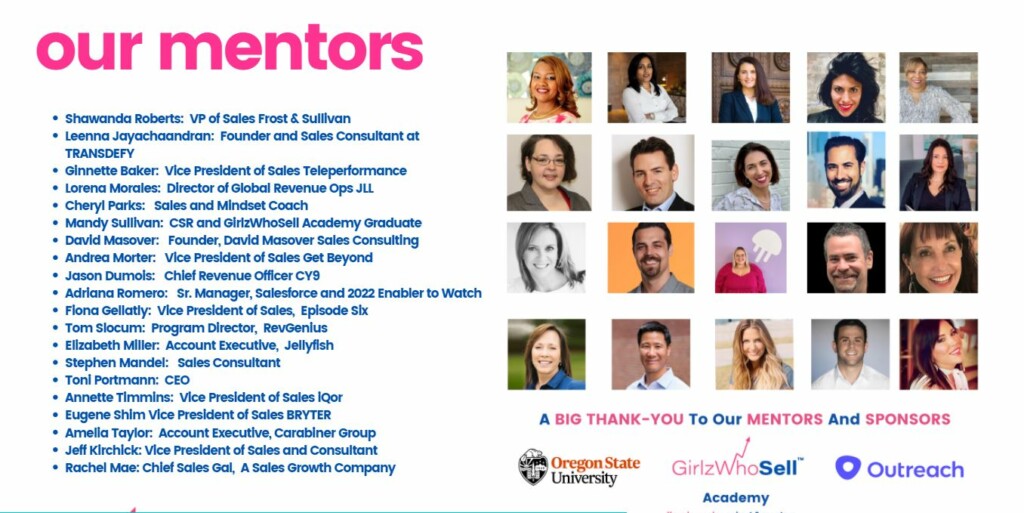 Innovation and inspiration go hand in hand, with often very favorable results. And students in the College of Business Personal Sales class (MRKT 489) experienced this for themselves as 21 sales professionals offered mentorship services around a curriculum specifically designed to inspire women in sales. The results – inspired conversations about DEI, gender inclusion, and full-time job offers to students who gained confidence and knowledge from the program.
Sales Academy Director Caitlyn Gill worked with two sponsors, Outreach and CY9, to incorporate the eight-week bootcamp, Explore Sales, into the coursework, building the opportunity for students to meet with a c-suite level mentor each week to guide them through the tasks. These assignments ranged from specialized content from nonprofit GirlzWhoSell to "do I have what it takes" confidence training to straight-up preparation on sales pitches.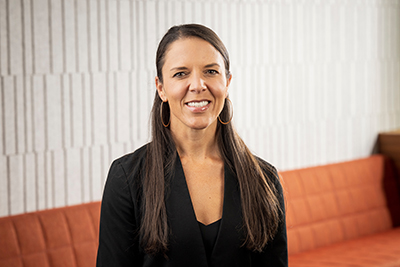 "The best thing about this experience is the program was written for women," said Gill. "All of the students have taken a deep dive into a female-led sales education program coupled with the power of male allyship. We have had class discussions about tone and how it feels to feel uncomfortable when the narrative is not written in a tone you are used to hearing."
The course ended with a sales pitch competition and prize money awarded from the project sponsor CY9. The pitch competition was designed by the GirlzWhoSell program #Explore Sales which is a signature learning framework from GirlzWhoSell that supported the curriculum. (Explore the #ExploreSales hashtag to learn more about this project.)
GirlzWhoSell is a nonprofit organization committed to developing female sales talent. Heidi Solomon-Orlick, who is the founder and CEO, had a decades' long successful sales career, but knows from her experiences the importance of supporting women in sales, and she found an ally in Gill. "Caitlyn Gill's vision combined with her deep commitment to provide her students with the best training possible is a key component to the cohort's overall success," Solomon-Orlick said. "I am so thrilled that Oregon State University embraced the GirlzWhoSell Academy #exploresales program and integrated it as an important component of their personal selling class."
The students were paired with an industry mentor, who worked with them each week to learn the sales process, help with interviews and develop a sales pitch.
Jason Dumois, chief revenue officer of CY9, a tech staffing and recruiting company that focuses on recruiting diverse talent, served as a mentor for the program, and as the competition sponsor, got to see his mentees develop their skills and confidence throughout spring term, and then challenge themselves and each other at the final competition. "Integrating a sales competition as part of the program was icing on the cake," Dumois said. "The students loved it, and they all did a great job. My mentees told me that they thought this cohort was very beneficial and liked the activities and real-world experience they received as a part of this program."
He adds: "It was an honor to serve as a mentor. This program is truly one-of-a-kind giving students the opportunity to learn all about sales and learn from industry sales leaders."
CY9 gave cash awards – 1st prize, $300; 2nd prize, $200; 3rd prize, $100 – to the sales pitch standouts.
The program, though designed for women in sales, is inclusive, also covering male allyship in the business world, which Gill called a fascinating exploration for both the women and men in the class on the sales process from a female perspective.
"I had male students share with me that they felt uncomfortable with some of the content which made them realize how often women must feel the same," she said. "We have had incredible breakthroughs with mentors who have helped guide our students regarding DEI initiatives in their own companies and what to look for in their post graduate employment. We have had students who have earned full-time positions due in part to help from their mentors with interview prep or connections made."


---
Student Feedback from End-of-Class Survey
"I think one of my greatest wins was feeling more confident in my sales ability and now seeing that there is room for anyone to work in a sales role!"
"I never even considered going into sales before this class, but now I feel like my desires for work have substantially shifted."
"I would 100% recommend this class to anybody planning to major in business and marketing. Before the course started, I was dreading it because I thought for sure I didn't want to go into sales, but my perception has completely changed, and I'm so glad this class is offered. Out of all the courses I have taken at Oregon State I can honestly say this has given me the most. You learn so much more than just how to sell and I've learned a lot about myself."



---
With Many Thanks to Our Personal Selling Mentors
Our mentors provide invaluable knowledge and experience to our students, and we thank them for dedicating their time and supporting us. CY9 made this mentorship program possible, and we are grateful to them and all Sales Academy sponsors for their commitment to our students' success.
Ginnette Baker, Vice President of Sales, Teleperformance
Jason Dumois, Chief Revenue Officer, CY9
Fiona Gellatly, Vice President of Sales, Episode Six
Leenna Jayachaandran, Founder and Sales Consultant, TRANSDEFY FZC – Understanding Perspectives
Jeff Kirchick, Vice President of Sales and Consultant
Rachel Mae, Chief Sales Gal, A Sales Growth Company
Stephen Mandel, Sales Consultant
David Masover, Founder Sales Consultant and visionary behind The Sales Team Success Formula
Elizabeth Miller, Account Executive, Jellyfish
Lorena Morales, Director of Global Revenue Ops, JLL
Andrea Morter, Vice President of Sales, Get Beyond
Cheryl Parks, Sales and Mindset Coach
Toni Portmann, CEO and Possibilitarian
Shawanda Roberts, VP of Sales, Frost & Sullivan
Adriana Romero Sr., Manager, Salesforce
Eugene Shim, Vice President of Sales, BRYTER
Tom Slocum, Program Director, RevGenius
Mandy Sullivan, CSR and GirlzWhoSell Academy Graduate
Amelia Taylor, Account Executive, Carabiner Group
Annette Timmins, Vice President of Sales, iQor