Kayleen Salchenberg knows college finances and financial aid like an old friend – she lived it as an undergrad, choosing OSU for its generous support. Salchenberg now manages the Center Advancing for Financial Education in the College of Business and is passionate about educating students about much more than FAFSA forms to support their planning for a healthy, balanced, and financially secure future. CAFE advises families and community members, too. "Ultimately CAFE will be a piece of the complicated puzzle that helps to improve financial wellness to many people, our OSU and our state, with many partnerships along the way!" she said.
College of Business: Where are you from? Or where do you consider home?
Kayleen Salchenberg: I am from Salem, Oregon — born and raised. I currently live in Bend, Oregon, and I feel grateful to call Bend my home.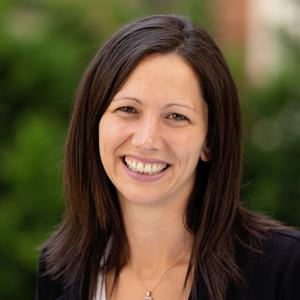 COB: How did you land at OSU?
KS: I knew I needed to go to college after high school but did not really have an idea of what that entailed. I found out that in-state tuition was more affordable than out-of-state, so that narrowed my search. When I toured the Corvallis campus on a sunny, fall day — I loved it. I wanted badly for OSU to be my next step. I got a financial aid package from a handful of schools and to my excitement, OSU offered me the best package; it was then I became a Beaver. My college years were so profound to my development as a person, and there was something special here at OSU. After graduating, I found myself coming back for a master's some years later and while in school, I was a graduate assistant in the Financial Aid Office. The entire pathway to and through OSU has led me to my current role.


COB: What is your current role? What do you do in this role?
KS: I am shy of nine years of professional experience at OSU. I currently work for the College of Business in OSU's Center for Advancing Financial Education or CAFE. We work with anyone in the state of Oregon (we are a land grant institution) on all things personal finances. We have a mission of supporting the development of financial wellness within the Oregon State community and beyond. I manage the operations of CAFE; I am an instructor, and I advise peer mentors and the students and clients that we serve.

COB: What is your favorite part about your role?
KS: My favorite part about this role is knowing this service exists; it did not exist during my time at OSU as a student or for many years as a professional, yet there has always been a great need. I advocated hard for something like this, and I am so grateful CAFE is now here. I love the potential for future growth and impact. Ultimately CAFE will be a piece of the complicated puzzle that helps to improve financial wellness of many people, our OSU and our state, with many partnerships along the way! Also, I really love the students who work as Peer Mentors. They are passionate, smart, creative, motivated, brave … I can go on. They are what makes my day-to-day so enjoyable and make CAFE what it is.

COB: Why would a student utilize CAFE services?
KS: Both to gather information and understand aspects of their current college finances — and have support for creating a plan moving forward. We have students who use our services in a proactive way or who are in an emergency situation and need help now. We work with students on paying for college topics such as scholarships, financial aid/FAFSA/ORSAA, billing/registration holds due to finances, ways to save, ways to find additional funds, and locating resources for individual needs. We help students create short- and longer-term paying-for-college financial plans and support them in their budgeting journeys.


COB: What should we know about CAFE as it pertains to students who are "newer" to the College of Business and OSU?
KS: We are here for you — send an email, come to our drop-in hours, set up a 1:1 appointment, and meet with us once or multiple times. We will meet you where you are at and be a continued support as your life unfolds here at OSU. We can help you put the puzzle pieces of your situation together; you are not alone!


COB: What recommendations do you have for students and their families who are in their first year here at OSU?
KS: Set up a 1:1 appointment with us! Learn the ins and outs of OSU finances, specifically for YOUR situation — plan ahead and be proactive. If you are comfortable, invite someone in your life along for the conversation as we offer virtual as well as in-person appointments. We are invited to put on presentations and workshops as well; take advantage of those as you are able to!
---
CAFE is for Everyone.
The Oregon State University Center for Advancing Financial Education (CAFE) is housed in the College of Business and is your one-stop financial wellness center, providing services to the OSU community and beyond.
We understand that everyone's financial situation is unique—we are here to provide advice; help you get the resources and information to navigate college; and/or make sound financial decisions. We provide free services such as, self-study modules and coursework. Topics include paying for college and all that it entails (billing, financial aid, scholarships, resources, and more), creating a budget, post-college financial planning and much more!
---
Have a quick question about your finances?
Try reaching CAFE by visiting during our drop-in hours! Stop by Austin 173 or hop into our Zoom room and we'll connect with you on a first-come, first-served basis. These are meant for quick conversations to help answer urgent questions. Have questions or can't find a time to meet with us? Please email cafe@oregonstate.edu.
When: Tuesdays from 10 a.m. – 2 p.m.
Where: Austin 173 or Virtually on Zoom
---