Women in Leadership trip opens secret Nike labs, "grate" room at Tillamook, and connects students with business leaders
The 2019 Women in Leadership Spring Break Trip, co-hosted by the Women in Leadership (WiL) student organization and the OSU Center for the Advancement of Women in Leadership, took 22 OSU student leaders representing six different colleges (and numerous student clubs) on an overnight visit to Portland. The trip included meeting and networking with women leaders at companies big and small, and attending the National Diversity Council's Women in Leadership Symposium, an event sponsored by Lane Powell, featuring Portland women business leaders.
WiL student chapter president Lily Beck had a leadership role in planning the trip. "Since it was over spring break, not everyone was centrally located on campus. Some people were at home in Portland or around Corvallis, and we even had an online student fly in from Idaho. I had a lot of help to make sure all the logistics were lined up," Beck said.
Tillamook, Nike and Green Zebra
Among the visits, the group toured Tillamook Creamery's Portland location, the Tillamook Outpost, and sat for a workplace culture discussion with Sheila Murty, Tillamook's executive vice president of people and culture, and Sibel Candemir, their vice president of categories.
Sarah Busmire, the Ecampus student from the College of Agriculture who flew in for the event, felt that the diversity discussions were the most valuable to her. "I learned a lot, and the question-and-answer session was awesome," Busmire said. "I realized that many women face the same challenges in various times of life-from college students all the way to CEOs. It is important as a society that we begin to recognize those challenges and create workplaces where they don't occur."
Up next the group headed to Nike, paused to sign non-disclosure agreements and then embarked on an exclusive visit to Nike's top secret, innovation-focused Valiant Labs. The discussion was led by Nike's Shaherose Charania, senior director at Valiant Labs, and Liz Freuler, their director of brand and consumer marketing. Many suggested it was a highlight – but did not say much more!
The group then visited Green Zebra, a women-owned grocery chain that features local and organic food in communities that lack larger food retailers. Evelyn Murphy, Green Zebra's chief people and operations officer, met the students and discussed their philosophy for the small local grocer as a community focal point.
"Green Zebra was really impressive in the fact that they wanted to make sure people in Portland had access to food in a healthy sustainable way," said Beck. "They mentioned that they wanted people to be able to walk or bike in 20 minutes or less to be able to get to a grocery store. This desire to serve people was also evident in the environment they created among their workers as open and engaging people who were extremely inviting to our group."
Networking and symposium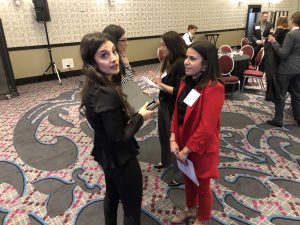 An evening networking mixer construed into a "flash mentoring" session allowed trip attendees to circulate through various tables for prompted discussions. Each station would seat two Portland professionals, and about six students taking on the topics.
"We structured the conversations so that students could learn about the challenges women face in the workplace, how to navigate those challenges and how to lead and create change," said Audrey Iffert-Saleem, center director.
"I learned a so much about the incredible work being done by women in industry to empower other women and make a difference in the organizations they work in," said College of Engineering student Umayal Annamalai. "I also had the chance to meet so many amazing women from OSU with a variety of backgrounds and aspirations."
The following morning the group attended the National Diversity Council's Women in Leadership Symposium at The Nines hotel in downtown Portland, joined by panelists from Bank of the Pacific, Tonkon Torp, Lane Powell, Portland Trail Blazers as well as College of Business Dean Mitzi Montoya. Attendees discussed topics such as building up the women around you, defeating gender-based harassment, the imposter syndrome and using technology for work-life integration.
Following the event, the group engaged in additional discussion over lunch with Portland business women, including members of the panel.
"We were all able to benefit from the connections we made, and the people we talked to. It was an amazing experience for me to be able to plan this kind of trip, and I would do it again in a heartbeat," Beck said.