Jack Wegrich, a senior in management, is supporting logistics for a humanitarian, medical and non-lethal military supplies mission into Europe and Ukraine. He has bold, multifaceted advice for those who want to help. There are as many as four million refugees according to a United Nations late March report.
1. Support the Economic Boycotts and Global Sanctions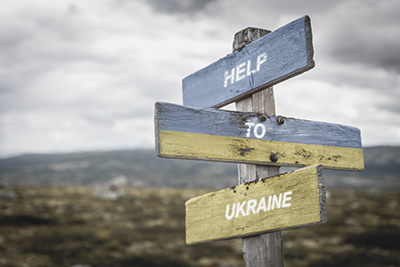 Follow the lead of the European Union, the United States, countries around the world, and iconic global brands and businesses.
"If you're in Russia doing business, I really encourage you to look into what's happening at your company. If you can or cannot withdraw, how can you avoid paying tax dollars to the Russian government? Because anything that can be done to avoid money going into their coffers right now, especially in dollar form, is going to hurt them a lot."
2. Make a Monetary Donation to the Ukrainian Defense Fund
"There is a group called 'Come Back Alive.' And it supports the Ukrainian Government Defense Ministry Fund, directly. I want to encourage people to give money to the army because if the Ukrainian army does well, the situation on the ground improves. No matter how much money is given to humanitarian aid, the humanitarian crisis also is about our inability to get access to those cities that need it. For example, Mariupol is completely surrounded. We cannot get to the people who need aid. A lot of companies may be satisfied that they donated to a humanitarian organization, and that money isn't actually helping yet."
3. Make a Donation in Support of Non-Lethal Military Equipment
Ukrainian American Coordinating Council (UACC) is one of the few U.S. nonprofits licensed to export tactical military gear in accordance with International Traffic in Arms Regulations (ITAR). Read CNN's coverage of their efforts.
4. Make a Donation to Support Medical Supplies
Razom for Ukraine is not at this time delivering food, toys, clothing and other common humanitarian aid in order to focus on medical supplies.
"Anyone who works in a medical supply company should get directly in contact with Razom. They are desperately in need of almost all types of medical supplies, and they are shipping those for free."
5. Think about Ways to Activate Stockpile and Surplus
For example, supply chain instructor Gary Micheau, for whom Wegrich is a teaching assistant, got in contact with a retired police-chief friend to help find size XXS Kevlar, learning in the process that many forces cycle out Kevlar every five years. Wegrich says this is a great actionable lead:
"Large stockpiles are our biggest and most important target right now. We need to get supply moving from stockpiles and inventory that already exists. Whatever we can do there is really important, and we know it exists. We've talked to the manufacturers and they say, 'well, we sold this many units over the past year, and they're likely not used.'"
6. Join the Grassroots Effort
If you'd like to help the grassroots social network of volunteers, join Discord.
"We especially need connections to the shipping industry, police-, fire-, emergency-service organizations and associations, and social media experts and influencers to help us spread the word. The organization is scaling rapidly right now and aims to give everybody a chance to help out."