It's the last week of classes, winter term, and with finals just one week away, College of Business senior in management Jack Wegrich is spending frenetic 12 and 15 hour days.
Scrambling to complete final assignments? Cramming for exams? Alas, far from it.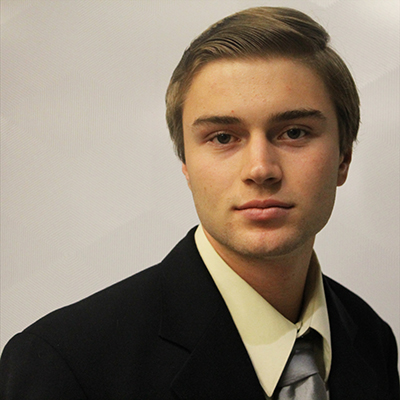 Wegrich is calling local police departments around the United States, inquiring whether they have any surplus or stockpile of Kevlar that they could donate; specifically urgent – and exceedingly elusive – is child-sized Kevlar.
Emergency donations, including non-lethal military aid such as Kevlar and medical and humanitarian aid, are headed in avalanche quantities to refugees across Europe as well as directly into the cities and villages in Ukraine fighting off the invasion that began on Thursday, Feb. 24, 2022.
By Saturday evening, February 26, Wegrich, who has a specialty in supply chain and logistics management and currently works in warehouse management, found himself tapping into the war.
"I think I got this message because friends in my social network know that I'm involved in logistics," he said, describing the message as such:
'Hey, we have absolute chaos on the ground in our warehouses and in our supply areas in Poland and Romania. What can you do virtually? Can you just get on here and do something? Start doing some of our QuickBooks or manage the incoming requests? What can you do? We need volunteers.'
So Wegrich logged in, and started connecting a few dots. His classroom knowledge and work experience immediately supported a large and rapidly growing collective of volunteers matched to a consortium of national and international agencies and companies that are assisting Ukrainians and refugees. Wegrich is running logistics. He's cross-checking new orders overnight from European partners. He is soliciting shippers.
Leading organizations Wegrich is working to assist include the Ukrainian American Coordinating Council, a nonprofit formed in the 1960s more typically aligned with activities to promote community, culture and business connections across Ukrainian populations inside and outside their homeland, and Razom for Ukraine, an organization formed after the 2014 Revolution of Dignity (or Maidan Uprising) which ousted President Viktor Yanukovych. Yanukovych fled to Russia, with an estimated $100 billion in embezzled Ukrainian assets.
Both foundations are in emergency response mode. They're organizing the requests for and purchases of critical supplies through donations small and large and then coordinating deliveries. The UACC responded to the crisis by becoming one of the few U.S. nonprofits licensed to export tactical military gear. Read CNN's coverage of their efforts.
Fortunately, global support for the Ukrainian cause has proved abundant, and fortunately the network of volunteers is, too. Wegrich points out that Ukraine – unlike other war-torn countries – did not have the mechanisms in place to simply turn on a faucet of relief and humanitarian aid. In the chaos, his abilities as a logistic manager are a difference-maker.
"I don't have any military training; I cannot be on the ground over there doing anything," Wegrich said. "I don't speak the language, so I can't help that way. I did not know how I could help with Syria, and I do not know how I can help the Kurds. What I can do is this. I do know how; I've got these skills."
For example, Wegrich was directly in touch with an aide to the mayor of Vasylkiv on a supplies request – his first big shipment – that he hoped to be fulfilled and on the ground in Ukraine within 12 days. Vasylkiv, a city in the Kyiv oblast, is the site of a Ukrainian airbase, an oil depot and the shell of a Russian Ilyushin Il-76 military cargo plane shot down by Ukrainians in the first days of the war.
Wegrich said that most of the requests come in from territorial units or small units of Ukrainian civilians that need safety and tactical equipment. Oftentimes, the process starts when the Ukrainians call relatives in the United States, and those relatives put together a pallet with all the equipment. Wegrich helps support transport, sometimes in the form of a volunteer from the social accounts who has a truck and happens to be heading to Toronto where a plane waits.
---
How You Can Help Ukraine
Jack Wegrich, a senior in management, is supporting logistics for a humanitarian, medical and non-lethal military supplies mission into Europe and Ukraine. He has bold, multifaceted advice for those who want to help. There are more than four million refugees according to a United Nations late March report. Read more.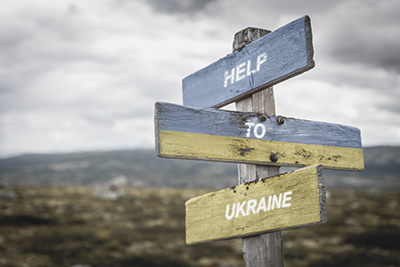 ---
"If I get stuff to Europe, there are so many people on the ground in Europe ready to help that it doesn't matter what form it touches down on, I can have it on a truck and moving in six hours maximum," Wegrich said.
He describes this as an open-source and fluid project: well-connected with appropriate NGOs and 501c3s, tapped into grassroots volunteerism, and running the operation on the business world's common off-the-shelf apps: Twitter, Airtable, WordPress, Discord and Signal. But one in which actions right now will make a difference:
"It is -20 degrees Celsius in Ukraine right now. People are freezing to death as we speak. So taking action in the near term will have a long-term effect, even if somehow this war ends quickly in a positive way.
"There are close to five million people in Lviv, a city of less than a million pre-war. There are over two and a half million refugees who have hit the European Union already.
"We're going to have something for everybody to do eventually, even if it's calling their congresspeople. There's going to be something."
If there is an irony, it's this: the senior has only two classes this term – "Why War," a historical survey of warfare and political science and "Supply Chain Strategy and Logistics Management." He's distracted, grades might be slipping, but Wegrich is "pretty sure he'll still get As."